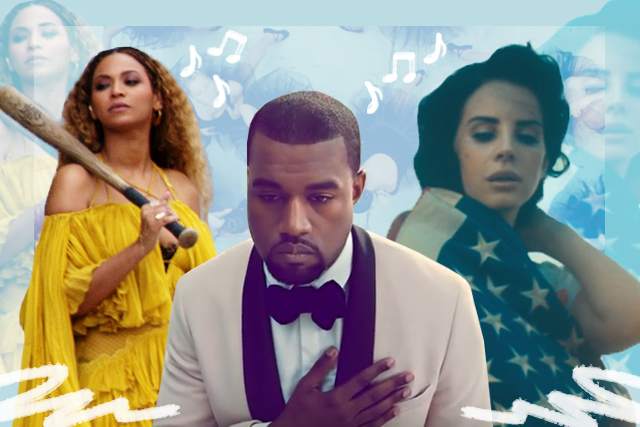 Inspired by music videos of the past, artists have been releasing long-form videos once again. Some are made for one song while others are used to promote an entire album and can be as long as one hour. This gives the artists a chance to share their full vision with a visual album. One that listeners and viewers can enjoy. This can also give fans a better understanding of the different songs they listen to. If you're having a slow Friday, hit play on these music videos.
Beyoncé – Lemonade
After 25 years, the Grammys decided to bring back the award for Best Music Film. Who was the lucky winner? Beyoncé for her visual album Lemonade. The one-hour film features songs from the album and scenes to match it like Beyoncé under water or smashing things on the street with a baseball bat. You can download the full visual album here. Don't be afraid to sing along and dance like Beyoncé would.
Kanye West – Runaway
To promote his 2010 album My Beautiful Dark Twisted Fantasy, Kanye West released a 34-minute film entitled Runaway. It follows a love story between Kanye and a phoenix as they go to a dinner party and drink tea. Kanye also added a great idea for date night: booking a marching band to perform while fireworks go off in the background. 
Beastie Boys – Fight For Your Right Revisited
If you've ever wanted to see your favorite actors in a music video, watch Beastie Boys' "Fight For Your Right Revisited." In the film you will see Seth Rogen and Elijah Wood rob a liquor store and lip sync to the track. There are also cameos from Amy Poehler, Alicia Silverstone, and Orlando Bloom. Watch it and spot the different '80s references from fashion to big skateboards. 
Lana Del Rey – Ride
This music from Lana Del Rey was nominated for an MTV Video Music Award for Best Cinematography in 2012 so you know it's good. The plot is a little heavy, it follows a girl who is also a singer but suffers from alcoholism and parental issues fro her past. You'll also see Lana ride motorcycles and tire swings.
Florence + The Machine – The Odyssey
Florence + The Machine's music video for "The Odyssey" was nominated for Best Music Film at the 2016 Grammys. This was released for their album How Big, How Blue, How Beautiful. Filmmaker Vincent Haycock shared, "I've always wanted to make a long-form video, or an entire album of videos for the same artist. To me it's always made sense. You used to see this more often back in the day." See their collaboration in the video above.
Art by Lara Intong
Follow Preen on Facebook, Instagram, Twitter, Snapchat, and Viber
Related stories:
Read the Touching Story Behind Moira Dela Torre's Latest Single
The Songs That Reminds Us of Awkward First Dates and Kisses
LISTEN: Claudia Barretto Drops Third Single "Finally Found It"
The Accusation Against Singer Melanie Martinez Is a Wake-Up Call to Woman-to-Woman Rape