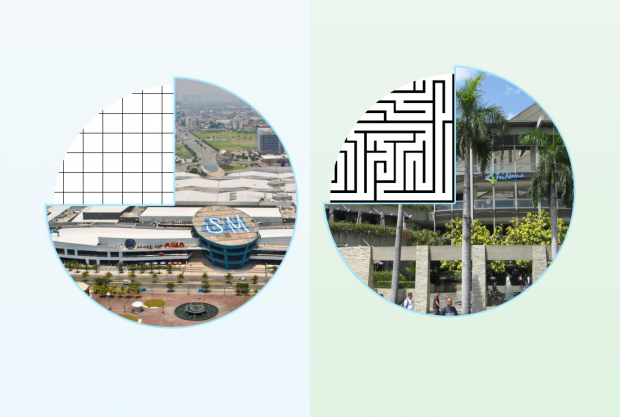 Is it just me, or do we really breeze through SM's easy and convenient floor plan, but kind of find ourselves wandering around the elaborate, luxurious labyrinth that is an Ayala mall?
A couple years ago, my anthropology professor talked a bit about the differences between malls made by these industry giants. They don't look anything alike, and you can always tell if a mall is made by SM or Ayala just by looking at it. Aside from having different color palettes that evoke different moods (SM sticks to its signature white and blue, while Ayala goes for the neutrals), the blueprints of the malls couldn't be further from each other. Although he didn't publish his research, my professor's observations has been echoed by other sources.
From experience, we can see that an SM mall is like a grid—linear, straightforward, and intuitive. Meanwhile, an Ayala one is like a maze—sprawling, complex, and intricate. Think about the SM Megamall of yore, where you inexplicably knew where to go before you ever stepped foot there, and think about how that experience contrasts so starkly with how, even after five trips to Trinoma, you still didn't know how to get from Mango to where you parked (at least, not without stopping abruptly to retrace your steps when you realize your surroundings don't look familiar at all).
Even the entryways and exits of the malls differ. SM malls will have an entrance on one end and an exit on the other. With Ayala malls, the entrances and exits are always a guessing game. Ayala malls also have some sort of community center (think: Greenbelt's gardens and the activity centers of Glorietta and Trinoma) complete with benches where one can relax. While they also have spaces to hold events, SM malls don't have an equivalent for a place the community can convene.
The differences in the malls' floor plans lay the blueprint for their purposes: SM malls are for the person on-the-go and who already knows what he/she wants, while Ayala malls seem to be for those who have time to stroll around. All these differences don't make one chain of malls better than the other, but they do certainly tell us what the malls want for their patrons. SM's grid-like floor plan makes its malls easy to navigate; Ayala's floor plans encourage you to stay a while.
Art by Dorothy Guya