Sarah Jessica Parks wants you to have a happy ever after—in her shoes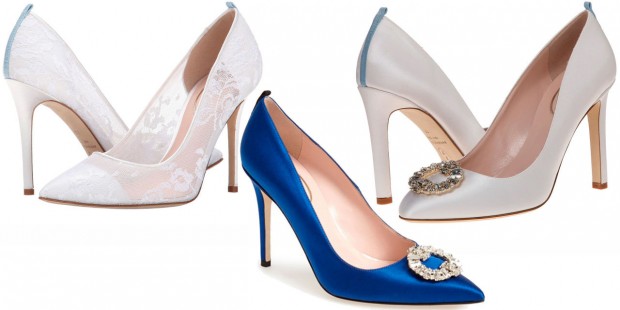 On the cover of this month's Martha Stewart Weddings is Sarah Jessica Parker who debuted her new line of bridal shoes on their website. In true bridal fashion, the collection featured "something blue"—a pair of royal blue pumps similar to the Manolo Blahniks (of course) she wore as Carrie Bradshaw when she finally wed Mr. Big. Prices range from $365 to $545 and are available on Nordstrom and Zappos.
Asked whether she would choose to wear something different if she were to marry husband Matthew Broderick again, she answers, "If I were getting married today, I'd likely wear cream, just to have that bridal experience." You must remember that SJP opted to wear a black wedding dress at her 1997 ceremony—her "biggest fashion regret." She adds, "Now I would want my dress to have an Oscar de la Renta feel, pockets below the waist, a very fitted bodice, a huge skirt, in taffeta or duchesse satin. That silhouette appeals to me because it's old-fashioned yet can look very modern." [Martha Stewart Weddings]
Victoria Beckham wants her clothing line to go mainstream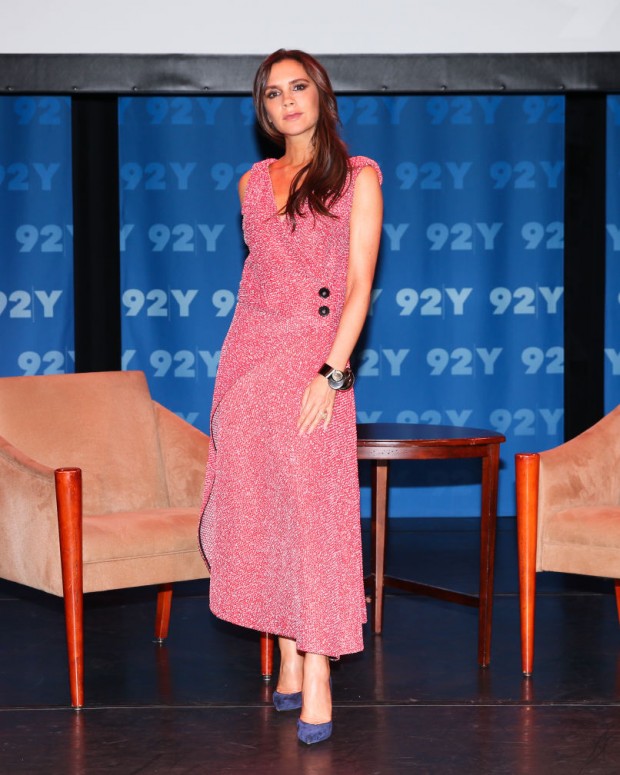 In an interview with Fern Mallis' "Fashion Icons" talk series for cultural and community center 92nd Street Y, fashion designer and celebrity Victoria Beckham expressed a desire to dress the everyday woman. Currently, her award-winning clothing line (she's won Designer Brand of the Year at the British Fashion Awards twice) is stocked at upscale department stores like Bergdorf Goodman and Barney's. But could a Target collab be in the works?
"I would like to reach more people and to offer clothes to people who can't or don't want to pay designer prices," she said. "I really want to make women feel great and feel empowered, even if they can't pay—I still want to reach that customer." No doubt she's been approached by mass retailers before, but according to her, the timing hasn't been right. [Fashionista]
Kate Spade's long-awaited fashion comeback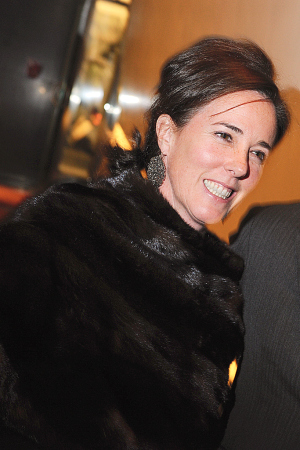 In the world of handbags, Kate Spade is a force to be reckoned with. She's the original Tory Burch, offering "affordable luxury" handbags that still appealed to women who lived in New York's Upper East side. What many people aren't aware of, however, is that she and her husband Jack Spade left the company in 2006 when Liz Claiborne Inc. acquired the company. Now, nearly a decade later, reports have surfaced that she's back with a new accessories line.
"I've spent the last eight years raising my daughter and being a consumer," Spade told WWD. "It's exciting to be back at work." While she's famous for her handbag designs, this time her new line consists mainly of footwear with some handbags. While she's all but ready to launch, there is the problem of what to call her new line. Since her eponymous label's name is under legal restrictions by Liz Claiborne Inc., we're guessing she's not going to be naming it after herself. [WWD]