Bookshelves are great pieces when it comes to furnishing your home. They're multipurpose: You can use them for storage, display, and additional homey touches. You can get them in a variety of colors, shapes, and sizes—whatever suits your taste. But if the regular bookshelf just doesn't cut it for you, there are so many ways to spice up that glorified cubbyhole. Here are a few cool options for those looking for a bookshelf with some personality.
The Space Saver
If you find that bookshelves are a little bit too bulky, the practical home dweller can hang their literature on this wooden rack. This novel little shelf is handmade, and it will keep your books tidily displayed. They're interesting, and they'll leave you with some leg room to spare.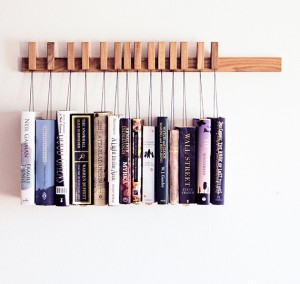 The Industrialist
An edgier means of shelving your books is by using pipes! No, these don't have to be actual pipes with toilet water coursing through their innards—that would be so inconvenient. But these are definitely a cooler means of being practical.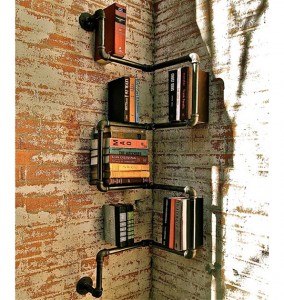 The Simple DIY
Sprucing up your bookshelf doesn't necessarily entail a complete makeover; a little decorative retouching here and there can make a big difference. A flexible means of decorating your faithful ol' book holder is by using some pretty fabric or wallpaper as the background. Just cut out a piece of foam core that will fit into the backs of your shelf and then wrap it with some pretty fabric, and voila! It's as simple as that.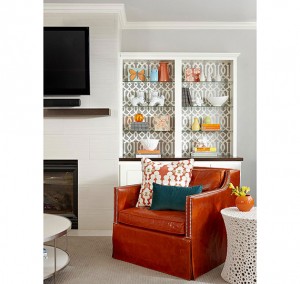 The Refurbisher
If you're tight on cash, you don't have to look that hard for good bargains because a creative and cost-effective idea would be to stack up old crates for your own DIY bookshelf. It's easy, it's versatile, and it adds a whole new element of fun to your room. Just make sure the crates are safely secured on top of each other.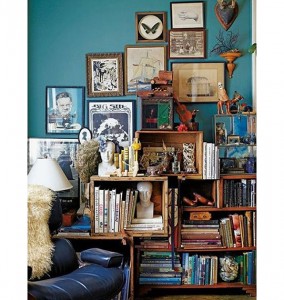 The Bookshelf, Literally
People will think you're oh-so clever with this space saving idea: the bookshelf, literally.  Use one big book as a base and stack the smaller books on top. This is a really minimalist approach to decorating your home, and it's simplicity is its genius. You will definitely be the cool kid if you can showcase your novels in this novel fashion.