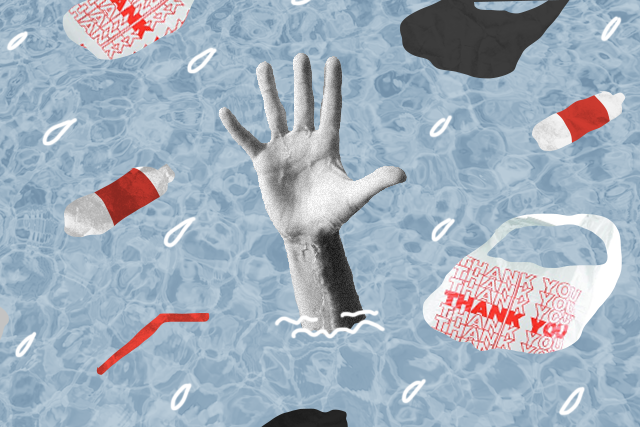 The rainy season has been going on for a couple of months now and over the weekend, we had another storm pass through. Tropical storm Karding has since left the Philippine area of responsibility but the heavy rains have not stopped.
Over the weekend, we experienced strong rain and wind with adverse side effects. All over social media you probably saw photos and videos of people stranded because of flooding. Andrea Brillantes even shared her own experience on Instagram. In Talayan Village, Quezon City, she and her mother were offered help by a few men who pulled them on a raft. The water was up to their chests. She also told everyone to stay safe.
According to GMA News, two people had died due to drowning. One in Marikina City and another in Quezon City. Aside from these two casualties, there is also one missing person in Quezon City.
There were also a lot of videos going around of other flooded areas. One of the most triggering videos was of Roxas Boulevard. The road wasn't just filled with cars but water and lots of trash.

This caused many people to react, including Solenn Heussaff. She took to Instagram Stories to share the video along with some of her thoughts. She also listed down some things we can do to prevent this from happening again. These included stop single use plastic products, fine people who litter, and to educate others.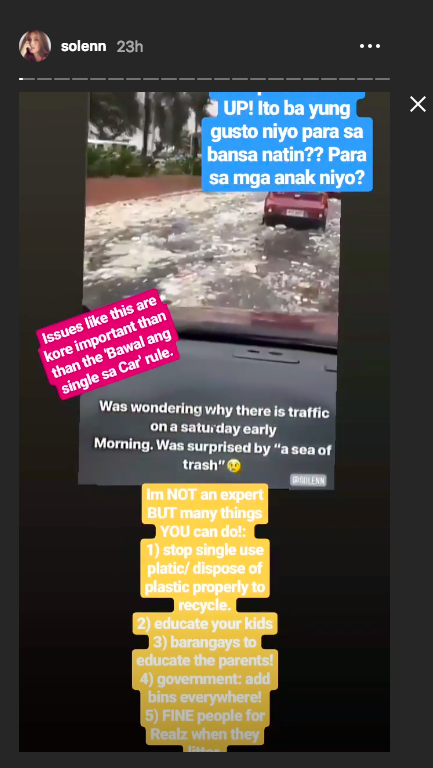 According to Inquirer.net, environmental group Eco-Waste Coalition also expressed their concern after seeing the aftermath. Zero Waste Campaigner Daniel Alejandre said, "The message is clear: We must stop treating Manila Bay like a garbage dump. We must unleat the bad habit of throwing discards anywhere to prevent the bay from tossing garbage on us."
He also stressed that this shows our lack of environmental responsibility. "The largely plastic waste materials washed by the bay should further remind of us the need to undo the practice of producing, buying, using and disposing of single-use plastics and other disposables."
I agree with him, however, this shouldn't just be practiced for Manila Bay, but for the whole country. Everywhere you go you will see trash. Walking to work, there is garbage covering the sidewalks. When trash cans in public places are full, people pile it on or leave their trash beside it. And, there are still many places that allow the use of plastic products like bags and straws.
Like Solenn said, we too are not perfect but this should definitely serve as a wakeup call. There is so much more we can do to help the environment. I know a lot of people look at the zero waste lifestyle as a fad, but maybe these photos and videos will convince them otherwise. So, the next time you make fun of someone using a metal straw, think about how it's helping Mother Earth.
Art by Marian Hukom
For the latest in culture, fashion, beauty, and celebrities, subscribe to our weekly newsletter here
Follow Preen on Facebook, Instagram, Twitter, YouTube, and Viber
Related stories:
Here's how you can start to live a zero waste lifestyle
Your self-care routine can now be zero waste
Bags and shoes made from plastic bottles? Yes, they exist
Is metal straw-shaming a thing now?