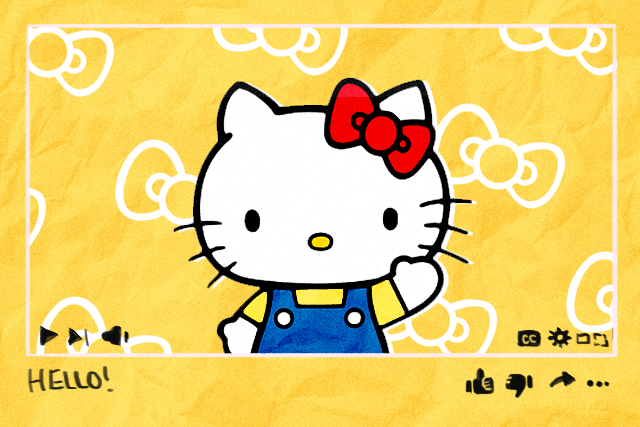 Social media has become a platform wherein everyone and anyone can make content and be famous in their own right. So much so that the cartoon characters and toys from our childhood now have their own voice on the Internet. If you've only heard of Barbie's online presence, here's another character you should click "Subscribe" to: Hello Kitty.
Yup, the adorable kitty-looking girl (she's human!) now has her own YouTube channel under Japanese brand Sanrio. It started in late August and only has three videos, but they're enough to see how Hello Kitty is going to steer this channel with self-aware humor and even giving out encouraging words for other creators.
In her introductory video, Hello Kitty shares that she's nervous and is still getting a hang of the whole YouTube thing. In one part, she said that she's been wanting to share her life on YouTube since last year but Sanrio was "tense" about it. She was told "That's impossible!" and "Kitty, the Internet is dangerous!" But she didn't give up and now has over 34,000 subscribers in just a week. Plus, how can you not wonder how she lives? Her mascot in Japan is already living an A-lister's life.
She also emphasizes that she's a veteran in the entertainment industry (she's been around for about 40 years) and jokingly says that she sometimes Googles herself. "[They] say, 'She'll do anything!' but it's not that I'll take any job at all," she says while lightly kicking the air. "It's just that there's a lot that I like to do. Doing all that I wanna do has made me what I am today." Oh, we love an ambitious cat-girl.
Just like any YouTuber, Hello Kitty asks her subscribers about what she can do in future videos like collabs with her Sanrio friends. (Imagine Gudetama in one video. Aaahhh!) She also made a funny comment about her voice sounding awful—"like some robot"—because of how awkward it is for her to shoot her first video. It's almost reminiscent to how big YouTubers would critique their really old videos and say that they sounded weird, sometimes faking it, back in the day. But don't worry, she'll learn how to do the "YouTube voice" soon enough.
Before ending the video, she goes, "I'll say what YouTubers always say: Don't forget to subscribe to my channel!" In another video, she adds the phrase, "Add me to your Favorites!" after the usual YouTube spiel. Kitty's tone sounds innocent but it can also be viewed as a funny take on how YouTubers repeat those lines in every video and she's preempting that she's probably going to do the same to gain more views and subscribers.
Kitty's second video titled "It's Takoyaki (Introducing Hello Kitty's Work)" is a humorous way of showcasing her acting talent. "People in showbiz say I'm a method actor and that's what I always will be," she says and then proceeds to do a one-man interview by playing a takoyaki character. You may think it's unusual, but in reality, the Hello Kitty branding can be found in various merch and snacks. In fact, there really is a version of her in takoyaki form in Japan. Now we're curious just how far Kitty can do her method acting.
The Hello Kitty vlogs are fun and refreshing, and they're something that you can watch casually. It's still too early to tell if these videos will tackle societal issues like how Barbie does it. But the cuteness may be enough to get us out of any rut.
Art by Marian Hukom
For the latest in culture, fashion, beauty, and celebrities, subscribe to our weekly newsletter here  
Follow Preen on Facebook, Instagram, Twitter, YouTube, and Viber
Related stories:
Hello Kitty is more than just a character, she's a celebrity
You can now get your hands on this cute makeup collab starring Hello Kitty
YouTuber tips: videos you can make if you're starting a channel
These AI influencers are taking over Instagram and they're too real
Barbie as an influencer is the role model I wish I had as a kid