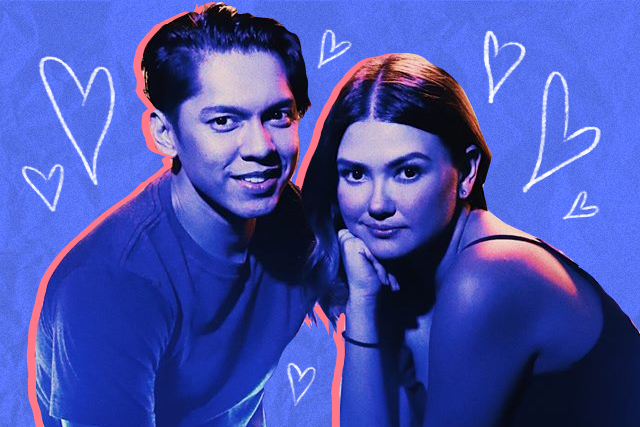 The #CarGel hype is real, you guys. The premiere of Exes Baggage is in two days but fans of the love team—both old and new—can't get enough of the two stars.
Just a refresher: Angelica Panganiban and Carlo Aquino were together for six years. Earlier this year, rumors spread that they were back on but turns out, they were just working on a film together. Still, hopes are still high since the two have openly admitted that they're good friends and love each other.
We understand the feels so before you hit the cinemas, we suggest you squeeze in the films, shows, and videos we've listed down below. Are you ready? 'Cause we kinda aren't.
G-mik
Raise your hand if you used to watch this in the late '90s! The #CarGel tandem and relationship practically started in this show. If you want to watch this again, it's showing on Jeepney TV from Monday to Friday at 5:30 to 6:30 a.m. We also know that it's too early for a lot of people so you can opt to binge these Angelica and Carlo video montages from ABS-CBN Entertainment's YouTube channel.
Mano Po III
Angelica and Carlo were in this 2004 film as the younger versions of Vilma Santos and Christopher De Leon's characters. If you're in the mood for a family drama, go look for a copy of this.
Exes Baggage trailer
It's been years since we got #CarGel content again because, you know, they broke up. But when the Exes Baggage trailer came out and people saw that the plot seems so true-to-life.
This Instagram Live video
Angelica and Carlo had an Instagram Live video once where they were both chilling in bed. Angelica explained that they're together because Carlo is sick and wanted someone to take care of him. There are other cute and funny moments in the almost 12-minute video.
A montage of IG Stories
Thank God for this YouTube channel that compiled IG Stories showing CarGel's recent sweet and kulit moments. Excuse us as we put this on loop.
Testing fate
Over on Black Sheep Productions' YouTube channel, Angelica and Carlo played FLAMES. (Who remembers this game? I feel old.) The two got "affection" as a result. Watch the video above to see how it went down.
Also, spoiler: Angelica missed the Cs in their names.
Singing together on ASAP
Carlo sang "Maybe the Night" on ASAP Jambayan last Sunday. This is also a reminder that he can actually sing. Plus, the way he was looking at Angelica made our knees buckle.
The GGV interviews that got us shookt
You already know how we all felt when we saw the revelations and the touching messages that they both gave each other. But we're still putting these here for your viewing pleasure.
Art by Marian Hukom
For the latest in culture, fashion, beauty, and celebrities, subscribe to our weekly newsletter here
Follow Preen on Facebook, Instagram, Twitter, YouTube, and Viber
Related stories:
Angelica Panganiban's 10-minute makeup look can survive anything
LOOK: Angelica Panganiban's touching birthday message for Carlo Aquino
Angelica Panganiban and Carlo Aquino revisit the past in new teaser
Is Angelica Panganiban back with her ex?