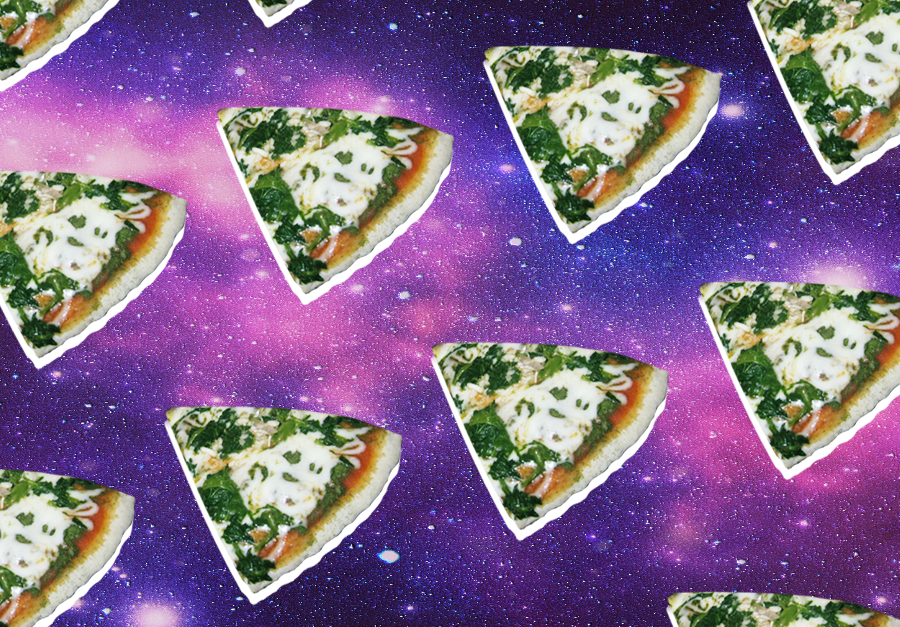 Siem Reap is a weekend town. Knock out the temple tour and cooking class within two days, and you're ready to hop back on a plane. But while the temples offer reprieve from the heat of the day, nighttime offers sights that UNESCO could only dream about.
The hub of it all is a tiny stretch called Pub Street. If Siem Reap is an entire vacation in two days, then Pub Street is Spring Break condensed into a weekend. It may be short, but it packs in thumping pop anthems, Cambodian barbecue, and a number of bars.
Preen associate managing editor Randz Manucom and I had checked out Pub Street the night of our arrival, but after two days  we were properly prepared for a night out.
Randz had heard of this thing called "happy special pizza" from some friends and insisted we headed to Hospital Street, a street known for the healing property of its pizza toppings. Just a quick walk from Pub Street were three options lined up, each offering the same general mix of pizza—and cannabis.
"Is this even legal?" Randz asked, hushed and giddy.
Part of the fun is feeling like you're taking part in something secretive and illicit, but for the record, laws in Cambodia are lenient. Technically, the law only prevents nationals from possessing, though this seems to be not be enforced. Visitors are exempt from this law, so if visiting you can munch in safety. Hospital Street eateries don't explicitly advertise the use of cannabis in their pizzas, but the stoned smiley face logos used convey the message well enough.
In our case, the waiter clarified, "Happy?" after we placed our orders. As nonchalantly as he would ask what pizza size. Randz, confused, responded, "Medium!" Once I explained to the waiter the specifications of our order—"Pizza, decent-sized, weed"—he left to procure our dosed pizza.
My experience with trees has been pretty limited. My college wasn't a party school, so it wasn't until after graduation that I smoked up for the first time. Friends would snag some from LA, and we'd throw it in a hookah for a smooth high, but I had never tried an edible.
But did it taste good?
The pizza itself was in the quality ballpark of "elementary school pizza party." Flaccid slices had sauce mushed into pools around the toppings, which were so unmemorable that I cannot even list them. But I know there was ham. Had we been interested in grabbing a REAL slice, this would have been a catastrophic disappointment. The pizza, of course, was the mere carrier of the main attraction. Sprinkled liberally, the marijuana freckled the pie like a doppelgänger of oregano.
The weed was a contrast with the other toppings, punctuating the bland flavor palette with a familiar sweetness. Most edibles conceal the flavor in butter or chocolate, but when ingested directly, grass takes like concentrated second-hand smoke—a earthy, almost sappy flavor. It tasted alternately pleasant or overwhelming, depending on the particular mouthful. 
We each consumed four slices, or half a medium pizza.
Has it kicked in, yet?
Common sense dictates that edibles take longer to kick in, so we meandered aimlessly back down Pub Street and into a bar. At the end of Pub Street is a rooftop bar, where the open mic is permanently occupied by men in their fifties warbling rock power ballads to their tipsy wives. These couples, fueled by margaritas, P22 draft beers, and maybe a few special pizza slices, fondled and groped each other. It all amounted to a zoo display—like watching the mating rituals of sexually active geriatric tourists! My twentysomething mind literally, can't even.
Horrified, we spilled back onto the street and decide to seek shelter in the night market. Filled with the typical cheap baubles and polyester hammer pants, there was little of interest or solace to be found. Outside the market was a fish spa.
Where most tanks have fish roughly the size of an anchovy topping, these fish were massive, free-range, koi-sized mutants. Randz was terrified, but I was thrilled. The fish were also really hungry, having apparently skipped out on a pizza of their own. One even leapt from the tank in an attempt to secure some skin slough, the first and only time someone will hold my dead skin to such premium.
The real fun begins
It felt like exactly how you'd imagine. Hovering nibbles, like fish trying to whisper secrets into the blisters formed by miles of temple trekking. There is no way to be calm when beasts that large gnaw at your legs, no matter how good-natured the fish are about vacuuming between toes. It still kicks in something instinctual. It's fight or flight with a pack of polite piranhas.
Instead of fleeing, though, we both started to laugh. Hard, un-cute, unfettered laughter. The pizza had kicked in.
A woman had been watching in an attempt to determine if she wanted to join us. Watching two guys dip their feet into the tank only to immediately burst out in screams and giggles was enough to make the eyes bulge out of her head.
She wasn't exactly sold.
We took turns, dipping our toes in only to crack up and immediately rescind once again. After a few minutes, we had our fill and laughed our way back up the street and into the bars. While cheap liquor flowed and we danced the night away, the rest of our night played out like any good, typical party hotspot. Specialty shots and smoothies were had, but nothing would match the pizza-fueled adventure we had with the fish front of the night market.
Art by Dorothy Guya