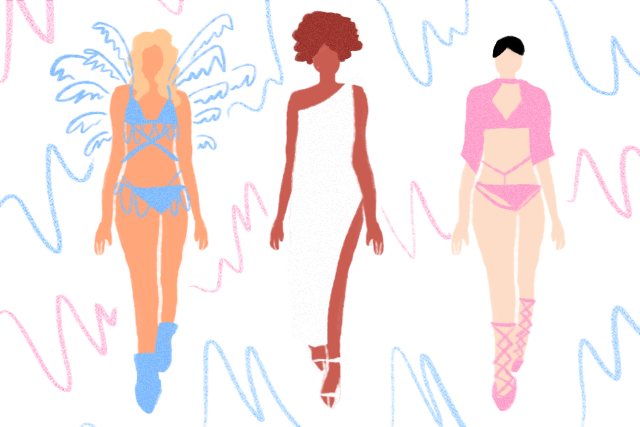 The much-awaited Victoria's Secret Fashion Show has just concluded, and though we celebrate some things, like our our very own homegrown talent Kelsey Meritt's first walk on the show, as well as model Harlow Winnie slaying her walk, as a whole, the show remains problematic for us. While they manage to cast diverse models, racially speaking, it's still still very exclusive. In fact, in a shocking interview with Vogue, chief marketing officer Ed Razek of the lingerie manufacturer's L Brands explained that, aside from VS not considering plus-size models on the show, they also think trans models don't belong in that runway. "Well, why not? Because the show is a fantasy. It's a 42-minute entertainment special. That's what it is. It is the only one of its kind in the world, and any other fashion brand in the world would take it in a minute, including the competitors that are carping at us. And they carp at us because we're the leader," he infamously said. Though he has apologized for "coming across as insensitive," netizens are quick to call out the BS.
https://twitter.com/AsWeAllArise/status/1061397229917753344
So you "admire and respect" them but just think they can't be models? What a BS apology!

— Eric Rosswood (@LGBT_Activist) November 10, 2018
This is in no way an apology , like many others didn't make it ? So literally just saying "we don't care" we're still non inclusive BYE ✌🏼

— NIKKI LIPSTICK (@nikkilipstick) November 11, 2018
Point taken. We too think he said it exactly the way he meant it. Which is unfortunate, because we believe trans models do belong in that show. I mean, just look at these lovely models. We're damn sure they'd slay in the runway as angels too. To be clear, this is just to make a point, not beg VS to hire them on their next show if they're really unwilling. Like they said—it's their loss anyway.
Carmen Carrera
Actress and model Carmen Carrera is known for starring in multiple television series, and for appearing in RuPaul's Drag Race. Since transitioning, she has appeared in various high-profile fashion shoots. In an interview with Teen Vogue, she stressed the importance of transgender models walking the VSFS: "It's important to have transgender representation because we represent the forthcoming generation, and their new perception on the standard of beauty—which I believe is being true to yourself, loving yourself and others. It's also about being more aware, socially, and shedding a light on all marginalized groups. It's beyond the surface beauty."
She directly addressed the brand on Instagram too, saying " If they are ready for a positive change with a big impact, they know where to find me!"
Leyna Bloom
https://www.instagram.com/p/BhEmMSTgB62/
Leyna is the first out transgender model of colour in Vogue India. In an interview with Mic., she revealed why she's so determined to succeed. "I represent so many groups of people and communities around the world. Me, I would just be the vessel." Last April, she took to Twitter to express her desire to be the first trans model of color to walk the VSFS. Thousands of people got behind her cause, and the tweet garnered over 130,000 likes and retweets, and numerous news outlets picked up the story, so we're sure Victoria's Secret was aware of her campaign.
In a lengthy Instagram post, she shared her thoughts on statement: "I'm disappointed, because I thought you were the leaders and now I know you're the problem, and I'm thankful for you for revealing your secret." She added, "Trans will not support you anymore, trans will not follow you anymore. When the world comes to change and when it comes to embracing that change you will not be part of it. THIS MOMENT CANNOT BE ERASED. We have had ENOUGH @VictoriasSecret You do not represent none of us Women"
Geena Rocero
https://www.instagram.com/p/BpnSdc5lbiX/
Born and raised here in our country, Geena first caught the eye of the public when she started joining pageants. She then entered the world of fashion after being discovered by a photographer in the West Village. She has actually modeled for years before she publicly came out as trans during a TED Talk in 2016. Her modeling achiebements include walking for Chromat and Marco Marco, as well as appearing on the cover of Harper's Bazaar India.
Aside from being a model, She is also recognized as an advocate, writer, and the founder of GenderProud, a global advocacy network which aims to help trans people fight for their legal rights.
Lea T
Lea is an icon for being considered as the first transgender supermodel. Since being discovered by Givenchy designer Riccardo Tisci in 2010 and becoming his muse, she has since appeared in magazines and on runways around the world, including being named as one of the the faces of major beauty brand Redken. You may also recognize her for being featured in the Italian version of Dancing With the Stars in 2013. Regarding diversity in the beauty and fashion industry, she shares, "We are not all the same; we don't need to have all the same prototype." She added, "In beauty, when there is a prototype, you become a slave of this icon, of this canon of beauty. But you need to see inside the person."
Jari Jones
Jari is a fierce trans advocate. She uses her fame to speak about trans issues which you can view on her social media platforms, as well as on Teen Vogue Take. Aside from being a trans-femme actress, she also refers to herself as a curve model and is currently featured in New York City Health's Living Sure Campaign. Aside from seeing a trans model walk the show, we are all waiting for Victoria's Secret to be more body-diverse. We're sure Jari, along with other "curve models" would bring something special to the show.
Art by Marian Hukom
For the latest in culture, fashion, beauty, and celebrities, subscribe to our weekly newsletter here  
Follow Preen on Facebook, Instagram, Twitter, YouTube, and Viber
Related stories:
I think the Victoria's Secret Fashion Show needs a makeover
In the week of important women's news, VS Fashion Show is still late in the game
Kelsey Merritt shares backstage content from the Victoria's Secret Fashion Show
Kelsey Merritt is slaying in her official Victoria's Secret photos