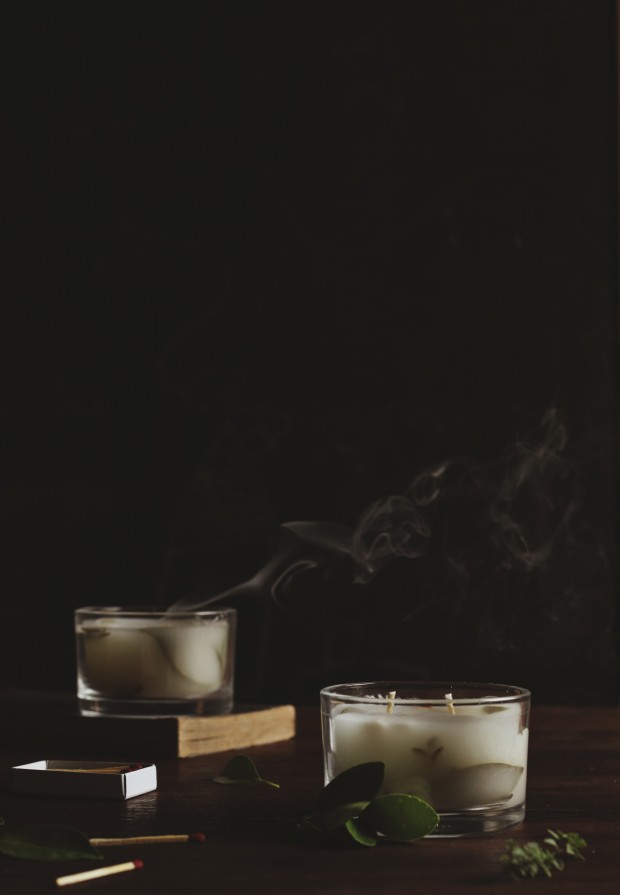 Not all occasions call for a fancy scented candle. For instance, if you're outdoors, what's the point? The scent will disburse, and you'll hardly get to appreciate it. Or what if the power goes out? Sure you can sniff your candle while it's lit, but scented candles are for winding down—who can relax during a brownout and there's no WiFi?
In any case, we came across this crafty DIY project so that you can make your own decorative, hand-poured soy candles. You can give them away as gifts, display them in your outdoor patio, or use it as an excuse to repurpose those old glass candle jars.
Materials
Plain soy candles
Small glass votives or mason jars
Small sharp knife
Small heavy pot
Leaves from citrus plants and herbs
Chopped lemon or orange peel
Metal tongs
Barbeque stick
Directions
1. Cut your candles into smaller pieces. Be careful not to damage the wick.
2. Arrange whole leaves in the bottom of your votives. Sprinkle your herbs and peel. Try to keep the leaves as close to the sides of the votives.
3. Melt the wax (including the parts with the wicks) in the pot until the wax is completely clear. Do not let it boil. Allow to cool for about five minutes.
4. While cooling, remove the wicks using tongs. Lay them flat and straight on a surface.
5. Put your wicks in the votives with the metal ends on the bottom and top (about two inches) secured around the barbeque sticks. Let the stick rest on the rims of the votives.
6. Slowly and carefully pour the wax into the votives to about an inch from the top.
7. Once the wax in the votives turns opaque but it still slightly soft, sprinkle more herbs and peel on top.
8. When the wax is completely cool and hard, remove the sticks and snip off the wicks about half an inch from the surface.
 Source: Ina Amor Mejia for Northern Living, "A Gentle Light," June 2015
Photos and styling by Ina Amor Mejia