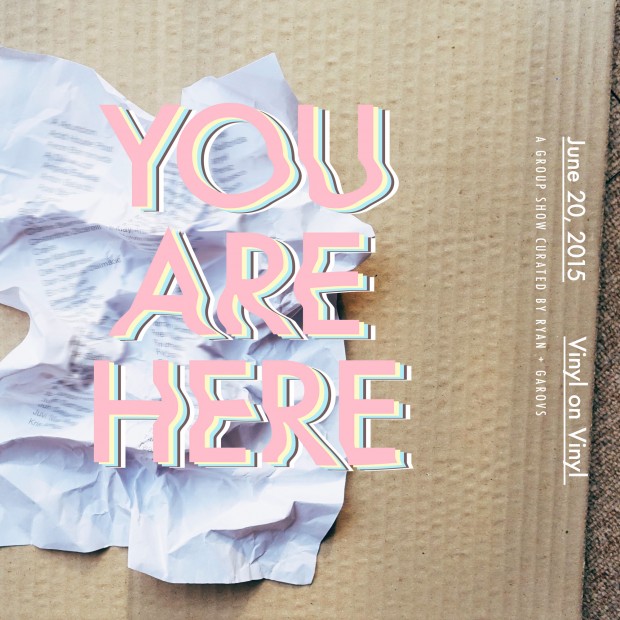 We've never seen a group show this big before.
But we should've expected nothing less from Ryan and Garovs Vergara, power couple-slash-creative forces behind Everywhere We Shoot!. Tomorrow, June 20, at 6 p.m at Vinyl on Vinyl, drop by You Are Here, a group show curated by them that flaunts works from over 100 of their favorite local artists.
Yes, you read right. 100. That also means Vinyl on Vinyl will be housing more than 100 pieces. Artists range from traditional powerhouses Mariano Ching and Mark Salvatus to photographers Jake Verzosa and Costantino Zicarelli to female creatives Reese Lansangan, Northern Living cover girl Micaela Benedicto, and Hinge Inquirer's own group creative director Nimu Muallam.
Debuting a '50s-inspired collage depicting lavish lifestyles, Nimu admits to being both hopeful and nervous for the upcoming show. "Hindi kasi talaga ako artist [in the traditional sense], designer talaga ako. Pero, [I was] game," she says, recalling the time she read Ryan and Garovs' e-invitation to join the show.
Apart from her work, Nimu looks forward to the pieces of established greats like the Santos siblings, Jigger Cruz, and Charles Buenconsejo, and even non-artists like Esquire editor in chief Erwin Romulo and stylist Sam Potenciano.
Inspired by an unassuming and meaningful theme of "Home," these artists didn't have to travel far from inspiration—or maybe, they did. Using their own collections as reference, they handpicked personal works, favorite fliers and catalogs, saved messages, and even memorable photos they liked on Instagram.
These works show why art in an urban abode is more than just décor. They're pieces that speak of emotions, aspirations, and other things that the owner doesn't say.
Drop by this weekend for a massive celebration of artistic efforts and tributes to the first thing that shaped us as persons. It's all one big coming-home party that's heaps more creative than any other.
You Are Here will run from June 20 to July 4 at Vinyl on Vinyl Gallery. 2135 Warehouse II, 2nd floor, Chino Roces Avenue, Pasong Tamo, Makati. Regular gallery hours are from 12 p.m. to 7 p.m, Mondays to Saturdays.