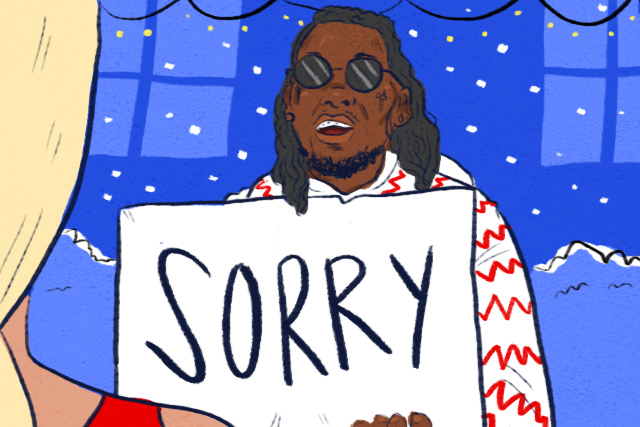 Cheating and being cheated on sucks. But you know what's worse? When the one at fault denies it and tries to get you back via grand gestures. That's exactly what happened with rapper Cardi B and her ex-husband Offset.
The two recently announced their split because Offset allegedly cheated on Cardi (again), and they're currently in the process of getting a divorce. While that's happening, the former posted an emotional apology video on Instagram, saying that it's his one birthday wish. "I want to apologize to you, Cardi. You know I embarrassed you, I made you look crazy. I was partaking in activity that I shouldn't have been [partaking] in and I apologize for breaking your heart, breaking that promise, breaking God's promise, and being a selfish and messed up husband," he said.
It all sounded well but then, he tried to diffuse the cheating accusations by saying, "I didn't f*ck that girl but I was entertaining her, you know what I'm saying?" Uh, dude, that doesn't make what you did any less bad.
Shortly after, Offset made another apology. This time, he interrupted Cardi's set at the Rolling Loud Festival in Los Angeles. He also brought a flower wall with the words "Take Me Back Cardi" on it. Based on the video, Cardi wasn't having any of it and even appeared to be lecturing her ex a bit before he walked off the stage with his flowers.
CARDI B MADE OFFSET LOOK LIKE A FOOL LMAO pic.twitter.com/v4JPYLHVKU

— emily (@nunezemilyy) December 16, 2018
Now, we don't want to join in on the whole breakup drama. Whatever they're going through is between them and fans shouldn't cyberbully both artists. (Though, not gonna lie, Offset's apologies were sooo bad.)
What we want to focus on is how men do grand gestures to pressure women to do what they want—whether it's saying yes to a date or, in this case, accepting their apology. It is extremely manipulative to put women on the spot, in front of several people.
"You're supposed to say yes because he did all these romantic things for you." Yeah, but this isn't a rom-com where we casually forget how the scenes skew our ideas and expectations of relationships. This is real life and women are subjected to scenario where they're not allowed to refuse, else, they will be judged for doing so.
Imagine this: If you had the same breakup situation as Cardi B and Offset but no one knew what was going on, you will be painted as the bad person by the public for turning down an offer. Why? Because they have no idea that your significant other did something horrible to you. These people were simply passing by and cheering you guys on. The mere fact you'll say no ruined their entertainment and they will be pissed at you.
You think I'm making this hypothetical scenario up? Just look at the amount of men who are pressuring Cardi to forgive Offset.
When Cardi told her fans to respect their privacy as an ex-couple and parents to baby Kulture, she should've directed it to Offset too. The dude should be backing off from Cardi, especially since they've just split for something he allegedly did.
"Poor guy." Well, how about the woman he hurt and putting on the spot? Her feelings matter too.
Art by Marian Hukom
For the latest in culture, fashion, beauty, and celebrities, subscribe to our weekly newsletter here
Follow Preen on Facebook, Instagram, Twitter, YouTube, and Viber
Related stories:
Cardi B's baby announcement involved highlighting her bump
Erich Gonzales' rom-com moment via billboard isn't cute for other reasons
How rom-coms skew our idea of love and relationships
Cardi B aced her colored eyeliner game in her latest music video