Russell Bateman, Vogue contributor and the founder of the Skinny Bitch Collective (SBC), an exclusive, invite-only fitness group whose clients include supermodels and Hollywood A-listers, is currently under fire for a series of posts uploaded on social media.
While hosting a fitness retreat in Kenya, Russell posted videos of the women training while surrounded by local Maasai tribesmen. In one video, they appear to be used as markers where the students weave around. In another, they are standing in the background while the women compete in a tug-of-war and reptilian crawl, and as they were dancing around a "tree of life." There was also one woman who used a Maasai cloth as a workout mat.
Diet Prada promptly reposted the videos and cited how the locals were being used as literal props to the "gang of seemingly cloned, pony-tailed white women." It also stressed that it was a clear depiction of "colonial mindset."
SBC has since issued an apology through their Instagram account. It explained that the collective was "required to be accompanied by the tribe at all times" because the retreat was taking place on the tribe's ancestral lands. During the retreat, Russell claimed that a "friendship was formed" and the Maasai "joined in" and gave permission to be filmed. "Our intention was to promote a cross-cultural exchange through shared experiences, and to highlight the beauty of Kenya and its indigenous people," he wrote. "However, having taken a step back, we accept and understand that our content fell well short of this aim, and lacked appropriate cultural sensitivity by reinforcing colonial era stereotypes of people of color."
He additionally told Daily Mail Online: "I would like to sincerely apologise to anyone who I have offended with the content posted from the Kenya retreat. It was never my intention to cause offence and I am deeply saddened." Adding, "I have been truly humbled by today's events and will be taking my time to reflect and consider how best to learn and evolve from these ill-conceived ideas going forward."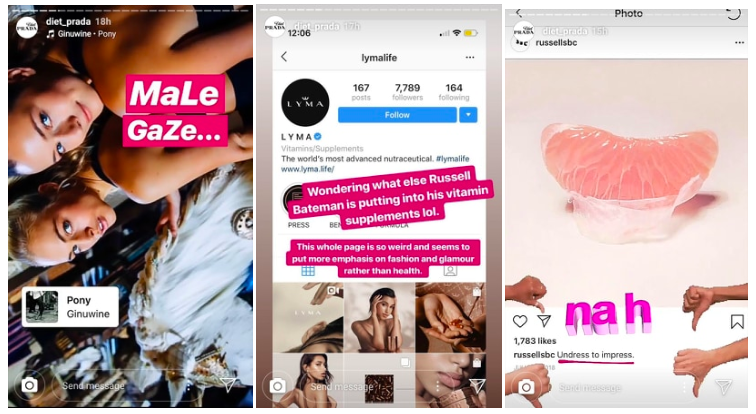 It's good that they at least apologized. But it's getting exhausting to still see this kind of grave form of racism—as well as the disgusting misogyny Russel promotes which overtly sexualizes the women—something Diet Prada also highlighted. It simply should not be happening in 2019.
[Business Insider and Buzzfeed News]
Photo courtesy of Diet Prada's Instagram account
For the latest in culture, fashion, beauty, and celebrities, subscribe to our weekly newsletter here  
Follow Preen on Facebook, Instagram, Twitter, YouTube, and Viber
Related stories:
Vice Ganda accused by Diet Prada of imitating Viktor and Rolf couture
Gucci's new piece sparked racism comments
There may be a conspiracy surrounding Kim K and fast fashion knockoffs
An ex-employee is calling out a luxury house for racism