The setting at Fat is understated, to say the very least. Bare, gray-washed concrete walls enclose white marble and glass top tables and chairs. Black lamps are welcome accents. "We try to keep our dishes colorful and the center of attention, so we keep the interiors bare," explains sous chef Jan Carl Licup.
I sat there, a little skeptical of what the seemingly unassuming restaurant could do differently from the competition around Forbes Town Center in BGC with options like The Burgery around the corner or with Burgers & Brewskies, and Big Bad Wolf  both just being a five-minute walk away. I did, however, hold back any further judgment as Fat is chef Kel Zaguirre's newest venture after his much-acclaimed Filipino-inspired restaurant, Locavore.
For Fat, Chef Kel uses meticulous French techniques that are all about being loyal to taste and flavor. "It's called Fat because I want people to indulge in good food without counting calories first or thinking about whether it's their cheat day or not," explains the chef.
"Fat stands for nothing else but fat, the good stuff that makes food (taste) good." In this quinoa-munching, juice-cleansing world, it's almost difficult to say the word "fat" without sounding too blatant. But here it is, the name of a restaurant. So much, I now think, for being understated.
Soon enough, we were introduced to their different specialties. Their take on Caesar Salad involved crispy bacon strips sandwiched in lettuce leaves and topped with parmesan cheese. However, it wasn't a favorite given it's salty side. It was kind of hard to believe we weren't fans of bacon for that particular dish.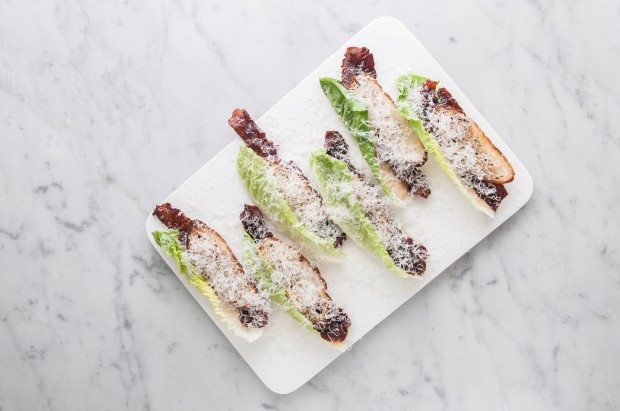 The red, green, and yellow ensemble that was the Grilled Unagi Salad was indeed eye-catching. It was also one of our favorites; it was refreshing, and found the right balance among all its components: from the crispy beet lavash to the tangy mix of pico de gallo, and the richness of the unagi, grilled just right as to enhance the flavor.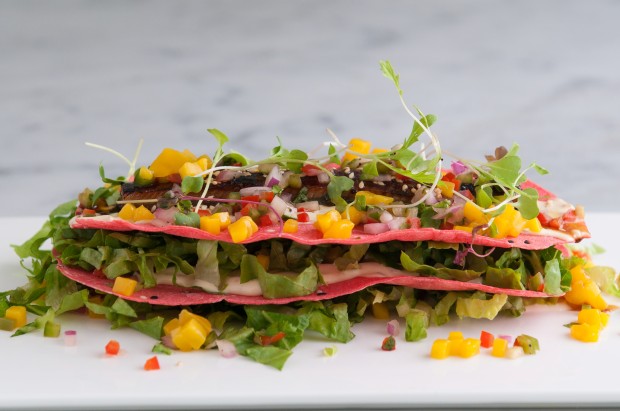 Top marks also go to the Porchetta, a thick, golden-brown slab of pork that sat on a bed of mashed potatoes, served with tomatoes, mushrooms, and bacon jam. Brined overnight and stuffed with different herbs before roasting, the hardwork surely paid off.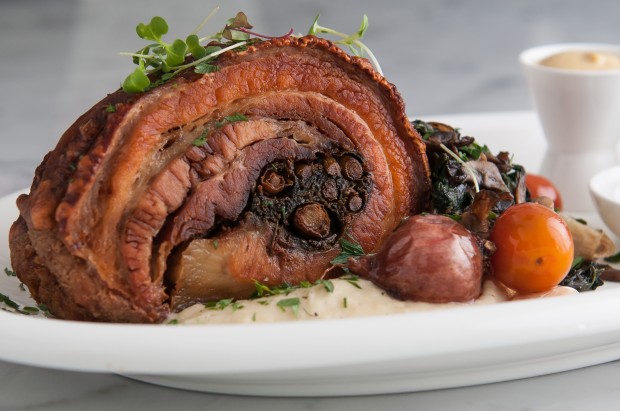 The Pork's Ear En Croute was also for those who don't really stick to a diet.  The chopped pork's ear was spilling on the sides of its sourdough bread base,  and came with saffron aioli, pico de gallo, and mango mayo. However, it did not really introduce anything new to our palettes. (We might have to come back for a second try of this, though as it had gotten to us cold after being shot by our photographer and theirs.)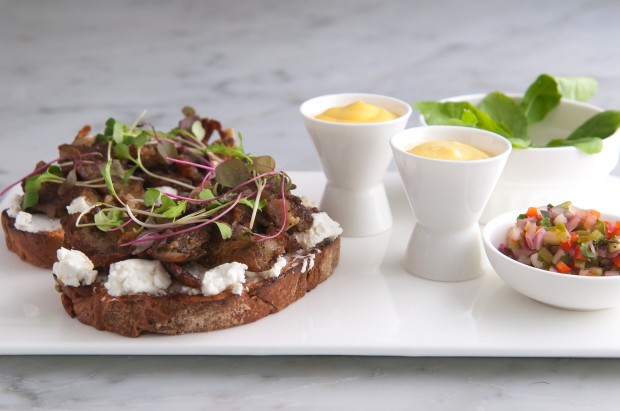 Same goes for the Butter Poached Tuna. A combination of different influences with a quinoa-couscous salad and a wasabi ver blanc sauce (made with sake instead of the traditional white wine), the dish is a welcome option for when your dining companion refuses anything deep-fried. However, as it also got to us cold, we couldn't really appreciate the flavor of the tuna and how it could have complimented the salad.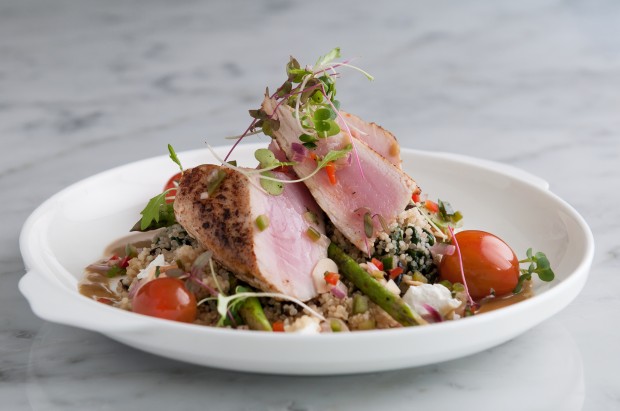 The Bacon Baklava looked promising, but after we took our photos, it wasn't served to us for some reason, which was odd. As for the rest of their service, we had difficulty getting a waiter to pay more attention to us. They were slow and unprepared, just filling the napkin holders when we asked them to. We will give this a pass, however, given the restaurant is still on its soft opening.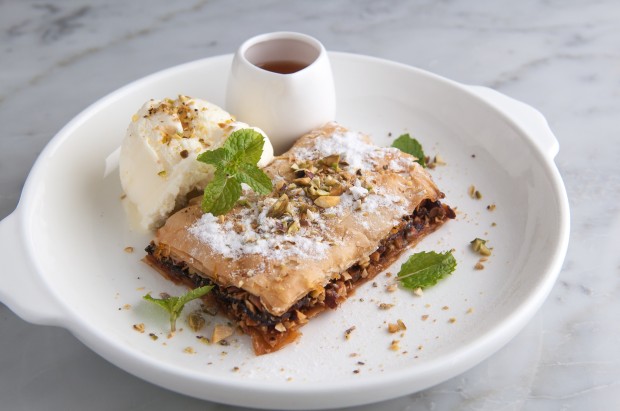 Still, if you want to indulge in familiar flavors that have been given a different twist, Fat is worth a visit. If you're out to make the most of your cheat day, then this place might just fit the bill.
Fat is located at Forbes Town Center, 29th Street corner Rizal Drive, Bonifacio Global City, open Tuesday to Sunday from  5 pm -11 pm. For reservations, call 856-4090.
Photos by Nico Nuyda