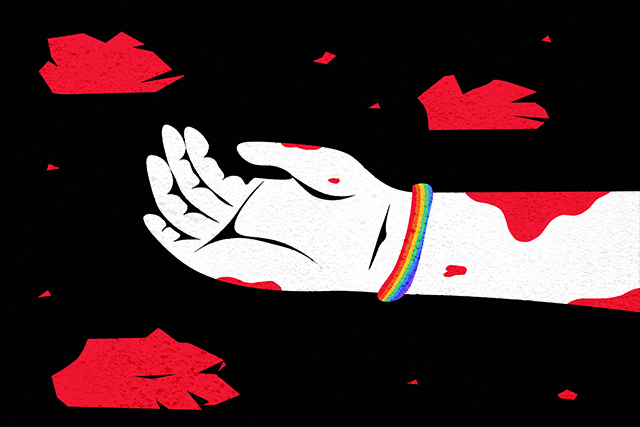 It's 2019.  An openly gay mayor from South Bend, Indiana, is running for the Democratic presidential nomination. A Black lesbian was just voted in as mayor of Chicago. A transgender beauty queen participated in the Ms. Universe pageant as Ms. Spain. A survivor of last year's tragic school shooting in Florida went to his prom with a fellow survivor, also male. The Oscar for Best Actor this year went to Rami Malek, who played the legendary Queen frontman, Freddie Mercury, who happened to be bisexual.
And in the backwater that is Brunei, gay sex, adultery and sodomy are now capital offenses that are punishable by death. And by death they don't mean the "humane" form of execution like, say, lethal injection. No, a punishment by death in Brunei means a long, painful, torturous death by stoning. How positively medieval.
To be fair, the same severe punishment applies to the crime of rape, which, to my mind is apt.  However, the misogynistic, anti-LGBT mindset that supports the implementation of these harsh and inhumane penalties does not exactly augur well for the rape victim, who would likely be a woman, perhaps even gay or transgender. Would she be taken at her word when she reports her rape, or would she be found guilty of "asking for it" and sentenced to death for adultery instead?
Lesbian sex, it would appear, is a little more tolerable in the hierarchy of crimes in Brunei: the offending women won't be pelted by stones, but by the stroke of the cane, and only a merciful 40 lashes at that and/or a maximum of 10 years in jail. I suppose it would depend on how disgusted the Sharia court would be—male-dominated, no doubt—by the idea of two women getting it on.
But two men? That would be a totally unpardonable and unnatural abomination and death would be the only way to teach these sodomites a lesson.
Sharia law, by the way, is to be brutally applied across the board, with crimes such as theft punishable by amputation, or apostasy punishable by death, preferably in the most barbaric manner possible. Perhaps this is the hardcore Islamic version of a gladiator sport. Bruneians can all look forward to fun times at the public square.
The United Nations called the legislation "cruel, inhuman and degrading," and a "serious setback" for human rights protection.
Clearly the Sultan of Brunei, Hassanal Bolkia, is chuffed at his own strict adherence to Sharia law. "I want to see Islamic teachings in this country grow stronger," he said in a public address.  He described the imposition of the death penalty for gay sex and other offenses as "a great achievement."
By whose standards apart from his is admittedly difficult to discern?
It's not as if homosexuality and sodomy do not exist in the Islamic world. Having lived in the Middle East in the early '90s when censorship was rife, I'd seen first-hand the zeal—and cluelessness—of the censors who tore out topless images of Kate Moss from Vogue Magazine lest readers become corrupted with such a display of wantonness. Yet they obviously did not bother to read the content; one particular magazine with torn out pages had, I recall, an article on oral sex, with the word "CUNNILINGUS" spelled out in large, bold type.
And yet there was an underground porn industry in Jordan, not to mention an equally clandestine video rental service that specialized in porn. Our own neighborhood grocer would offer them to us surreptitiously at the check-out counter. And rather generously, he would not charge any video rental fees. I'd seen the videos but never watched them. I was told that they would be filmed in a couples bedroom by someone hiding in the closet.
And I knew several Muslim gay men whilst I was living there, some indeed very effete and flamboyant. Others were not so much closeted but obedient. As long as they married a woman, produced offspring, and kept their same-sex liaisons private, their homosexuality would be conveniently overlooked. So one of my friends salivated over football players' physiques at a kiddie birthday party while his wife looked after their child.
You'd think the Sultan of Brunei would have more pressing things to think about. Like his country's weakening economy. Or the encroachment ISIS in Southeast Asia. Or his own brother's profligate spending. Instead, he chooses to terrorize the LGBT community in Brunei with the fear of death, notwithstanding the fact that, as Rachel Chhoa-Howard of Amnesty International said, "consensual sex between adults of the same gender should not be deemed a crime at all."
And yet, there might be a pot of gold waiting at the end of the rainbow. The law stipulates that there must be four witnesses to the act of anal sex or adultery for it to be prosecuted," said Bill Hayton, an associate fellow with the Asia Pacific programme at Chatham House, who spoke to the BBC.
So four Muslim witnesses to an act of sodomy? Kinky. You can bet that whenever three or more are gathered in the name of witnessing a sex act, there are more than two men getting off.
Art by Marian Hukom
For the latest in culture, fashion, beauty, and celebrities, subscribe to our weekly newsletter here  
Follow Preen on Facebook, Instagram, Twitter, YouTube, and Viber
Related stories:
"Gender appropriation" is the new way to shame the LGBT community
We have to talk about the "gay purge" in Chechnya, Russia
It's not your call to out gay people
7 LGBT films to watch out for this 2019