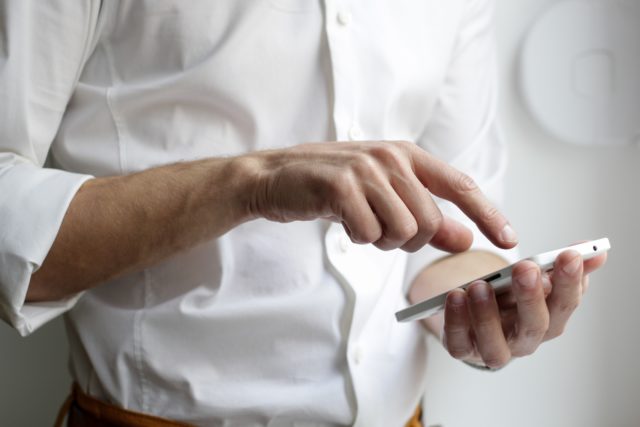 This column may contain strong language, sexual content, adult humor, and other themes that may not be suitable for minors. Parental guidance is strongly advised.
Upskirting is finally a crime. At least in England and Wales. And the person who led the campaign to make it a crime was a woman.
Upskirting is the term used to describe the act of taking an unauthorized and sexually intrusive photograph under someone's skirt. That someone is usually a woman, although it could plausibly happen to a man in a kilt or a sarong or a dishdash, but rarely does it ever occur to a woman to force her phone under a man's skirt to snap a photo of his junk. And yet, it would seem that many men get off from doing just that to women. I suppose it is the digital age version of the losers who would wait at the bottom of the stairs at a school hall watching as girls went past, hoping to catch a glimpse of their breasts underneath their cropped shirts, which actually happened to my sister when she was at college. The wonders of technology, indeed.
So not only are there men in this world who love sending dick pics, they also get a sick thrill from upskirting, as Gina Martins found out.
Gina recounted what had happened to her on the BBC News Magazine:
"On 8 July 2017, I was standing in the crowd at the British Summer Time music festival in London's Hyde Park having a laugh with my big sister and waiting for The Killers to take the stage. Two men were standing next to us, and after offering us some chips (and me accepting a couple) they became incredibly creepy.
"One of the men—with dark hair—was worse than his taller blond friend. He constantly asked me questions, I caught him looking me up and down and he was laughing and joking with his friend about me. Then he rubbed up against me. I think that's when it happened.
"At some point he put his phone between my legs, positioned his camera up my skirt and took pictures of my crotch in broad daylight.
"At the time I had no idea what he had done. My sister and I were excitedly waiting to see a band we've loved since we were teenagers. But while we were watching the stage I saw something out of the corner of my eye. The tall, blond guy was looking at something on his phone and laughing. It was my crotch covered by a thin strip of underwear. Even though it was a small picture, I knew it was me straight away."
Gina was horrified, and while she succeeded in snatching the phone from the man's hand and running towards security, she was stunned to be told by the police that while the photo "shows more than you'd like, it's not graphic." There wasn't much the cops could do, and the case was soon closed, with assurances from the authorities that they made the perpetrator erase the image from his phone.
So Gina turned to Facebook and Twitter to post about her experience, which went viral. Many women responded with similar experiences. Adamant that what had happened to her and to countless others should be considered a criminal offense, she began a campaign that would lead to upskirting becoming criminalized.
Last July, Gina's campaign won the support of members of Parliament, as well as the Prime Minister's.  Theresa May was very clear about her feelings on the matter: "Upskirting is an invasion of privacy which leaves victims feeling degraded and distressed."
This week, the bill designating upskirting as an offence became law, incorporated into the Voyeurism (Offences) Act 2019, which means it is now a crime in England and Wales when:
Without consent, a person takes pictures beneath a person's clothing to observe their genitals or buttocks, whether covered or uncovered by underwear

The offender has a motive of either gaining sexual gratification or causing humiliation, distress or alarm to the victim
Gina is of course elated—she called the success of her campaign "politics at its best"—and hopes that more people will come forward and report these sexual offenders who seem to get their kicks sticking their phones in between the legs of young and old alike. The police in Essex, for instance, reported that a 70-year-old woman was a victim of upskirting; they also charged a suspect who had upskirted a child between seven and nine.
Why is this world full of sick f*cks?
Gina also faced backlash, sadly—but then again not surprisingly—from other women who assailed her for wanting attention, for seeking publicity, for being at fault for wearing a skirt to a music festival.
In other words, she was asking for it.
It's sad when you realize that misogyny is so internalized that there are women who still lay the blame on a woman when she is sexually harassed—and upskirting is very much a form of sexual harassment. As Gina herself pointed out, why shouldn't she be able to wear what she likes to a music festival, or indeed anywhere she chooses, without fear of assault or harassment?
Just as no woman "asks" to be raped, no woman "asks" for a camera to be shoved in between her legs and a picture taken of her crotch. If she does, then 1) it becomes a consensual act; and 2) she probably has a website and is monetizing the fact that they are men who'll pay money to drool over such images.
It's not enough that there are men who can't keep their dicks in their pants. Apparently they can't keep their phones on their person either.
B. Wiser is the author of Making Love in Spanish, a novel published by Anvil Publishing and available in National Book Store and Powerbooks, as well as online. When not assuming her Sasha Fierce alter-ego, she takes on the role of serious journalist and media consultant. 
For comments and questions, e-mail [email protected].
Disclaimer: The views expressed here are solely those of the author in her private capacity and do not in any way represent the views of Preen.ph, or any other entity of the Inquirer Group of Companies.
Photo courtesy of Unsplash
For the latest in culture, fashion, beauty, and celebrities, subscribe to our weekly newsletter here 
Follow Preen on Facebook, Instagram, Twitter, YouTube, and Viber
Related stories:
Being drunk isn't an excuse for harassment
Female sportscasters have been dealing with sexual harassment on the job for too long
Gretchen Fullido's clothing shouldn't factor in her sexual harassment case
BoJack Horseman: Bringing sexual harassment cover-ups to cartoons