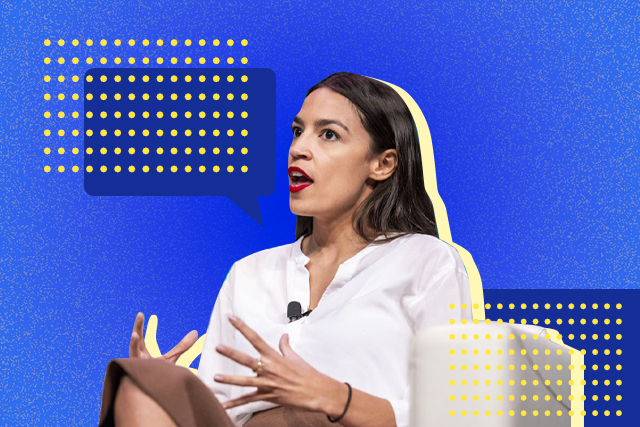 Last time, I was going off about Knock Down The House trailer. Well, I've already watched it and spoiler alert: the film delivered in the best way.
As promised, the film shows Alexandria Ocasio-Cortez and her fellow female Democratic candidates, Amy Vilela, Cori Bush, and Paula Jean Swearengin, on their campaign trail during last year's US midterm elections. Though the latter three have lost the race. they put on a good fight, and their journey absolutely deserve to be shown in the film.
AOC, well, we already knew she won. To most, the how is the real mystery as she was undeniably the underdog. Today, she is recognized as a major force in American politics. But before that, this documentary shows us that she was just as passionate and charismatic. A year before the election, we watch as she learns how to be a candidate for the first time, and eventually win the race.
There are so much to note about the documentary, and we'll start by listing down her most memorable quotes.
"Getting ready, for women, it involves so many decisions about how you're gonna present yourself to the world."
The first scene in the documentary, we hear AOC saying this as she was putting on makeup and getting ready. These were words she said way before she became a representative—a fitting foreshadowing for the criticisms of how she chose to physically present herself months after her election.
Late last year, Eddie Scarry, a conservative media writer, tweeted a photo of her wearing a tailored black jacket and carrying a coat. "I'll tell you something: that jacket and coat don't look like a girl who struggles," he wrote in the now-deleted tweet.
Later, when Interview magazine featured AOC alongside Kerry Washington, some conservatives again commented on the outfit she wore. "Alexandria Ocasio-Cortez, who pretends to be a champion of the people … just posed in a photoshoot with a $3,500 outfit, $625 shoes, all while saying the rich have too much power and that socialism hasn't been tried," tweeted Charlie Kirk, the founder of the conservative student group Turning Point USA. On Fox & Friends, commentator Katie Pavlich added, "The rising star of the Democratic Party has expensive tastes for a socialist."
Not only are these criticisms unfair (who says working-class people can't afford to look "elegant"?)—but they also highlight precisely what AOC said: For women, presenting herself to the world can get really complicated. In her case especially, even the act of dressing becomes highly politicized. And it seems that whatever she does, people will have something to say. From the criticisms, it's like conservatives are suggesting she dress the part of the "struggling girl"(what do they even want, jeans and shirt??)—but if she does that, for sure some people would then tell her off for being inappropriate or not taking her new role as a politician seriously.
Also, it's important to note that she isn't the first female politician to be criticized for her outfit choices. But best believe AOC kept her haters straight.
The reason journos from @FoxNews to @dcexaminer can't help but obsess about my clothes, rent, or mischaracterize respectful convos as "fights" is bc as I've said, women like me aren't supposed to run for office – or win.

& that's exactly why the BX and Queens sent me here. https://t.co/t7VBLuyZK3

— Alexandria Ocasio-Cortez (@AOC) November 16, 2018
"If I were, like, a normal, rational person, I would have dropped out this race a long time ago."
When AOC set her sights on a seat at the table, she knew it was not going to be easy.  She was up against Joe Crowley after all, a 10-term congressman who hasn't had a serious competition for the position in 14 years. Not to mention, he's the fourth most senior Democrat in the House. At one point in the documentary, AOC also said some people might think she's crazy for what she was doing. "Maybe I am," she said lightheartedly. It kind of reminds me of that empowering ad by Nike, where female athletes encourage women to take the term "crazy" back. In the campaign , AOC did something similar. She inspired us to push through and fight for something we're deeply passionate about, even if all odds seem stock up against us. She was the very definition of an underdog.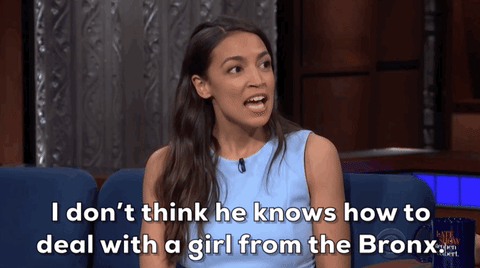 It was a David-and-Goliath kind of battle, and we couldn't be more proud of her for winning the uphill battle.
"People don't see waitresses as having a quote-un-quote real job, but my experience in hospitality has prepared me so well for this race."
So many politicians tell the masses they know what it's like to live their lives, but AOC, well, she really does. Prior to her election, she worked as a bartender at a taqueria in New York City. She also revealed in the documentary that her family decided to move when she was about four or five years old, in order to support her education. "About half of New York City highschoolers would never graduate," she stressed. This led her "whole extended family [chipping] in everything that they could for a small down payment on a tiny house about 30 minutes north in a place called Yorktown." At one point, she even said her mother "would clean a woman's home in exchange for SAT lessons for me."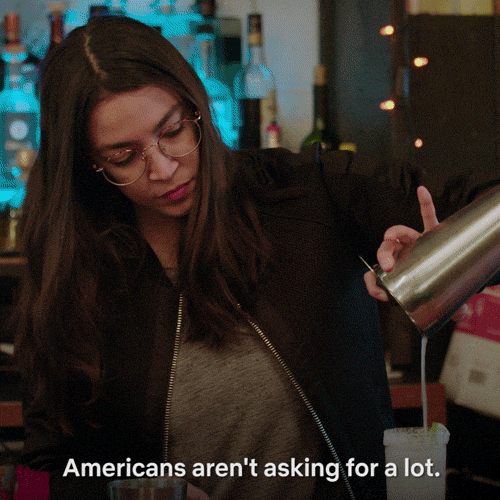 Throughout the documentary, she stressed how her background motivated and helped her campaign. "I'm used to being on my feet 18 hours a day. I'm used to receiving a lot of heat. I'm used to people trying to make me feel bad," she said.
As mentioned, AOC has constantly been touted as "inexperienced" as a first-time candidate and representative. But we beg to differ. A genuine experience of being among the working class—we think that's actually counted as a major experience and great qualifier for anyone to excel in politics.
"I can do this. I am experienced enough to do this. I am knowledgeable enough to do this. I am prepared enough to do this. I am mature enough to do this. I am brave enough to do this."
This is my new life mantra from now on. During her campaign, AOC started out as this girl with a seemingly impossible dream. Even Crowley didn't attend their first debate because he underestimated her. But she was in it to win it. As seen from the film, she was relentless in her mission. She literally knocked on doors, stood outside the streets to discuss with local community members, and constantly debated campaign strategy with organizers and activists. In other words, she worked her ass off. So everything she said was true. Despite knowing that  "This whole time, he's gonna tell me I can't do this. He's gonna tell me I'm small. That I'm little. That I'm young. That I'm inexperienced," she knew she's far from those.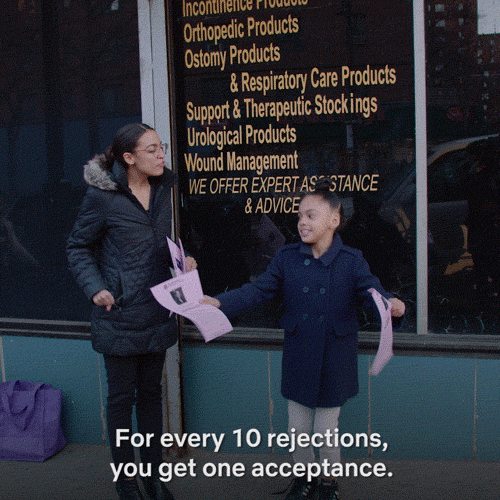 She's experienced enough, knowledgeable enough, prepared enough, mature enough, and yes, brave enough for the challenge—before and after her election.
"This all belongs to us. It's our government…All of this stuff is yours."
This is actually a quote from AOC's father, which she shared in an emotional scene near the end of the documentary, when she already knew she won.
In one part of the film, AOC opened up about the close bond she shared with her father, who passed away when she was in college. "My father knew my soul better than anyone on this planet," she said. She also recounted an anecdote where she tagged along with her father and his friends on a trip to Washington DC. That was when he uttered those lines to her, while they were outside the Capitol.
I think it's a reminder we all need. It's easy to get intimidated by the power of the government, and think they own us, instead of the other way around. In times like these, remember Mr. Ocasio-Cortez' wise words. And let AOC inspire you, as long as your heart is in the right place and hardworking enough, the world is yours for the taking.
Art by Tricia Guevara
For the latest in culture, fashion, beauty, and celebrities, subscribe to our weekly newsletter here  
Follow Preen on Facebook, Instagram, Twitter, YouTube, and Viber
Related stories:
The Knock Down the House trailer will give you goosebumps
To all the women who refuse to be intimidated
Creating fake scandals to bring down women is so low
Women running in 2020: A sign the Trump admin failed minorities