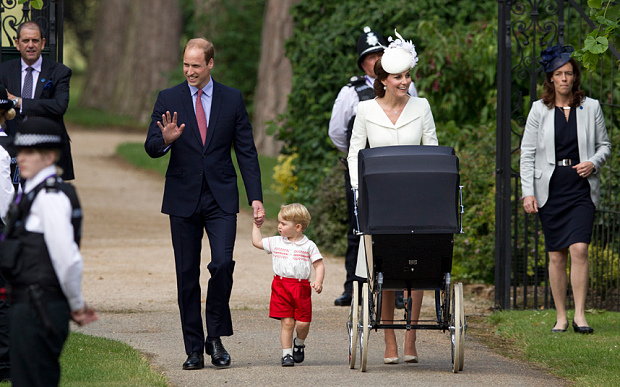 In keeping with tradition, Princess Charlotte Elizabeth Diana of Cambridge was christened yesterday on Queen Elizabeth II's country estate. Duke William and Duchess Catherine chose St. Mary Magdalene Church in Sandringham, where Princess Diana of Wales was baptised. However, the Duke and Duchess made a conscious choice to break with royal tradition by not choosing members of the royal family as the Princess' godparents.
According to CNN, they went with three of their oldest friends and a cousin from both sides. Adam Middleton (Kate's cousin), Lady Laura Fellowes (William's cousin) were both named godparents, along with William's friends Thomas van Straubenzee and James Mead, and Kate's friend Sophie Carter. Curiously absent from the list are Pippa, Kate's sister, and Prince Harry, who is currently based in Africa and could not be present at the ceremony. Princesses Beatrice and Eugenie were also speculated to be on the list of godparents, but they were also not present on the day of the christening.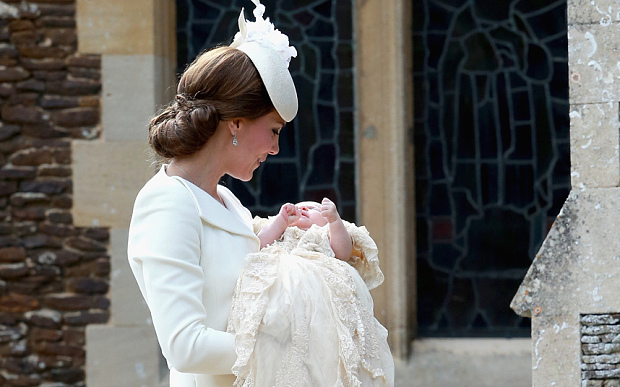 Princess Charlotte wore the same christening robe that Prince George wore, which is a replica of a gown made in 1841 for Queen Victoria's eldest daughter. She was pushed by Duchess Kate in a 50-year-old vintage pram that Queen Elizabeth used for Princes Andrew and Edward. Also, The Telegraph reported that for the first time ever, "the Lily Font, part of the Crown Jewels, has left London to be taken to Norfolk for the christening. It will contain water taken from the River Jordan, where Christ was baptised."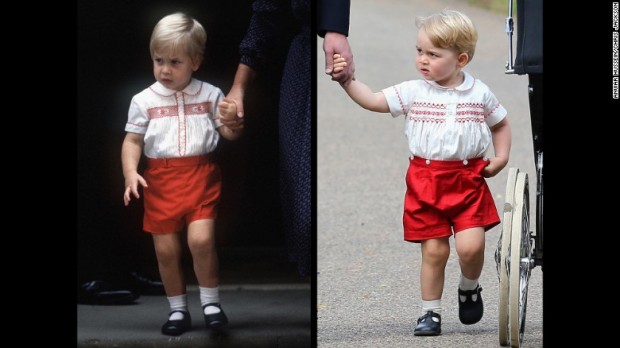 Also present at the ceremony from the side of the royal family were Prince George (who wore an outfit similar to what Duke William wore when he visited Prince Harry as a newborn), the Queen, the Duke of Edinburgh, the Prince of Wales and the Duchess of Cornwall. Duchess Kate's parents Carole and Michael were present, along with her siblings Pippa and James.
The Archbishop of Canterbury, the Most Rev Justin Welby, conducted the baptism assisted by the Rev Canon Jonathan Riviere, Rector of the Sandringham group of parishes. The Sandringham Church choir was also inside the church. The ceremony was shot by celebrity photographer Mario Testino.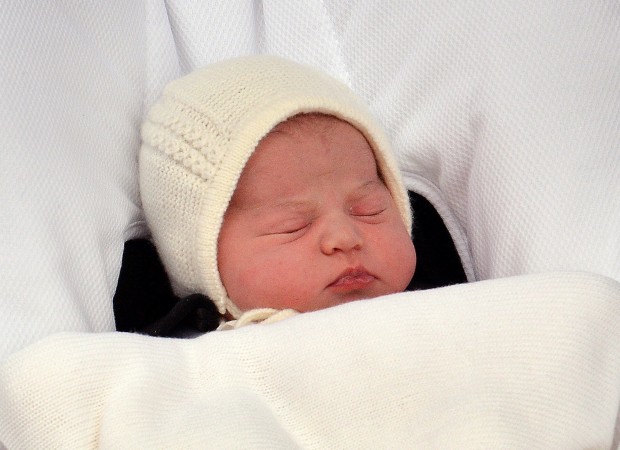 A large crowd also gathered at the gates of Sandringham to celebrate the little Princess' christening. According to The Guardian, she will now officially be known as Her Royal Highness Princess Charlotte of Cambridge, Kensington Palace.
Photos courtesy of The Telegraph