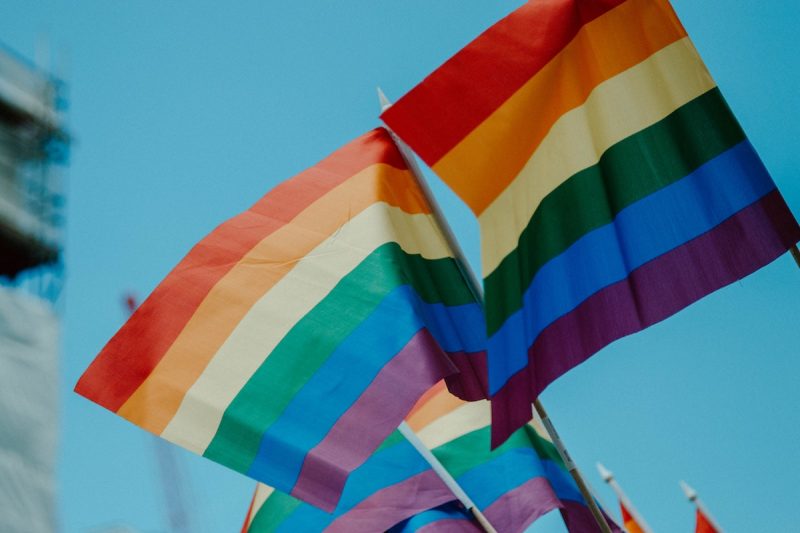 On Apr. 5, a barangay captain from Pandacaqui, Mexico, Pampanga reportedly went live on Facebook to show the punishments he ordered out for people who breached their 8 p.m. curfew, which was enforced as part of the community quarantine.
He then singled out three people—who were queer—from the group of violators and forced them to kiss and perform a "sexy" dance in front of a child as their punishment. Before that, he had reportedly already started teasing them about breaking the curfew, insinuating that they were out to look for sex workers.
None of the other violators were asked to do the same.
Commission on Human Rights spokesperson Jacqueline de Guia has since spoken up about this. "Hindi kailanman nasususpinde ang karapatang pantao maging sa kontekso ng isang national health emergency," she said in a statement, noting that forcing the child to witness the acts may also constitute as violating Special Protection of Children Against Abuse, Exploitation, and Discrimination Act.
"Queer people are not your playthings," said queer and trans organization Camp Queer in their statement about this case. "There is absolutely no reason to subject anyone to this exercise of power—a clear human rights violation. More importantly, we assert that this abuse of power, veiled under compliance with the lockdown of Luzon, was a targeted violation of these people's dignity simply because of their identity as queer folk."
This is a sickening example of something that people in the LGBTQ+ community experience way too often. Even in 2020, many people still think that if you're queer, it's okay to treat you like a toy, a sex doll—something that exists purely for your own pleasure. As a queer person, it has affected me and the people I love.
A salesman at a popular mall once told my friends, who are girlfriends, that if they would kiss, he'd give them a discount. "Ever since then, when we pass by that place, we separate so they don't see us together."
We're human beings and we should be treated like it. This shouldn't be a controversial statement. 
Featured photo courtesy of daniel james on Unsplash
Follow Preen on Facebook, Instagram, Twitter, YouTube, and Viber
Related Stories:
We need to talk about women's issues during pandemics
Make no mistake—the catfishing thread is about transphobia and sexual assault
Underrated queer shows to stream during the lockdown
#HausGoldenGays: Helping the seniors of the drag community during the quarantine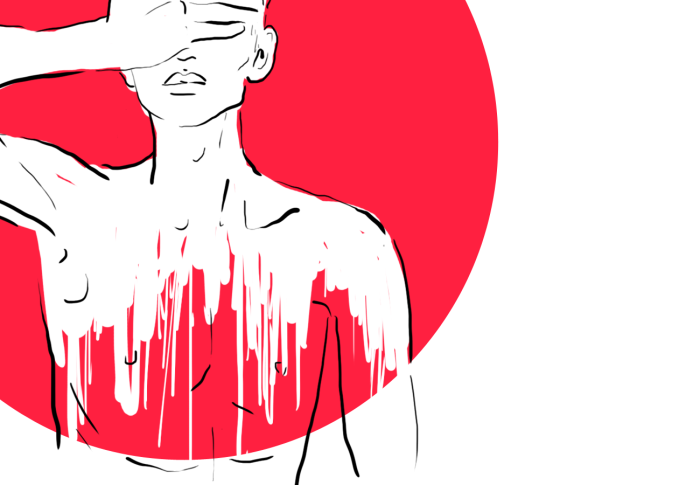 This column may contain strong language, sexual content, adult humor, and other themes that may not be suitable for minors. Parental guidance is strongly advised.
Every four years, the Olympic Games takes place—a two-week spectacle that draws the world's best athletes in a grueling, thrilling, exhilarating, and often nail-biting celebration of excellence in sport. That it is also fertile ground for sexual gymnastics of all sorts is well-known, too.  Think about it: A concentration of the universe's fittest bodies, an abundance of hormones, minds for years focused only on competition, and the desire for victory raging alongside the desire for release, not to mention the atmosphere of heightened intimacy bonding athletes together in the Olympic Village.  It's the perfect storm for hook-ups.
Although the athletes seem to assume that what happens in the village stays in the village, this is often not the case, and sexual scandals have rocked the Games with almost banal regularity.
For instance, the American target shooter Josh Lakatos in 2000 turned a house in Sydney's Olympic Village—after being ordered to turn in the keys and return home by the U.S. Olympic Committee after his team's events were over—into party central, and together with some teammates, armed everyone with condoms as they poured in and out of the premises.
As ESPN described it, the partying went on for eight days "as scores of Olympians, male and female, trickled into the shooter's house—and that's what everyone called it, Shooters' House—at all hours, stopping by an Oakley duffel bag overflowing with condoms procured from the village's helpful medical clinic.  After a while, it dawned on Lakatos: 'I'm running a friggin' brothel in the Olympic Village! I've never witnessed so much debauchery in my entire life!'"
Some athletes have likened the out-of-competition games to "the first day of college."  It quickly becomes clear, continued the ESPN report, that "summer or winter, the games go on long after the medal ceremony.  'There's a lot of sex going on,' says women's soccer goalkeeper Hope Solo, a gold medalist in 2008.  How much sex? 'I'd say it's 70 percent to 75 percent of Olympians,' offers world-record-holding swimmer Ryan Lochte, 'Hey, sometimes you gotta do what you gotta do.'"
"You gotta do what you gotta do" may be an understandable philosophy for athletes desperately seeking relief from intense competition, but not for deplorable journalists desperately seeking clickbait-worthy stories via entrapment courtesy of Grindr.  The loathsome Daily Beast reporter, Nico Hines, did just that when he went "undercover" at the Rio Olympics, a straight married man with children going on Grindr to see how many matches he would get from gay—whether openly or still in the closet—athletes.
Was it some kind of ego trip under the guise of journalism, or some kind of sick, cruel, essentially homophobic stunt aimed at revealing the highly sexed and promiscuous nature of homosexuals, particularly those engaged in competitive sport?
Whatever lofty journalistic goals Nico believed he was pursuing when he lured athletes in the Olympic Village to meet up with him via Grindr were shattered when he wrote his story with nary a shred or decency nor respect for the privacy of these athletes, some of whom came from deeply homophobic countries where being outed could have deadly consequences, personally and professionally.  The Daily Beast apparently condoned this vile and tawdry attempt at reportage and ran the story, taking it down days later and only after furious calls for it to be removed from the site.
No journalistic purpose was served by Nico's description, in revealing detail, of the responses he received on the gay dating app, which did little to hide the athlete's identities.  Neither was any ethical standard upheld when Nico claimed honesty on his part, never intending to mislead his marks by claiming to be gay.  In fact, he said, he disclosed when asked that he was a journalist and he was straight.
So why go lurking around a gay dating app, luring men into conversation or the promise of a hook-up?  To gather empirical evidence of some sort?  The more I think about what Nico did, the more malicious his intentions seem, despite his and his publication's protestations.
How easy was it to figure out whom Nico was writing about? A brilliant piece by Mark Joseph Stern in Slate reports:
"With his dubious premise established, Hines proceeds to out athlete after athlete, providing enough information about each Olympian he encounters for anyone with basic Google skills to uncover their identities.  (After several minutes of Googling, I surmised the identities of five of the gay athletes Hines described.) I'm not going to repeat his descriptions, because—as Hines himself acknowledges!—some of them live in "notoriously homophobic" countries and remain closeted at home.  Yes, the Daily Beast updated the article a few hours after publication to remove personally identifiable information (while insisting that outing gay athletes was 'never our reporter's intention.') But really: Anyone who has heard of Grindr has also heard of the Wayback Machine. Nothing on the Internet can be reliably deleted."
The openly gay Tongan Olympic swimmer Amini Fonua took up the cudgels for his fellow gay athletes and berated Nico Hines on Twitter:
It's clear that Nico Hines does not respect that.  It is clear that he, in his astoundingly cavalier disregard for not just the safety and security of these gay athletes, closeted or not, but their very essence as human beings, was exercising yet again that f*cking pernicious and dangerous malady of the straight white male: privilege.
It takes straight white male privilege to regard outing gay athletes as sport.  It takes straight white male privilege to consider their fears for their own security, or their concerns for their own families and friends, or their anxieties about their own sporting careers once outed as somehow less significant than his need to out-scoop every other publication, his desire for what he believed would be journalistic glory. It takes straight white privilege to be oblivious to the very real risks and dangers everyone else who is not straight, white or male, faces.
It takes straight white male privilege to be an asshole.
I'll let Amini Fonua have the last say:
‪"@NicoHines‪ Seriously f*ck off with your str8 white male privilege preying on closeted people who can't live in their truth yet. U ruin us"
B. Wiser is the author of Making Love in Spanish, a novel published earlier this year by Anvil Publishing and available in National Book Store and Powerbooks, as well as online. When not assuming her Sasha Fierce alter-ego, she takes on the role of serious journalist and media consultant. 
For comments and questions, e-mail [email protected].
Disclaimer: The views expressed here are solely those of the author in her private capacity and do not in any way represent the views of Preen.ph, or any other entity of the Inquirer Group of Companies.
Art by Dorothy Guya
Follow Preen on Facebook, Instagram, Twitter, Snapchat, and Viber
Flyers showing a homophobic and also gramatically incorrect message on HIV/AIDS prevention that carried emblems of the Dept. of Education, were not apparently from the said government unit.
The Dept. of Education released a statement via Facebook denying the flyer that said "no to sexual intercourse to (sic) homosexual."
The Commission on Population also denied producing the flyers in another Facebook post.
Though it is comforting that both government sectors wrote pro-LGBT statements, it's unnerving to think that someone had the money, means, and time to produce infuriating propaganda. Citizens expressed their disgust at the homophobic message and the skewed view on HIV/AIDS.
Whoever this person or group may be, we hope they know they are the ones who carry the real disease dragging us down.
Follow Preen on Facebook, Instagram, Twitter, Snapchat, and Viber
It's a good time for those who are part of the LGBT community today. Other than the Supreme Court ruling allowing same-sex marriage in the United States and celebrities being more open about their sexuality, there's just this celebratory, rainbow-hued breeze in the air that you can now translate to clothing.
Yes, the fashion industry is chiming in (and cashing in) on this celebration by releasing clothing and apparel that are LGBT-approved—each collection with its own advocacy, united by the same multi-colored stamp on them. The rainbow flag is a "symbol of equality that signifies the diversity of the LGBT community," Adidas says.
With a wide range of designs (and colors!) wear your pride with these LGBT collections available now online and in select stores.
Adidas The Pride Pack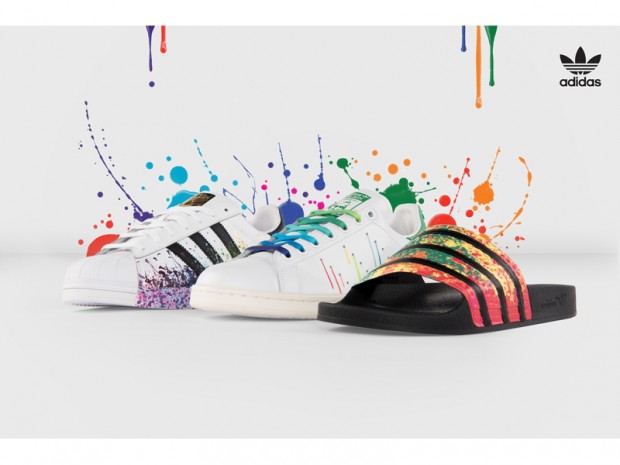 Three of the most iconic Adidas (the Adilette, Stan Smith, and the Superstar) footwear designs have undergone a makeover. The vividly colored rainbow flag inspires each design, with different iterations on the three silhouettes.
The brand was inspired by the 1965 movement demanding equality on the streets of Philadelphia. Moreover, the collection is more than just a celebration but also an advocacy. Adidas is partnering with New Avenues for Youth, a foundation empowering the homeless LGBT youth.
Adidas. Available for order on their website.
Levi's x Stonewall Pride Collection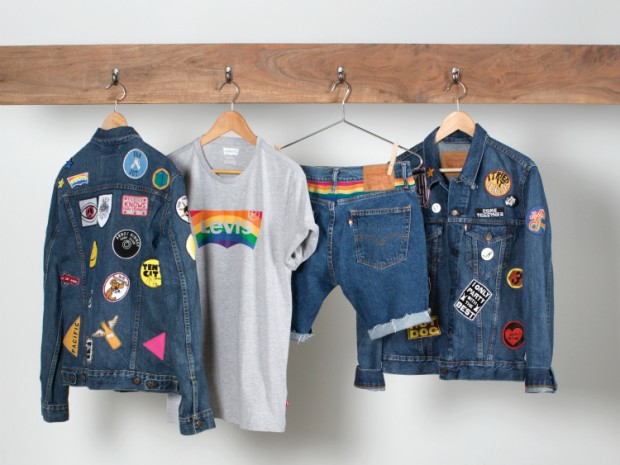 Levi's takes cue from the Stonewall riots of 1969, the first gay rights protest that catalyzed almost every LGBT community in to action across major US cities.
The collection features tank tops, shirts, shorts, and denim jackets that are in gender-neutral sizing. Part of the collection can go from a simple tee with the iconic Levi's logo emblazoned in front but with the rainbow-hued background to a limited-edition, more customizable, Trucker jacket.
Levi's. Available for order on their website.
Nike #BeTrue Collection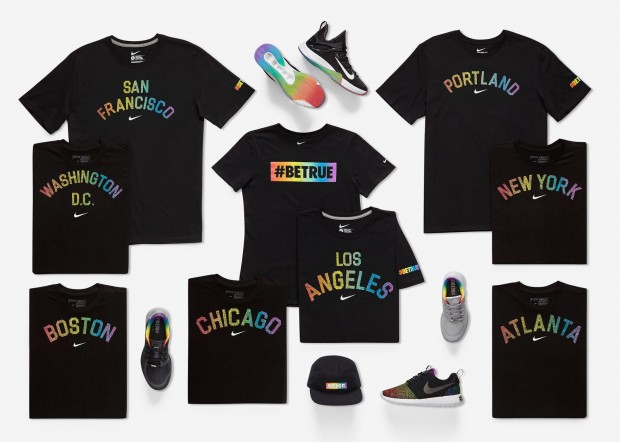 The #BeTrue movement is a call to action for all athletes to be their most authentic selves. The gradient rainbow is again found in some of their iconic footwear designs and sports apparel. It also has eight tees individually dedicated to support cities like New York, Portland, etc. by putting their names right in front of each design.
The collection is also an effort to further reach out to the LGBT Sports Coalition, the sportswear's arm that seeks to end discrimination in sports.
Nike. For more information, visit their website.
See the slideshow above for the full collections.
Art by Dorothy Guya