After almost 12 years, TodayXFuture is ringing its last call. The club in Cubao, known as an underground safe space for the LGBTQ+ community, posted the announcement of its closure with a love letter on their Instagram page. 
"After long days and nights of deliberation, wrestling options and way too much alcohol to cushion the emotion, we are left with the decision to say farewell," reads the letter. It's not all bad news; its sister club, Futur:st in Poblacion, will remain open, and they'll be "throwing one last hurrah" with an online Pride celebration on Jun. 27.
Still, its closure feels like a sucker punch for all regulars who've found their chosen families there. TodayxFuture, or TxF, or just Future, was more than just its physical location; crying out to Carly Rae at its sweaty dance parties was like coming home, or coming to church. I didn't even realize how many people I knew who found refuge there until the bomb dropped today, when my WhatsApp groups started lighting up with goodbyes. "Dear TxF, thank you for teaching me how to dance like no one's watching," Tricia, our designer, wrote. Nimu Muallam, our creative director, sent a slightly blurry video taken from the club at 3 a.m., Ariana Grande's "Thank U, Next" blaring through the speakers and shooting through the iconic red light.
TxF was a community, so we reached out to people who found communion there.
"Around 2012, the entire stretch of General Malvar Street in Cubao would be empty and dark, save for a small glowing corner hidden between two pawnshops. It was the size of a bunker, and served a similar function. We sat on chairs scattered in the middle of the street, and our noise would echo up the unfinished buildings. I think places attract similar people, and Future attracted people just like it. It was a place that shouldn't even have been there, but it was, and you only found if you knew where to look." – Joseph Pascual, photographer
"I can't find the words for how much it hurts me to even type the words, but it hurts, because that little dive bar in Cubao meant so much to me, and the time I spent there—especially from 2014 to 2016—played a massive part in shaping who I am now.
Future is where I ran to after every heartbreak to dance my feelings away to Robyn. Future is where I was the night before the day I was supposed to fly to Berlin to be with my ex — they kept the drinks coming, no one let me pay for anything, and I almost missed my flight to Boracay the next morning. Future is where Bobby and Karlo taught me how to love techno, so technically, Future is the reason I'm part of @unknwn.mnl. Future is where I met Bobby, so technically, Future is the reason I first set foot in Berlin. Future is where they cut the music at midnight to sing you "Happy Birthday," then kick the party back into gear by playing your favourite song. Future is where they put you behind the decks even though you have no idea what you're doing—I've played hip hop, house, techno, disco, indie, and tons of pop there because Future is a place for everyone.
I'm not crying for the space. (And believe me, I have been crying since I read the announcement.) I'm crying for the memories. For the friendships I made there. For the stories we told while seated on the sidewalk. For all the laughter. For the songs I played behind the DJ booth. For the songs I sang along to from my spot in front of it. For the small handful of straight boys that I kissed there, which, if you know Future's demographics, is a small miracle. For the way that little corner of Quezon City made me feel. For that moment when I realised that it was home and that I could be who I wanted there.
I'm crying because it was home, and home is so hard to find, and I am heartbroken to be losing another. Future made me feel like it was okay to be every strange thing I was. I'm crying because I will miss it so much. I'm crying because I'm so grateful to have had it in my life.
I hope you find a Future of your own, like I did. I hope it changes your life, too. I'm staying in bed today. I need a hug. This is all too much. Too much." – Regina Belmonte
View this post on Instagram
"I will definitely miss Future. I will miss hosting my monthly paandar—from Beerhouse Disco to Disco Prommm to Danchalant to Party Lang Cheerhouse to Kalat to my sentimental favorite…effortLast. I will miss doing the posters with my good friends Nimu Muallam (whom I've been asking to spin) and Paolo Abad (who eventually started spinning for some of my nights). I will miss playing (or making tambay) for Tuesday Mood—hosted by my other good friend Darryl Recina.
I will miss the food—my fave is the bolognese spaghetti. I had this phase where I would take some out before going home. I'd eat it while watching Lady Bird again and again before going to sleep. I will miss the rum cokes, the gin with whatever.
I will miss Palafox and the other guys who worked there. I was one of the privileged few who can make palista our bills. It was practically like visiting your relatives' house in Cubao. It really felt like family, and I was the resident Uncle of Future." – Melvin Mojica, stylist and known to many as Future's Mang Melvin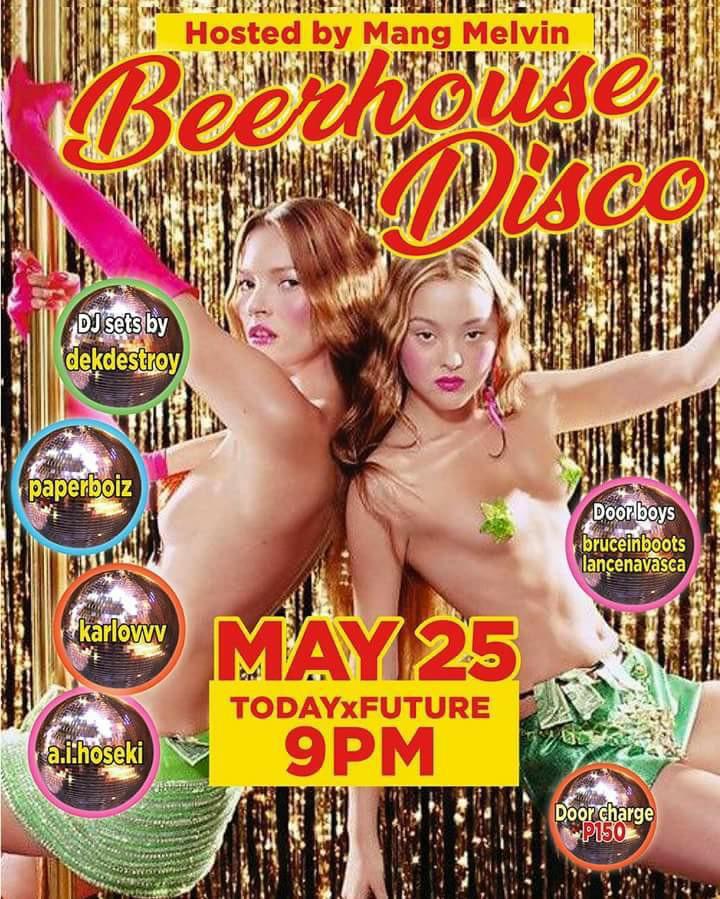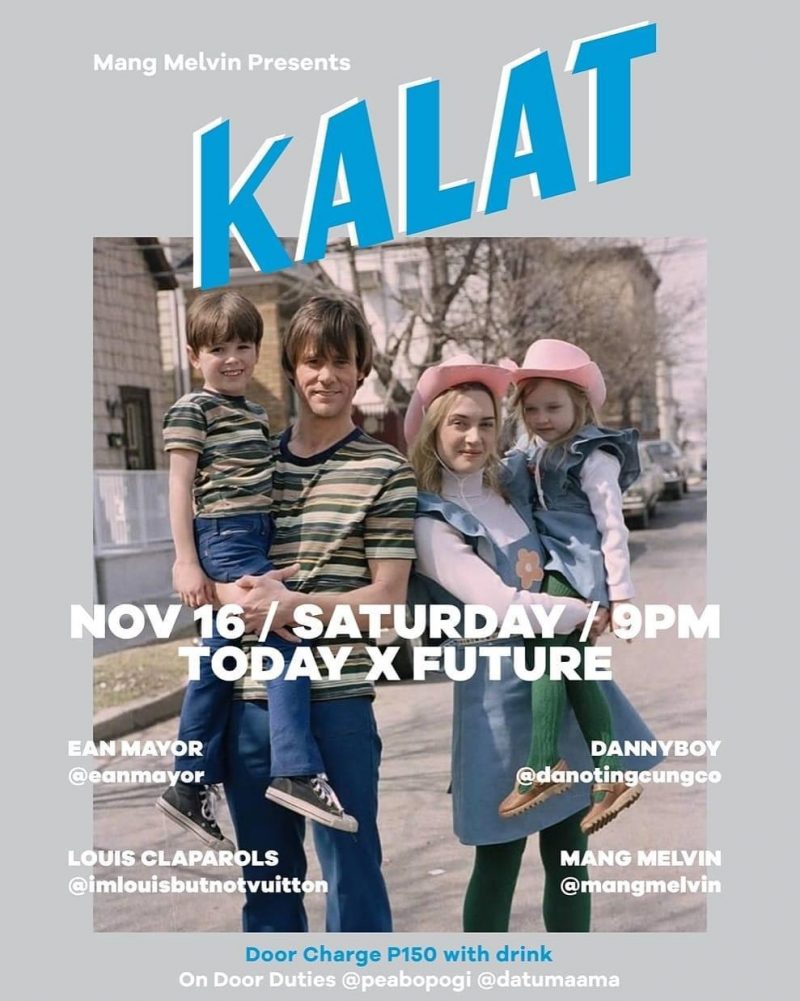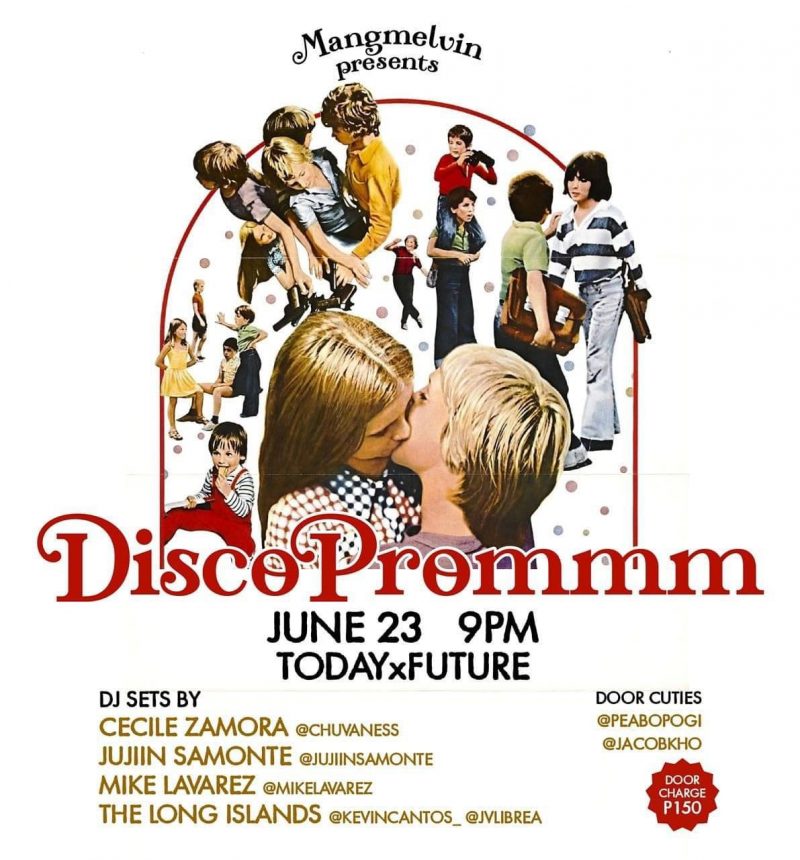 "These are some of the posters I made for TxF nights. The music, mood and memories of those nights stay with me until now. Lots of dancing, booze, hugs and besos. Future is not just a small cramped space, it's a home for everyone." – Nimu Muallam, Hinge creative director
"Looking back, the first time I went to TodayxFuture reads like a bad queer coming-of-age script (weirdly appropriate for TxF branding). All my friends' plans for that night fell through and we found ourselves at TxF at 1 a.m. Long story short: A former fling-thing and their partner were there, and they had a huge fight. Friends and I split up to ease tensions between the two, and said fling-thing tried to kiss me. Her partner was less than 10 feet away. Ending? I ended up crashing for the night at the couple's shared apartment.
Everyone, raise your glasses to TodayxFuture: the consistent backdrop to our messes. Thank you for being a safe space for us to navigate our clumsy queer experiences." – Tricia Guevara, Preen.ph designer
"I was with my roommates on my last visit to TxF. At the time, a group of fabulous strangers were celebrating their friend's birthday right next to our little huddle. They came up to us and offered a tray of shots that we could all take together, and we all had the best (albeit now blurry) night. I never felt unsafe in TxF. Everyone just felt like a friend immediately, and I could dance (sardinas-levels close) with anyone and everyone and have the best fun." – Giselle Barrientos, Scoutmag.ph brand strategy lead
"Halloween is the best there. Every year people dress up as their favorite character or person. I went as Mimiyuuuh last year and so many people complimented me and asked for pictures with me. Besides the events, it's one of the few safe spaces for LGBTQIA+ people in the metro, and for that I'm forever grateful for TxF." – Anton Samaniego, Hinge junior digital associate
"People crowded around me while I danced aimlessly (others saw it as flailing violently) to a banger track. The hype that night was at a hundred and so was the chance of me breaking furniture. Yes, I ended up breaking a bottle." – Levenspiel Sangalang, Nolisoli.ph junior designer
Header photo courtesy of Tammy David
Follow Preen on Facebook, Instagram, Twitter, YouTube, and Viber
Related Stories:
Celebrate Pride month with this screening of 'Ang Huling Cha-Cha ni Anita'
Pride is always a protest, now is a good time to remember it
This local org is pushing for safe spaces for this year's Pride Month
Read 'em and weep: The free, queer books that will prep you for Pride month