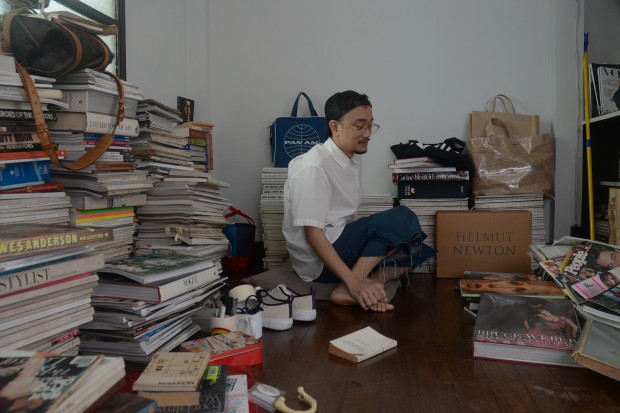 Melvin Mojica's got enough roomies in his modest place. Though living alone in the flat that once housed model Jo Ann Bitagcol,
the st
ylist
shares breathing space with international models, literary figures, and popular characters—all of whom
are trappe
d in the literature t
hat
decks
 his home.
The
re
they are: Both scattered and sorted are
novels
, photographs, and fashion glossies dating back to the '70s. Melvin's space doesn't have a bed
or
a television set
. Ther
e's no need for some obscure conversation piece; thousands of t
opics 
are waiting to be unearthed and talked about like juicy gossip. To a stranger, his flat looks messy, yet to his circle of friends, it's still minimalist and
det
ached from the nuisances of living.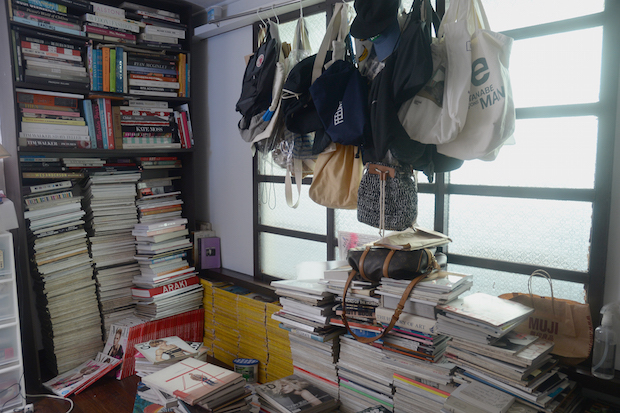 "I hate cleaning. And [this way], it's less responsibility," he says. It comes with age, he implies, to know what's valuable to him. What his rooms lack in basics, it makes up for in interior inspiration: his accessible library that serves as his tangible Pinterest.
It was an issue of French Vogue that he chanced upon in Booksale that began this lifetime book hoard. "Early on, I really liked fashion. My favorite was French Vogue, [it was] my first [copy of] Vogue [at 12 years old.] The first time I saw an American Vogue, I think I was 14, I was so inspired. The one with Linda [Evangelista] and Christy [Turlington] in the '90s. Cindy Crawford was on the cover," Melvin recalls.
His other favored issues include The Face with Chloe Sevigny, A MAGAZINE, which is curated by Maison Martin Margiela, Self Service (fall/winteri-D Magazine: The Elevator Issue, and the French Vogue issue where Sofia Coppola was a guest editor.
In his little home you'll find mostly art and fashion books, some of which are the mandatory bibles of Melvin's industry. We spy hardbound compilations of photographer Tim Walker, Japanese artist Yayoi Kusama, and Hungarian artist Rita Ackerman's work stacked on his shelves. On the floor is a more varied collection that includes Calvin Thomas Beck's Heroes of the Horrors and an old copy of J.D. Salinger's The Catcher in the Rye. 
Paradise is a relative concept. And in Melvin's case—and maybe to most bookworms, too—a livable heaven is one that has hardbound books for beds, quotable lines as security blankets, and photos as primetime entertainment. The next time you say you can't live without technology, think about Melvin. And maybe think about grabbing that book you ignored and actually read it.
Photo by Charles Buenconsejo
Source: Samantha Ramos-Zaragoza for Southern Living, "Hoarding Room," September 2015.