A wise Aling Britney once said, "Kapag kumatok ang pag-ibig, huwag mo itong itaboy." Love may come in many forms…such as a bodacious superheroine with flowing red locks who can break down your door and make you laugh even when you're facing impending doom. If you find yourself falling for a gal named Zsazsa Zaturnnah after reading this, let it happen. The deliciously campy LGBTQ character earned her cult following for bringing people together in a country that until now has yet to pass any anti-discrimination laws. She's on a mission and she's here to steal your heart.
On June 20, the Cultural Center of the Philippines (CCP) will be streaming "Zsazsa Zaturnnah Ze Muzikal" on their YouTube channel in celebration of Pride Month. CCP will also hold a Zoom reunion for the original cast of the musical the same day, followed by a roundtable discussion on queer representation in art on June 23. Ahead the party, Preen had a chat with Zaturnnah's creator, illustrator and playwright Carlo Vergara, about the superheroine's 18th birthday plans, how she'll be celebrating Pride 2020 and what's still in store for her fans.
Before we get down to it, we'll catch you up on what Carlo Vergara has been up to these past couple of months. Previously on CarVer (his signature) Universe, the De La Salle-College of Saint Benilde faculty member has been prepping for his online classes and trying "not to let the craziness" affect him too much during the quarantine. He has been livestreaming drawing sessions and did a fundraising project for the benefit of health workers. "Just like any other citizen, we in the creative industry want to pitch in. We want to make sure that, as much as possible, no one is really left behind." Some of the pieces in the collection are "Battlefront" and Zaturnnah with Padmé Amidala on the Galactic Senate. Apart from that, he's been sharing a lot of exciting news like the release of the PDF version of "Ang Kagila-gilalas na Pakikipagsapalaran ni Zsazsa Zaturnnah" graphic novel.
Carlo decided to put up the original comic in PDF format because there might be people around the country who might have seen the film or the stage musical before but haven't really read the book. "Over the years, from time to time, I've been seeing tweets from students who needed copies of the book because their professors required it, but they couldn't find them in the bookstores. So, I guess it's about time. It's been 18 years since Zsazsa was created. Putting the entire graphic novel online at a very low price was a way to spread the word about her," he said. "You can get it on the Gumroad website for P68 as the minimum price. If you pay P68, that's great. If you decide to pay more, thank you very much!"
Zaturnnah turns 18 later this year. Wala lang. #ZaturnnahAt18 pic.twitter.com/wU3Z4rRlDw

— Carlo Vergara (@vergaracarlo) June 2, 2020
Zaturnnah seems like the type of debutante who would revel in being the star of her party. With Ze Musikal coming up, we asked Carlo how he would describe the show's narrative for first-time audiences. He shares, "When Zsazsa first came out, a lot of people said that she was the gay Darna. That's a pretty apt description. You have this homosexual "parlorista" character who is disillusioned with the world. Then suddenly, a stone arrives from outer space. He swallows it and he turns into this Amazonian woman and saves the town. It's a classic type of story where you have the funny sidekick, the hunky love interest, the space women and the giant frogs. It's ultimately about a character who is trying to come into terms with the craziness that's going around." You'll have to be the judge on whether the show is as nuts as real life right now. 
For those who have yet to meet Ada and Zsazsa, Carlo was happy to give us a glimpse of the kind of person they were. "Ada's gone through a lot in life. He's been heartbroken a number of times. He has gone through a traumatic childhood with his father. Right now he's in that stage where he thinks, 'I'm just gonna do my thing. I'm not gonna draw too much attention. You may think of me as LGBT and whatever, and God bless you, but I'm here to work.' He does that in his resting b*tch face. Even if it means forsaking love, his priority is contributing to society and he doesn't care what you think. When you come to Zsazsa, people compare her to Ruffa Mae Quinto. You have her going 'Yeeees! Go, go, go!' She can be sultry but sweet. She can be cool but kenkoy. And it all fits together. When I draw her, I try to incorporate all those different aspects because she's this full-bodied character, literally and figuratively," he shares. 
Given that it's Pride Month, we couldn't help but wonder how Carlo thinks the characters will be celebrating it they were here with us. He imagines, "Given Ada's personality, he's just going to be working in his beauty parlor while Zsazsa will be enjoying the party. Didi and Gwyneth will be there too. They'd have to drag Ada out of the parlor first. They'll bring Dodong along."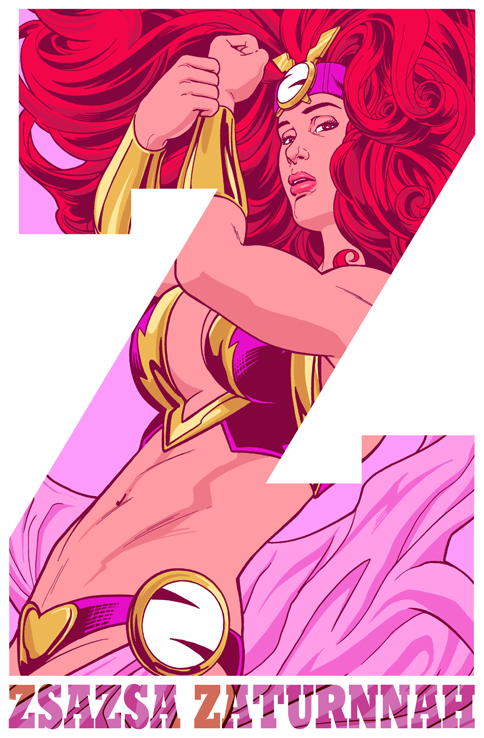 The graphic novel came out in 2002 but the characters remain familiar. They still remind us of people we've encountered at least once in our lives. We still want to hear about their adventures and many still consider Zaturnnah an icon in her own right. Speculating on her enduring appeal, Carlo says, "She's in the realm of pop culture and I tried to make the character as universal as I could. She embodies a lot of the frustrations and joys that everybody else goes through: the uncertainty about the future, longing for love and overcoming seemingly insurmountable challenges. It just so happens that she is LGBTQ. She enjoins people to help in the fight. When she fights the zombies, she doesn't fight them on her own. In some way, I would like to think that the Zsazsa Zaturnnah story is like a microcosm of us. It's not perfect but we try our best."
We asked whether he thinks that new audiences would have a different interpretation to the story. To that he replied, "If anything, there might be some aspects of the book that some people might find a bit dated. A lot of the references were from the late '70s to the '80s. I don't know if a person in college or in their early 20s would get all of it. Realistically, there are aspects that are of a certain time. But as long as people get the core message, then that's great."
Does this mean that unlike Darna, young celebrities are out of the game if a movie remake ever happens? Since Regal Entertainment is putting up "Zsazsa Zaturnnah Ze Moveeh" for streaming soon, we tried to imagine what its remake could look like. Speaking about actresses who can breathe life to the character, Carlo Vergara says, "When we're talking about an age-range, the characters fall under the late 20s and early 30s. There was a time when people when were dropping names like Angelica Panganiban on one end and Pia Wurtzbach or Catriona Gray on the other. They're all great and they fit the profile, but the question now is whether they can portray the character. Angelica Panganiban has proven that she can. I've seen Chris Martinez's 'Here Comes the Bride' and she was fantastic there! But it's a pretty open thing, other actresses can give their own take."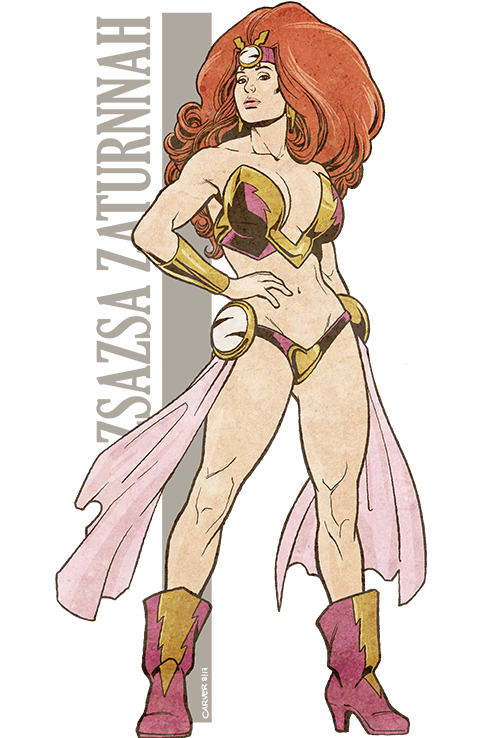 Of course, a live-action remake is just a fantasy right now. If you're looking for something concrete to look forward to, Rocketsheep Studio's "Zsazsa Zaturnnah vs the Amazonistas of Planet X" got picked up by BIFAN Project Market. Are we getting the animated feature film this year as well? "Director Avid Liongoren did say that, given that appropriate amount of funding comes in, he'll make sure that it won't be like Saving Sally that will take a decade. He'll try and bring it down to like two to four years. When the funding does come, it would really be nice if on Zsazsa's 20th birthday in 2022," revealed Carlo.
So Zsazsa has a graphic novel, a stage musical, a live-action movie and an upcoming animated film. It seems she's vack with a vengeance but what else does Carlo think the future could hold for her? "I've always been wondering how far can she still go. She could still have a TV series. Could that be the next step? Maybe. When it comes to these things, I try to be very realistic. You have the hero thing which is a big-budget thing and you have the idea of LGBT content in Philippine mass media. It's those two hurdles. But I'd like to think that we're still moving forward in some ways." We'd like to believe it too. 
On the subject of the future, we asked the playwright how the quarantine restrictions could affect the theatre industry. "It's really going to be difficult because live shows will always be dependent on the number of people who are actually in the venue. When theatre companies started streaming content online, it's not for a restricted audience where the theatre is just for a certain kind of person. I would like to think that we will be going back to live events eventually. But I hope that what's happened gives companies new ideas on how to deliver and monetize their content to audiences who may want to consume it but can't afford to. It's a great side income for them too," he hopes. 
As a person who likes to work on a lot of things at the same time, we expected that Carlo would have a couple of things left up his sleeves. He is currently working on the translations for the first novel and now has over 30 pages of its sequel "Zaturnnah sa Maynila." He also plans to release a compilation of his Virgin Lab Fest plays online and produce online courses. That's a lot from one man but hey, he did create the unstoppable Zsazsa. 
For more updates on Zsazsa Zaturnnah, follow her on Facebook, Instagram and Twitter.
For more of Carlo Vergara's works, check out his Facebook and Gumroad pages.
Photos courtesy of Higante Media
Follow Preen on Facebook, Instagram, Twitter, YouTube, and Viber
Related Stories:
Heads up: 'Zsazsa Zaturnnah Ze Musikal' will be available for streaming
We want a Filipino version of 'Drag Race' so bad, we already have idea
QUIZ: Which Filipino musical should you stream right now?  
REVIEW: The 'Ang Huling El Bimbo' musical will break you