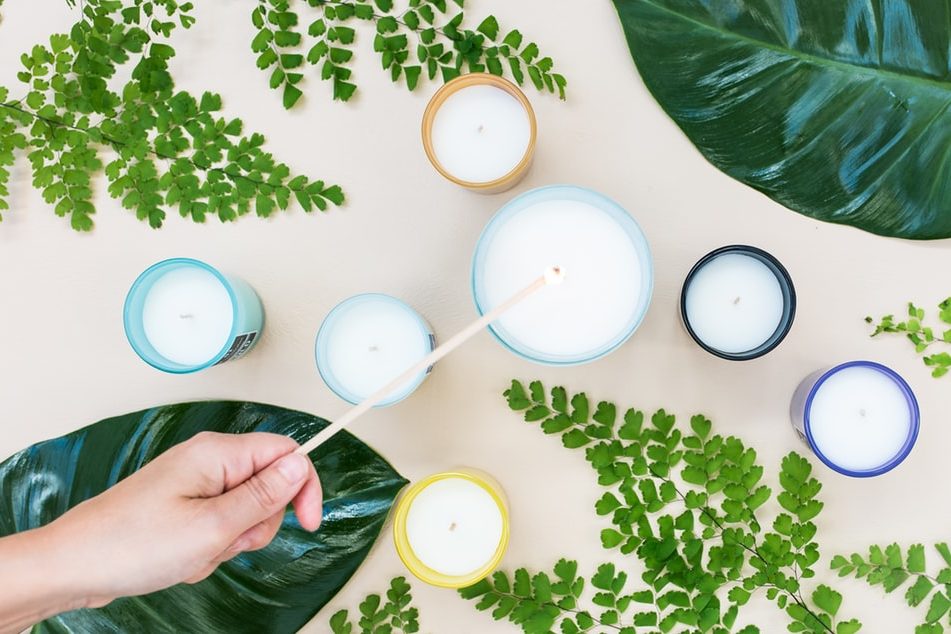 I don't know about you, but taking off my makeup, soaking in a warm bath, listening to my self-love zen playlist on Spotify while my favorite scented candle is lit is probably the best time on a regular weekday. With the nice and relaxing aroma calming down your stresses from the day, finding inner peace is easy with the kind of atmosphere that scented candles set. Which is probably why I'm obsessed with them. 
So if you're as into this as I am, I know where you can get your soy candle fix that are definitely more eco-friendly than the standard Paraffin wax candles. Not to mention the added bonus that soy candles burn longer, giving you more bang for your buck. The scent is stronger, making sure that your room fills up with a beautiful aroma of your choice. So if you want to grab your soy candle for a night of relaxation, check out some of the local shops below.
Fifty Scents PH
https://www.instagram.com/p/Buxrnw0lhtv/?utm_source=ig_web_copy_link
Fifty Scents natural soy candles will bring you to the realm of zen. They're vegetable-based, biodegradable, and 100 percent non-toxic candles with healing essential oils. There are three different types: Breath, Unwind, and Focus, which is perfect for relaxing and calming the mind and soul. Available on Instagram.
Happy Island 
https://www.instagram.com/p/BwcK8h4BTvL/?utm_source=ig_web_copy_link
If you want your home to smell like a tropical paradise, Happy Island candles are for you. These all-natural soy candles have a wide range of fruity and summer scents like Piña Colada, Pineapple Mango, Melon Cucumber, Strawberry Lemonade, and many more. Available online.
Finn the Label
https://www.instagram.com/p/Bns6pxnHgBg/?utm_source=ig_web_copy_link
Finn the Label's beeswax candles are made of locally sourced beeswax, locally sourced cold-pressed virgin coconut oil, and pure essential oils in a glass vessel with cleansed crystals. Many people believe in the healing energies of crystals, and combining them with a candle can enhance energy work and increase the vibrations being sent forth. As the candle burns down, the wax with essential oils will heat up and activate these crystals. Available online. 
Saan Saan PH
https://www.instagram.com/p/Bsxkv0NFQzQ/?utm_source=ig_web_copy_link
In partnership with Save Philippine Seas, Saan Saan PH's candles capture the smell and taste of the island life. They are based on scents from different provinces like the No.36 Mindoro Coast and No.39 Shimizu Island. For every purchase, a part of the proceeds goes to Save Philippine Seas to help in their work on shark conservation, community empowerment, and environmental education. They are made from all-natural soy and bees wax blend, fragrance and essential oil blends, an all-cotton wick, and contained in a refillable or recyclable glass jar. Available online.
Aglow Candle Studio
https://www.instagram.com/p/BiX7Ey7HYAI/?utm_source=ig_web_copy_link
Aglow Candle Studio makes small batches of each scent as they're all hand-poured soy candles. With a variety of scents from floral to more calming ones, Aglow's candles are definitely something we'd light up for a little bit of self-love. Their bestselling scents are the Lavender Sage, Clean Bamboo, Peppermint, and Sunflower among others. Available on Instagram.
Photo courtesy of Unsplash
For the latest in culture, fashion, beauty, and celebrities, subscribe to our weekly newsletter here  
Follow Preen on Facebook, Instagram, Twitter, YouTube, and Viber
Related stories:
These candles will allow your home to smell like donuts
4 tips to make the most of your luxury candles
From sprays to necklaces: Fragrance tricks that will last all day
I'm copping these beauty items so I'd smell like chocolate bar