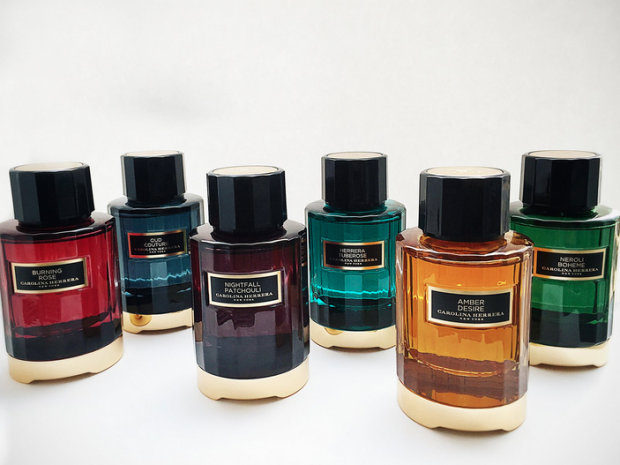 Just when we were getting used to the idea of fragrance layering with the coming of Jo Malone to Manila, we find out that Venezuelan designer and fashion legend Carolina Herrera has come out with her own line of fragrances designed to be layered according to your mood.
In an interview with Vogue, she reveals her Confidential line, which consists of six perfumes and four essential oils. Featuring scents like Herrera Tuberose, Oud Couture, Amber Desire, Neroli Bohème, Burning Rose, and Nightfall Patchouli, which were created by her daughter Carolina Herrera de Baez, they are a tribute to their roots in New York City and Venezuela. The four essential oils—rose, oud, musk, and sandalwood—come in smaller bottles and are designed to "meld and contrast with the various notes in the perfumes, as well as the skin."
If you've tried fragrance layering before, you'll know that it isn't the simplest thing in the world–results can be hit or miss. Furthermore, the noses who create these scents designed them in a way that as the scent evaporates from your skin, more complex notes emerge, which is something that is difficult to mess with.
It's good to know then that Carolina's daughter, who heads up the fragrance division of the couture house, designed the line in a way that is foolproof. Her mother's favorite is Herrera Tuberose—"absolutely sensational"—and she recommends the oil of oud, which "mixes very well with all of the perfumes."
In time for the launch of Confidential, Carolina designed six one-off dresses that correspond with each fragrance and their bottle design, which are available for custom order through her atelier.
How's that for a unique style signature?
Photo courtesy of Vogue