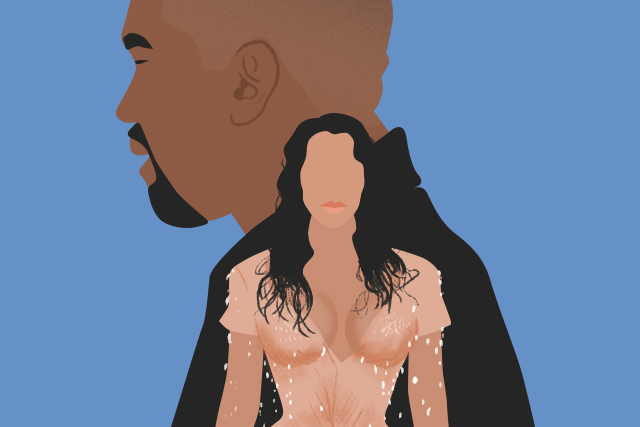 Full disclosure: I'm not a huge fan of the Kardashian-Jenner family. But if there's one admirable thing about them, it's how comfortable they are with their bodies.
Kim Kardashian, for example, has been the subject of slut-shaming way before she became a reality TV star. Yet here she is, giving the middle finger to haters by wearing clothing that accentuate her curves and posting nude photos to celebrate her body.
Aside from the internet, there's one person who's not a fan of her sexy looks: Her own husband, Kanye West.
During last Sunday's episode of "Keeping Up With the Kardashians," Kanye went on a rant about the cinched, mid-length Thierry Mugler dress Kim wore to the 2019 Met Gala.
"I just feel like I went through this transition from being a rapper, like, looking at all these girls and looking at my wife like, 'Oh, my girl needs to be just like the other girls showing her body off, showing this, showing that,'" Kanye said. "I didn't realize it was affecting, like, my soul and my spirit."
The whole time he's talking, Kim and her glam team are just sitting in the room and listening to Kanye's monologue. According to The Daily Beast, they all looked like they were waiting for him to finish talking. The eye roll-inducing part was this line from the rapper: "A corset's like a form of underwear, it's hot. It's hot for who though? You are my wife and it affects me when pictures are too sexy."
It's no secret that Kanye often tells Kim what to wear and what not to wear based on fashion trends. Kim told "People" last year, "[Kanye] sent me a whole email like, 'You cannot wear big glasses anymore. It's all about tiny little glasses. He sent me, like, millions of '90s photos with tiny little glasses like this."
She also talked about Kanye cleaning out her whole closet in a 2015 interview on "Live with Kelly and Michael." "I always thought I had really good style, until I met my husband and he told me that I had the worst style. He was really nice about it and cleaned out my whole closet," she said.
Many people would think this is just Kanye giving constructive criticism and style tips to his significant other. But after seeing how he policed Kim's Met Gala dress, it now seems like he's the typical controlling guy who doesn't allow their partners to go out wearing anything revealing. You know, the ones who say you'll be objectified and seen as indecent if you wear a certain outfit.
The irony is these guys are the ones who objectified you first.
Here's where it gets more disappointing: In between Kanye's rants, Kim interjected and reminded him how he always encouraged her to be confident with her body. "You built me up to be this sexy person and have confidence and all this stuff, and just because you're on your journey and you're on a transformation, doesn't mean that I'm in the same spot with you," as quoted by Buzzfeed News. Kanye has also praised Kim for posing nude, even sharing her photos on his social media accounts.
This confirms the fact that Kanye is basically shaming his wife because of his newfound religiousness. Last January, he debuted his Sunday Service, where the choir and attendees sing along to Gospel remixes of the rapper's songs like "Lift Yourself" and "Power." Refinery29 noted that this is 100 percent a Christian gathering and not Kanye trying to start his own religion, but that's debatable depending on how you view it.
Though, to be honest, it also feels like an excuse for Kanye to make people wear Yeezy pieces. According to "GQ," there is a dress code for the choir and attendees. A producer of the event allegedly sends Yeezy-designed white shirts and pants, and beige shoes to choir members. Attendees also seem to be required to wear the same color palette.
So, Kanye is possibly dictating what Sunday Service members wear too? Wild.
After almost a year of doing his weekly service, Kanye has continued his religious journey with his ninth album "Jesus Is King." This will come with an IMAX film documenting the Sunday Service which will premiere on Oct. 25.
Here's the tea: No one has the right to tell someone what they should or shouldn't wear regardless of one's religious affiliations. Kim brought up a good point that Kanye's journey doesn't excuse him for objectifying his wife. They can be both religious and still have the power to choose for themselves.
It's the same with Catholics who tell people not to engage in premarital sex or have abortions. If you don't agree with something, then don't do it and leave other people alone.
Also, a body is just a body. A person's worth should not be measured by how they look or present themselves. If women like Kim want to wear something that bares skin, it's because they're comfortable and want to feel good in what they wear. They aren't doing it to look sexy for someone else like what Kanye implied in the show.
At the end of the day, Kim did end up wearing the Mugler dress and she looked stunning in it. We just hope Kanye changes his perspective about his wife's clothing in the future.
Art by Tricia Guevara 
For the latest in culture, fashion, beauty, and celebrities, subscribe to our weekly newsletter here  
Follow Preen on Facebook, Instagram, Twitter, YouTube, and Viber
Related stories:
Today in Kim Kardashian's colorful life
Kanye West wore socks with slides at a wedding
The best definition of "Camp": These Met Gala 2019 accessories
Get to know Thierry Mugler, king of otherworldly fashion