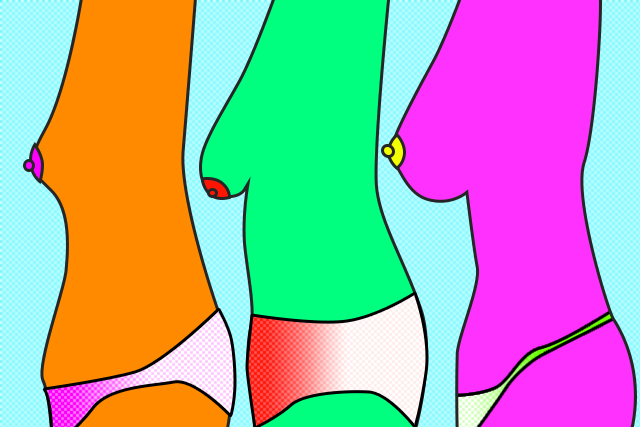 It bears repeating that breast cancer is the most common cancer among women worldwide. The World Health Organization (WHO) estimated that around 2.1 million women are afflicted with this disease every year.
Since October is Breast Cancer Awareness Month, we're here with a reminder on how you can take care of your breasts. Aside from self-checks and going to your doctor regularly, you can also ensure they're healthy in other ways.
Here are some tips you can apply to your everyday routine (yes, even after October):
Check for lumps
You don't need to go to your OB-GYNE to check if you have any lumps on your breast. The right way to do self-checks is by raising one arm and using your free hand to feel around the breast and areola areas for lumps—start from the sides going to the center. It's recommended by the National Breast Cancer Foundation that you do this while lying down or while facing a mirror. You can do this at least once every month.
Visit your OB-GYNE regularly
If you spotted any anomalies while self-checking, schedule an appointment with your OB-GYNE as soon as you can. Even when you don't have any health concerns, it's still important to visit your OB-GYNE at least once a year. If you're under 40 years old, you can ask a healthcare professional to do breast exams every three years.
Schedule a mammogram
According to Medline Plus, only women aged 40 and above can get yearly mammograms. However, your doctor may recommend that you get one your family has history of breast cancer or if you spot any risk factors, like your past reproductive history and having dense breasts.
Know your bra size
According to The New York Times, 80 percent of women don't know their real bra size. That may not be a big deal, but wearing the right bra can lessen back pains and pinching on the skin. It's also important to find a bra that's comfortable for you, and to be careful with underwired bras. She Finds noted that a badly-fit underwired bra can cause back and neck pains.
Go braless
Of course, if wearing a bra isn't for you, you can skip it altogether. Remember that your comfort is important, and that there's nothing shameful about freeing the nipple from time to time. In fact, Bustle notes that going braless can improve blood circulation and strengthen breast tissues.
Moisturizers aren't just for your face
Yes, ladies, moisturizing your boobs should be part of your daily skincare routine. Dryness can cause irritation and itchiness on the breast area, so you should use some lotion or butter to avoid these. (We have a separate story on this. Watch out for that!) Also remember that dry and flaking nipple or breast skin can be a symptom of breast cancer. So if your moisturizers aren't working, you might need to see your doctor.
Don't skip the SPF
The skin on your breasts is delicate and getting a sunburn on them can be very painful. So don't forget to slather on some sunscreen before going out. But if you already have a bad sunburn, don't follow Kim Kardashian's beauty tip to cover it with foundation—you should apply aloe over the inflamed area to soothe the skin.
Remind yourself that boobs aren't perfect
Here's something we learned recently: There are different kinds of boob sizes and shapes. If society and the media made you believe that the "perfect breasts" are big and perky, not saggy, that's utter BS. Instead of worrying about whether your breasts pass sexist beauty standards, you should be ensuring they're healthy. This is also a mindset you should have with how you view the rest of your body.
Art by Tricia Guevara
For the latest in culture, fashion, beauty, and celebrities, subscribe to our weekly newsletter here  
Follow Preen on Facebook, Instagram, Twitter, YouTube, and Viber
Related stories:
These films are committed to raising awareness on breast cancer
Breast cancer awareness month 2019: Fashion and beauty for charity
Breast cancer awareness starts with your own breast health
Julia Louis-Dreyfus: "1 in 8 women get breast cancer. Today, I'm the one."