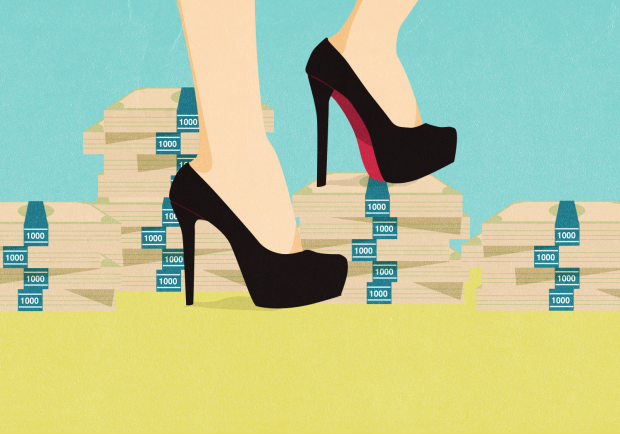 Being broke, at any given point in your life, should never be an option.
If that speaks highly of the truth, then that's the very last place former investment banker Rose Fausto wants you to be in. Let her school you on personal finances. Just like you, she has a penchant for all things fancy. But even when she indulge herself, her bank account is still stable and growing.
How is it possible, you ask?
For Rose, being 25 to 35 years old means you're in "the first decade of a woman's earning life." With now a supposed steady flow of income, it is when she will continuously weigh in one of the most important decisions of her financial life: to spend or to save.
In order for you to come up with a wise decision, she first breaks down the common financial battles women face.
"I'm not earning big enough" 
Women usually compare their salaries with how much their peers earn. But the truth is, as Rose would say, "It's not how much you earn, but how much you save and [and also how much you] invest because saving is not enough!"
One common excuse for not saving up, according to her, is the need to set a financial bar. It means that women only start saving when they reach a certain desired salary. She says, "Saving and investing should be deliberate decisions, regardless of your current earning capacity." It is so easy to give in to the spending pressures of today so much so that we further delay saving.
"A solution to this is to make that decision now and then get into a saving and investing scheme that's regular and automatic. [One can opt for] easy investment plans of some financial institutions wherein you just sign up once, then it becomes automatic, say every pay day," she says.
And if Rose tells you that even her household helpers save up and invest, what excuse do you have left?
"I'm under credit card debt!"
It could be a case of cluelessness when people aren't aware that credit cards can charge as high as 36 percent per annum. And whose fault is this really?
"Because they don't do the math! They just look at the minimum payment and voila! They think they can afford it," shares Rose.
If you've gotten used to spending more than what you're earning, her advice is, "Stick to cash purchases first and only get back that credit card [when] you have disciplined yourself and have mastered the art of setting aside at least 20 percent of your income before spending."
While 20 percent may sound a lot, it is not impossible.
Rose throws in four more tips you can use that can help you spend and maintain a high financial quotient—meaning you'll be more financially capable.
First, she references her bestselling book, The Retelling of the Richest Man in Babylon, for the first three tips. From here, she derives the 3 Basic Laws of Money.
#1 First Law: Pay yourself first
"Save at least 20 percent of your earnings," she says. It is a reasonable and possible amount. "As you increase your income, increase the percentage of saving. By the time you hit mid-life (usually the peak of your earning capability), you should be saving and investing at least 40 to 50 percent."
This enables you to discipline yourself first on saving and later on making a good habit of it.
#2 Second Law: Get into a business you understand, and seek advice only from competent people
If you want to grow your money through a business, she advises, "Know what you're good at and what you're getting [yourself] into. Don't get into a business just because your friends are doing well in it. Choose your mentors and avoid get-rich-quickly schemes, which are usually just scams."
A business should help you grow and expand your money. And we're not just talking about a few thousands-worth of investment on it here. It is true that a business venture is a huge gamble but a well calculated risk can get you far.
#3 Third Law: Build an army of gold before you buy luxury
This is the law that separates those who just get by from those who are able to accumulate considerable wealth.
In terms of fashion, "Buy luxury [pieces] only if you can afford to buy ten pieces of it! I know some fashionistas will not like this, but it's the only way to allow your wealth to grow. It's luxury, anyway, and not a need so it should be delayed. And you know what? It's when you do this that allows you to really enjoy that luxury."
#4 Know your true worth
"Be the best version of yourself," she says. "[Understand] your relationship with money and make sure that what you do with and for money aligns with your core values; otherwise, no amount of money in this world can make you happy."
Rose Fres Fausto was an investment banker turned full-time homemaker and bestselling author, columnist, and speaker on financial literacy, purposeful parenting, and women's issues. She wrote the books Raising Pinoy Boys, The Retelling of The Richest Man in Babylon, and its Filipino version Ang Muling Pagsasalaysay Ng Ang Pinakamayamang Tao sa Babilonya.
For more information visit her website. Follow her on Instagram, Twitter, Facebook, and YouTube.
Art by Dorothy Guya