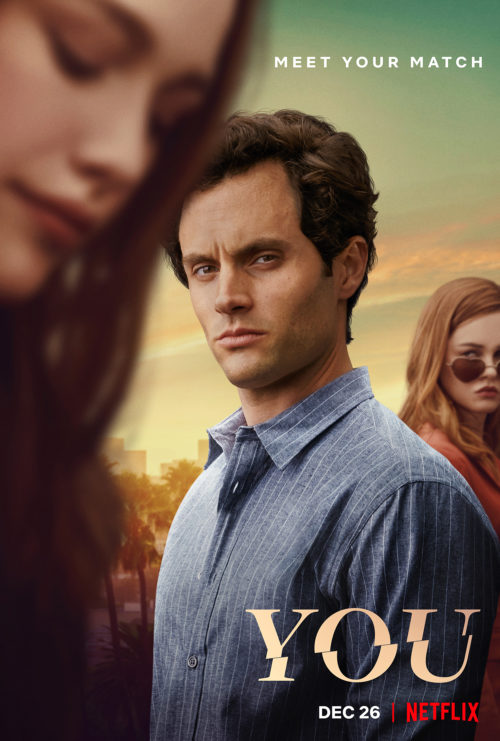 Uh, this is weird but "You" season two seems to be hinting at a Joe Goldberg redemption arc.
If you haven't seen the series, click away now and watch it before reading this. But if you have and you forgot what happened, here's the lowdown.
According to the official synopsis, "You" will continue after Joe's ex Candace comes back from the "dead" and visits him at the bookstore. Throughout the first season, we see flashbacks of Joe's past relationship and how it potentially ended in murder. (Just like his relationship with Beck) However, we don't exactly know what happened and hopefully the new season answers our questions.
So, how will Candace shake up "You" then? Season two is going to be set in Los Angeles after Joe runs away from his ex who's "hell-bent on teaching him a lesson." This is also where he'll meet Love, a potential new obsession. We don't know yet if history will repeat itself, but it's also clear that Candace is being set up to be the antagonist of this already messed-up show.
We're not saying Joe doesn't deserve what's coming to him, but we can already see how fans would empathize with him even more. I mean, he already has fans lusting over him and defending him (hello, Millie Bobby Brown) last season. It's gotten so bad that even Penn Badgley and the official "You" Twitter account had to call for a stop.
But you're supposed to see past my face TO the crazy shit! It's the other way! The other wayyyyyyyyyyyyyyyhhyyyyggg 🙂

— Penn Badgley (@PennBadgley) January 9, 2019
everyone in their right mind

— YOU (@YouNetflix) January 12, 2019
If you're curious to see what will happen next in "You," the second season will premiere on Dec. 26.
Photo courtesy of Netflix
For the latest in culture, fashion, beauty, and celebrities, subscribe to our weekly newsletter here
Follow Preen on Facebook, Instagram, Twitter, YouTube, and Viber
Related stories:
If you're in love with Joe Goldberg, then you missed the point of 'You'
We think we know who Joe Goldberg will obsess with next
Millie Bobby Brown defending Joe Goldberg is so wrong
Ted Bundy's advantage wasn't his looks, it's his White privilege