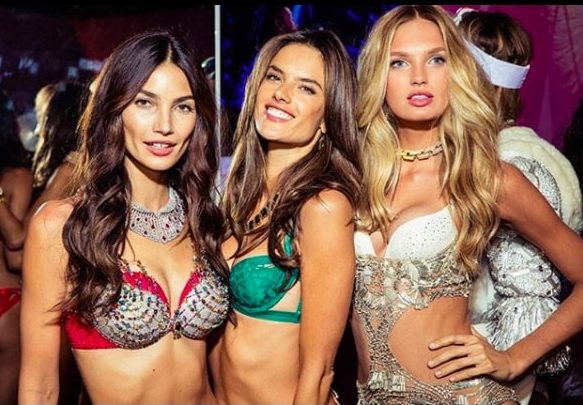 The Victoria's Secret fashion show, which ran every year during the holidays since 1995, is officially canceled this year, according to the brand's parent company, L Brands. Chief Financial Officer Stuart Burgdoerfer announced the decision on Thursday, Nov. 21, saying that it will "evolve the message of [the company]," reports Fortune. 
In July, model Shanina Shaik told The Daily Telegraph that the show won't push through. "It's something I'm not used to because every year around this time I'm training like an angel. But I'm sure in the future something will happen, which I'm pretty sure about."
Over the past years, the annual fashion show has been declining in terms of viewership. They had 3.3 million viewers last year, compared to their 9.7 million viewers in 2013. But the show has always been controversial. In 2018, former Chief Marketing Officer Ed Razek told "Vogue" that they are not going to hire trans or curvy models for their show. "Shouldn't you have transsexuals in the show? No. No, I don't think we should. Well, why not? Because the show is a fantasy. It's a 42-minute entertainment special," said Razek. 
The show also didn't cast an Asian model until 2009, which says a lot about racial diversity. Many Black models are also aware that not much has changed since many of them, including Asian models, continue to face discrimination and racism on a daily basis. Although the show has made an effort about it (50 percent of the cast of 2017's show were models of color), in terms of sizes, there is still more work to be done. The brand still lacks plus-size models and items. Victoria's Secret doesn't carry bras larger than a 40DDD and an XL in underwear, so there is still an untapped market.
When it comes to gender diversity, Brazilian model Valentina Sampaio is the first transgender model to work with Victoria's Secret, but was hired only just this year. Thanks to social media, the feelings and opinions of transgender people are no longer being dismissed. They were quick to speak out about the lack of diversity in the show.
Here's a secret for Victoria: plus size and trans people are beautiful and don't need her approval. @VictoriasSecret

— Miz Cracker (@miz_cracker) November 11, 2018
Bra brand ThirdLove, alongside model Robyn Lawley, also launched a Change.org petition to boycott Victoria's Secret fashion show this year to push the brand to "be more diverse and inclusive of body shapes and sizes on their runways." But I find it funny that the brand would rather shut down the whole show instead of becoming more inclusive. From a consumer's point of view, I'd rather see people of different genders, races, and sizes in the runway to have a stronger representation. They should've just broken the idea of a "perfect model" to accommodate a more diverse audience. But at least canceling the show is like ending homophobia, fatphobia, racism, and capitalism all at once. 
The future of Victoria's Secret is unknown, but I hope they will finally get an accurate sense of what representation looks like. 
We're staying tuned for the brand's official statement. 
[
People
and
Hypebae
]
Photo courtesy of VS Angels Instagram Account 
For the latest in culture, fashion, beauty, and celebrities, subscribe to our weekly newsletter here  
Follow Preen on Facebook, Instagram, Twitter, YouTube, and Viber
Related stories:
Will Victoria's Secret first transgender model save them?
Dear Victoria's Secret, trans models do belong in your fashion show
No, Victoria's Secret, Barbara Palvin isn't a plus-size model
I think the Victoria's Secret Fashion Show needs a makeover
Kelsey Merritt shares backstage content from the Victoria's Secret Fashion Show