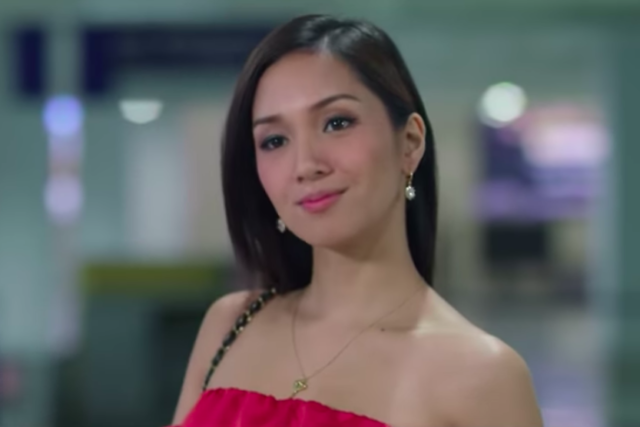 Actress and singer Roxanne Barcelo has a movie coming up called "Love Is Love" where she'll play a transgender woman. We have two concerns about this: 1) She's a cisgender woman and 2) Shouldn't it be a trans actress playing this role?
Based on the trailer posted by RKB Productions two weeks ago, Barcelo plays Winona, who comes home to the Philippines and falls in love with JC De Vera's character. Towards the end of the trailer, De Vera is shown asking someone, "When a straight guy falls for a gay guy, does this mean he is gay too?" Not once was it mentioned that Winona is transgender, which confused some netizens.
In an interview with Inquirer.net, Barcelo confirmed she's indeed playing a trans woman with , saying, "I had many years of experience digging and discovering about them (transgender women) without knowing that I would one day play one. I would ask questions because I was simply curious and I really wanted to understand them. I can say that I've been prepped since I was 13."
Casting cisgender people in transgender roles isn't new—Jared Leto even won an Oscar for playing a trans woman in "Dallas Buyers Club." Scarlett Johansson, who was supposed to play a trans man in "Rub & Tug," argued that if other cis people can do it, her playing the role of a trans is perfectly justified. (Johansson later withdrew from the film.)
But this doesn't mean it's okay to not give trans actors the opportunity to play these roles. The common argument among fans is that playing a transgender character is "an actor's job" and whoever did a great job in the audition gets the role, regardless of their gender identity. But Them. argues that cis actors are fundamentally valued more than trans actors.
In an article about Johansson taking on the role of a trans man, Meredith Talusan of Them. argues, "Already, any trans actor who goes into an audition is at a significant disadvantage over other actors when being cast for any role. The definition of attractiveness, so valued in an industry like Hollywood, is set by a cisgender society. Talent is also defined by cis people and cis-led institutions. The single way that trans people have been able to make inroads in Hollywood—whether Laverne Cox, Jamie Clayton, or Elliot Fletcher—has been to play trans roles. To cast a cisgender actor in a trans part thus amounts to closing off the industry even further to a set of people who already have multiple and systemic disadvantages when it comes to achieving success in the film industry."
Here in the Philippines, we have talented transgender actresses like Iyah Mina, Mela Habijan, and BB Gandanghari—many more who are yet to be discovered. They are proof that they can take on roles and do a great job at it just like any other actor. Allow trans people to play roles that can resonate better with them, and also let them play roles that don't have to center around trans issues.
We're not saying this to discredit Barcelo's talent and hard work. Rather, this is a call for casting directors in the country to bring more LGBTQ+ representation to projects like "Love Is Love."
[
Inquirer.net
]
Screengrab from YouTube
For the latest in culture, fashion, beauty, and celebrities, subscribe to our weekly newsletter here  
Follow Preen on Facebook, Instagram, Twitter, YouTube, and Viber
Related stories:
A trans woman was allegedly misgendered at a Makati bar
Scarlett Johansson responds to backlash following her controversial interview
Meet the country's first trans woman flight attendants
In honor of Transgender Awareness Week, follow these inspiring trans people