And just like that, actress, game show host, and Anne-reluctant singer Anne Curtis is now a game designer with the launch of her mobile gaming app, Anne Galing.
The teasers about the app began a week ago with Anne posting a series of bizarre videos on her Instagram page, each hinting at the different features of her new game. The first one features her changing into three different dresses by hovering them over her body, the same way you might drag an item of clothing over an avatar.
https://www.youtube.com/watch?v=N2Pf2E0zNdo
The second is of her playing a match-3 game (think Candy Crush), but with the throw pillows on her sofa.
https://www.youtube.com/watch?v=_4poTPe_InU
The third features her proclaiming to her 3 million fans on Instagram (and millions more IRL) that she has a few gifts for them, then proceeds to "drop" them inside her phone before jumping in herself, Genie in a bottle-style.
Throughout all teaser videos (except for the third—poor thing is trapped inside that smartphone!), she maintains that heightened sense of enthusiasm that she's become famous on Showtime for. At the end of each, as the camera comes in close, she grabs her phone, puts it beside her face, and breathlessly declares, "Anne Galing, no?!"
Anne just turned 30 last February, guys. At some point, the pa-tweetums act has to be retired, right? She's no longer in that nebulous "not a girl, not yet a woman" phase—this superstar is all woman already. Let's leave the cute chipmunk act to Kathryn Bernardo, yes?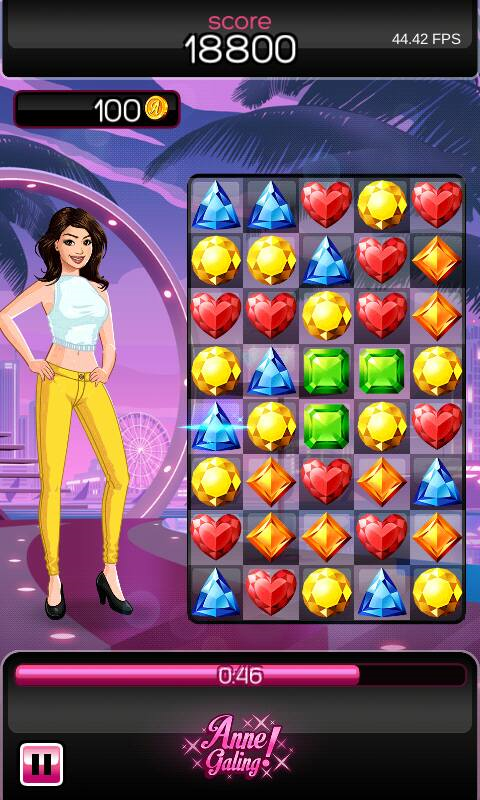 Anyway, right—the app. Though it was officially launched last night, it's been available on Google Play since June 28 with a current rating of 3.7. That's not exactly stellar, but let's keep in mind that it's in the early stages and could improve with time. Also, that's not bad, considering Anne designed the game herself! According to the press release, at least.
We would offer to do a quick review of her new app, which, as hinted in the teasers, is a match-3 type game. "I chose a match-3 type of game because it's my personal favorite. I'm actually very good at it! But I wanted Anne Galing to be unique and to have my personal touch, so I threw in my love for fashion into it. In fact, I even have some of my Anne Kapal concert outfits turned into Anne Galing items! Anne Galing, di ba?" says Anne.
Unfortunately, it's only available to Smart and Talk 'N text subscribers, which is a major bummer for us iPhone-wielding, Globe-subscribing folk.
The app is developed by a company called Xurpas, Inc., which counts Anne among its shareholders, along with her boyfriend Erwan Heussaff, and friends Isabelle Daza and Kim Atienza.
"We view Anne, Isabelle, Kim and Erwan as tentpole properties. We'll build a constantly growing portfolio of games based on their celebrity brand," says Raymond Racaza, CEO of Xurpas. He reveals that Anne Galing is only the first of many Anne Curtis-branded mobile gaming content.
May we suggest a game that makes you come up with as many Anne Curtis puns within a limited amount of time? Because we're not running out of those anytime soon. Anne-mazing!
Anne Galing is available on Google Play.