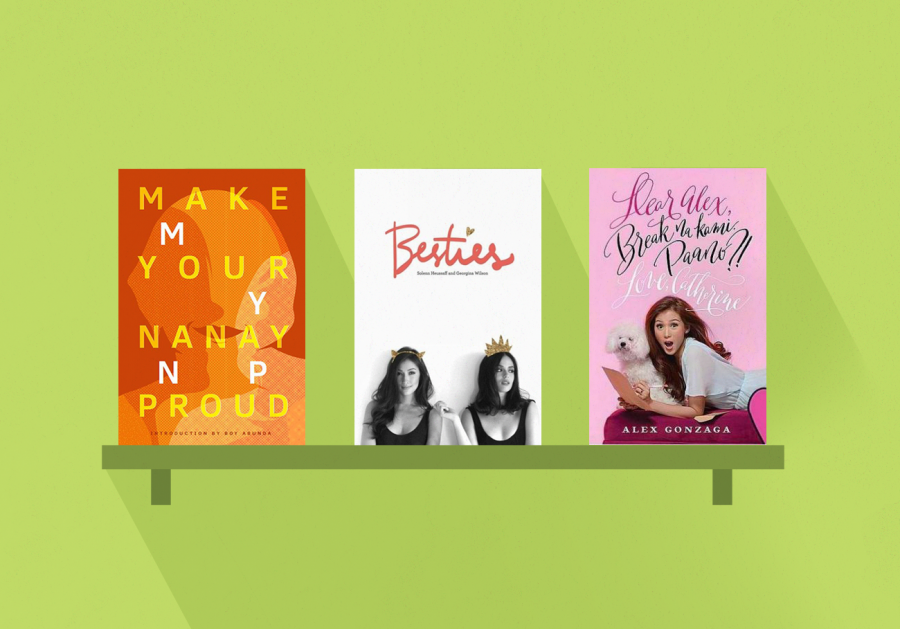 In order to be a best-selling author in the Philippines, you need more than literary prowess—you need celebrity status.
I've spent the last couple of days reading
2015's most popular local books
: Alex Gonzaga's
Dear Alex, Break Na Kami. Paano?! Love, Catherine; 
Solenn Heusaff and Georgina Wilson's
Besties;
and Boy Abunda's
Make Your Nanay Proud
. It seems that Philippine publishers can peddle any sad excuse for a book as long as a pretty face or a known name is gracing its cover. 
Actually, no, that's harsh. These three works have some substance, after all.
THESE CELEBRITIES CAN WRITE
In an accessible way, Besties and Dear Alex challenge the tired social conventions related to being a woman in the Philippines. For instance, the former criticizes the Maria Clara ideal, citing that being "pa-virgin" is silly and that women who are the opposite should "own it!" In Dear Alex, the expectation having a "first and last boyfriend" is, thankfully, debunked as being "tanga-tangahan" (idiocy). 
Boy Abunda's book compiles heartfelt stories of self and social media-made celebrities with their moms. It's a unique attempt at humanizing public figures who seemed distant to us. Although a commercial production, there's no doubt this was made with a genuine cause close to his heart.
I couldn't help but feel manipulated, though, by the false sense of authority some of them wrote with.
BRANDED WRITING, COURTESY OF A POSSIBLE PUBLICIST
There's something reckless about taking advice—relational, nutritional, financial, or otherwise—from someone whose career is built on being in the public eye and endorsing products that get her there. But with the requisite humility required of local celebs, these authors caution their readers about their lack of expertise.
Sos and George, as their friends call them, are quick to claim that their aim is "to help others through our experiences—not to say we're right or wrong."
In Dear Alex, the actress Toni Gonzaga encourages readers to "learn from [the] mistakes" of her sister Catherine. Which begs the question: Why, then, are we listening to these people? And maybe more importantly: How are these books doing so well?
IS THERE A LACK OF GOOD LOCAL LIT?
There is no lack of talented, impactful writers (young and female included) in our country. In 2013, the last year in which the Palanca Awards gave the national prize to a local novel,
a woman won
. Furthermore, Filipino authors' success isn't limited to our islands.
Their resonant voices
are
celebrated all over
the
world
.
And yet on these shores, we let celebrities' publicists pass off marketing stunts as literature, and consume them as such. Their popularity reveals something significant about us. Indeed, like many other countries, we're a tabloid-loving nation who delight in new insight into celebrities' lives. However, there might be more to it than that. 
The popularity of celebrity-written books over Palanca-award winning pieces prove that the average Filipino reader wants a less heady and more visual experience.
READERS NEED TO SAVE WRITERS
What does this mean for writers? As tempting as it is to dismiss celebrity-written books as "half-baked tips," there's something substantial to glean from their success.
Art by Dorothy Guya