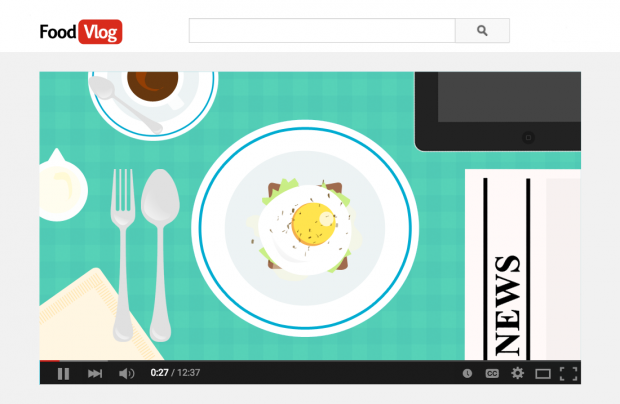 In 2009, the word "vlog" was officially added to the Merriam-Webster dictionary, heralding the worldwide trend of vloggers who discussed a wide range of interests to varied target audiences.  But soon enough, most vloggers faded out after the hype. A lot of vlog channels have gone stale since two years ago, simply because time weeds out those worth the clicks.
Such is very true for food vloggers. Given the amount of time needed to produce a convincing food vlog can be taxing, and you need to be really resourceful to be engaging. We list down the few food vlogs that have gone past being a novelty and are still active in creating recipes to guide you on from lunch meals to dinner parties you plan on making on your own.
With over 1,000 videos and 1 million followers, Chef John of FoodWishes rakes in the numbers with recipes ranging from Baba Ganoush to mochi. If you've wanted to impress your friends with unlikely dishes or novelty specialties you can't find easily, tune in and enjoy his easy step-by-step guides.
I personally love the guys at SortedFood. Ben, Barry, Mike, and Jamie are four friends who taught themselves how to cook and make wicked recipes while Ben was taking courses to become a chef and eventually decided to put up a vlog. With over 2 million subscribers, these four men travel across America to find the best flavors and try different techniques and recipes. From making hot mug cakes to diving for your own scallops, this channel will satisfy the food nerd in you.
A type of food vlog that lost traction easily as the trend faded were those dedicated to just one type of cuisine. Runnyrunny999, however, is still up and running to serve up authentic Japanese dishes and tricks. Run by Taro since 2008, the channel teaches you not only how to make your own cold soba or karage, but also a few helpful Japanese tricks. Some involve boiling the perfect soft egg, shaping an onigiri, and other techniques that will help you understand the Japanese brand of meticulousness in their dishes.
The name of the channel says it all. If you're the type of person who doesn't want to make a mess in the kitchen and also doesn't have a lot of time in their hands to cook, you might want to tune into to this vlog channel. Various playlists dedicated to different kinds of meals are up so you can always cook hassle-free. However, you may want to skip out on following all of the recipes found here, because there's an entire playlist dedicated to anything that can be made with Nutella.
The list would not be complete without a food vlog that's entirely about desserts. If you're looking to impress people by making French macarons, apple pie pops, and salted pistachio brittle along with classic baked goods, Lady will guide you through it easily and quickly.
Art by Dorothy Guya