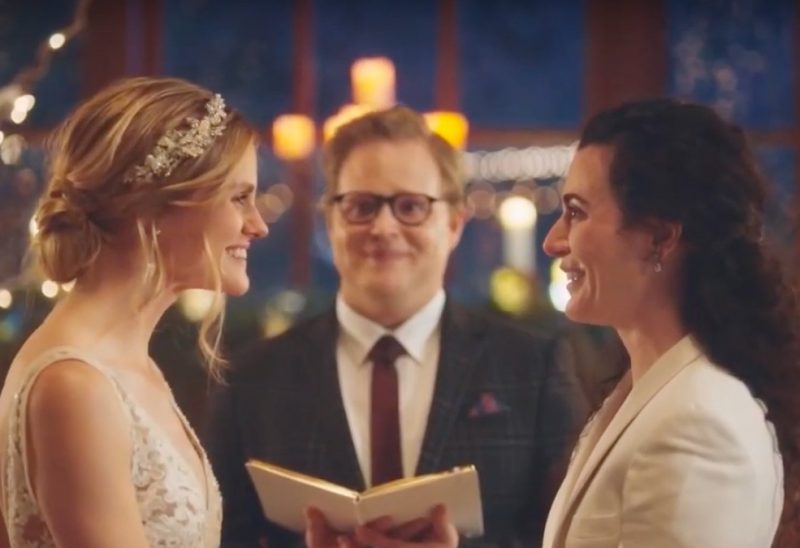 Hallmark Channel has recently pulled out an ad showing a lesbian couple getting married after conservative group One Million Moms, a division of Christian-right American Family Association, encouraged a boycott of the TV network. 
The ad, which is for the wedding planning site Zola, showed two women kissing. One Million Moms claimed that the ad is against the channel's family-friendly programming:
"One Million Moms is asking Hallmark to stay true to its family friendly roots that so many families have grown to love, and to keep sex and sexual content—including the promotion of homosexuality—out of its programming," the group's campaign read.
The group also quoted conservative viewers who said they were "fed up with having the gay agenda crammed down our throats." One Million Moms' online petition received 40,000 signatures, prompting the Hallmark Channel to take the ad down.
However, this caused online outrage towards the channel. Comedian Ellen DeGeneres, for instance, tweeted:
Isn't it almost 2020? @hallmarkchannel, @billabbottHC… what are you thinking? Please explain. We're all ears.

— Ellen DeGeneres (@TheEllenShow) December 15, 2019
Crown Media, Hallmark's parent company, stands by its decision to pull out the ad, stating the ad was "distracting from the purpose of the network, which is to provide entertainment value."
Meanwhile, Zola's marketing manager Mike Chi says it is Zola's mission to support everyone who wishes to get married. He said in an interview with Yahoo Lifestyle:
"We've always represented a diverse set of couples in all of our marketing messages because that's representative of the couples who are getting married today… They come from all types of backgrounds, and the goal of this campaign was to show Zola's here to help any couple who is choosing to celebrate their love."Chi added that the company's mission will not change despite the criticism it is currently receiving. "We want to make sure that Zola is a place where everyone feels welcome and feels like they can be supported.
Zola also announced that they will no longer be advertising on the Hallmark Channel, saying in a statement, "All kisses, couples, and marriages are equal celebrations of love."
[
ABC News
]
Screengrab from YouTube
For the latest in culture, fashion, beauty, and celebrities, subscribe to our weekly newsletter here  
Follow Preen on Facebook, Instagram, Twitter, YouTube, and Viber
Related stories:
How I relate to bisexual representation on TV
2019 in review: Iconic LGBTQ+ moments
There's a Filipino movie about a trans woman, but the lead isn't transgender
Love is still far from winning as Hungary protests against LGBTQ+ ads