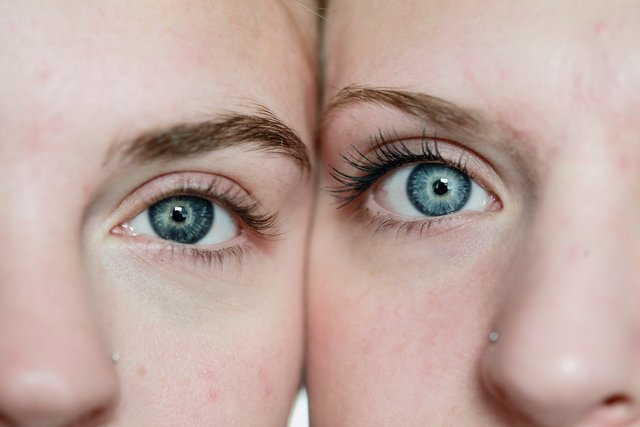 Have you ever wanted to have long and full eyelashes without having to coat them with mascara? I have. Because aside from the fact that they make our eyes pop, we won't have to go through the whole eyelash make-up routine, like putting on falsies and such. There are also a few reasons why many people like having long lashes. According to The Cut, having healthy eyelashes can be a sign of overall health. Some scientists have also found that darkened eyelashes, particularly those with enhancers like mascara and eyeliner, help emphasize the sclera (the whites of the eyes, the brightness of which can indicate health and youth) and the limbal ring (the dark ring around the iris of the eye).
If you're one of those people who are a lashes fan, you may have already considered getting an eyelash extension—a beauty trend that has risen in popularity over the past few years. In fact, celebrities like Kim Kardashian, Beyonce, and Ariana Grande have done it. But what is it really like to have eyelash extensions? What difference does it make? Does it ruin your natural lashes? Are they worth it? You still might have questions about its safety, cost, and process.
Here are the pros and cons of having eyelash extensions:
You'll never have to wear mascara again
For those who weren't blessed with long and thick lashes, I know it can be difficult to apply falsies every now and then. Putting on mascara, on the other hand, can be such a hassle because of how it might smudge. Having eyelash extensions, however, will be placed onto your lashes until you achieve your desired look. "One of biggest pros of eyelash extensions is you never have to wear mascara ever again," explains lash expert Skyy Hadley of Blink Beauty Boutique. "Lashes make your eyes pop, and actually help breathe life into an otherwise tired face."
Lash expert Asma Docrat of Boudoir Lashes also said, "Getting an extra 15 minutes of sleep is worth the time spent on having eyelash extensions applied every few weeks. Most clients find that they start to wear less makeup because they look 'done' already."
It can accentuate your eyes

The eyes are one of the most captivating features of our face. What better way to glam up our eyes than having eyelash extensions? It accentuates the center of the eye as it adds volume and length toward the center of the eyelid.
One person told Byrdie
that having eyelash extensions made her happier. "It's definitely boosted my confidence with the fact alone that no matter what, I always have long, full eyelashes that make my eyes pop."
The Cons
They're expensive
It doesn't come as a surprise that lash extensions are pricey—all depending on the type of lashes you want and your technician. But since you need to replace your extensions every now and then, you have to pay again for the replacements.
Asma Docrat also agrees: "For many people, getting lash extensions is like getting a wax or your nails done. It becomes part of your routine and monthly expenses. Over time this can be costly, but in my opinion, the positives outweigh the negatives."
It might destroy your lashes

Docrat explains that although it is a worthy investment, there are places that say they do lash extensions for typically, what you're getting is a cluster. "A cluster is essentially a bunch of lashes that have been pre-glued together — and they're incredibly heavy. They'll completely destroy your lashes."Skin-care expert
Dr. Lamees Hamdan also said
that it's a good idea to only get extensions sporadically, like before a wedding or special occasion, as opposed to consistently. "Getting eyelash extensions regularly can, and usually does, lead to loss of your own natural lashes," explains Dr. Hamdan. Even worse than destroyed lashes (which is pretty bad), would be the risk of icky infection that might follow a lash-extending procedure. "Many people don't realize that there are definitely some hygienic factors that come with having lashes," Dr. Hamdam continues. "If the implements or the lashes themselves aren't cleaned properly, you face the risk of conjunctivitis."
So, what do you think guys? Still want those long lashes? If yes, you can find
here
the best salons you can go to for your eyelash extensions.
Photo courtesy of Unsplash
For the latest in culture, fashion, beauty, and celebrities, subscribe to our weekly newsletter here  
Follow Preen on Facebook, Instagram, Twitter, YouTube, and Viber
Related stories:
This long weekend is the perfect time to visit the spa
Lashes are in, brows are out: How to make them stand out more
Let your lashes take center stage with these colored mascaras
Here's where you can get eyelash perms and extensions