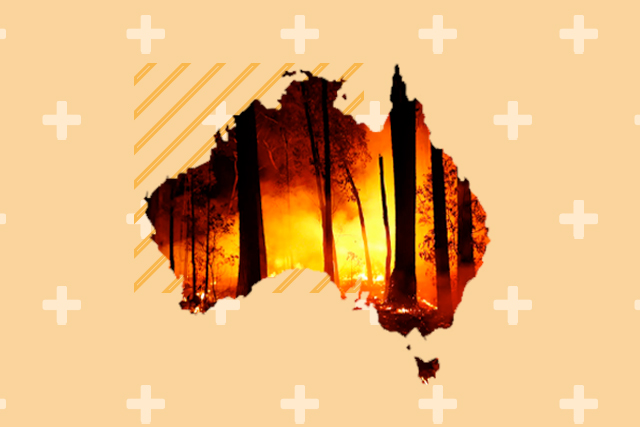 Australia is burning. You probably knew that already, but it bears repeating.
According to Metro, the wildfires in Australia's countryside started in September 2019. Although wildfires can occur during warmer months, they can also be man-made. A man was arrested in November for allegedly starting a fire that destroyed over 5,400 hectares in New South Wales.
As of writing, six Australian states have been affected by over 100 fires burning, which displaced thousands of households. There are at least 24 people and reportedly 480 million animals dead from the devastation.
BBC reported that rain fell down in some parts of New South Wales last Friday, Jan.3, following reports that the blaze might become bigger in the next few days. However, there's still no room for complacency, especially with the danger brought by the high levels of haze pollution in affected areas.
The big question: How can we help? Here's a list of where you can donate:
Australian Red Cross
Red Cross volunteers and staff are currently hard at work to offer medical assistance. You can help out by donating any amount to their Disaster Relief and Recovery fund so they can be able to buy more supplies to help out Australian citizens.
Country Fire Authority (CFA)
The CFA is a fire service based in Victoria, Australia. They are currently holding a donation drive to support the Bushfire Disaster Appeal, which helps community members affected by the bushfires in East Gippsland and Hume. You can donate money or material goods, just email [email protected] for more information on how you can send them over.
Givit
You can donate any amount on Givit to help organizations like Books for Bushfires and The Star Bushfire Appeal.
Port Macquarie Koala Hospital
https://www.facebook.com/koalahospital/photos/a.145862104661/10158004420679662/?type=3&__xts__%5B0%5D=68.ARAToyWxKpylQc-rb2GP7skNBzQqPpfQtSvOg-Xop9vSx4X1RotmVI6WvqP1W2efCUtbbq5f0P4kS-eL59PdFWYH0yk_490U_a0LWE7YDbDiG_76wYc8yHPRQbPWYB2vNm21TtgBBb3T6t2gtkLZX_J0Ew_awvjRqSMkzCgnHIfSiR6sQWkbxEanOSVaI4rk6C2FlvVR5XSpvhStUyYxH5qpC9TYxhPLKyUi_sfg1jEN-vpiUM_u-ZAFZx3V9rteA05cE7Hx6GLnoNRV_DTf4fTszsLUj79XDBG3QZug5L-Psf8ITTIoDj0tHi6Ae422c3CUZS9OpfrSIyveAqoR&__tn__=-R
Koala Hospital has spent weeks searching and rescuing koalas from the bushfires in Port Macquarie. They set up a Go Fund Me to build water stations to rehydrate recovering koalas. It currently has over $4 million in donations, exceeding the $25,000 goal. You can still donate to help build more water stations and breeding areas.
Wildlife Information, Rescue, and Education Service (WIRES)
WIRES is dedicated to rescuing and caring for animals in New South Wales. Donate here to support the volunteers.
Kangaroo Island Council
https://www.facebook.com/KangarooIslandCouncil/photos/a.870567299694702/2634782653273149/?type=3&__xts__%5B0%5D=68.ARBDKwZ6yIsH14oGBQXNYYFkF45IdT2mC4mQQJcko4uGtVzCbvGd7ZJwovfD8OOkZQByZrGuVjyUYq7_yYurkcPeDC2OIU9EiKNXCZLTpArXPYoays7R_U0ecb66UER-o3HGLGyprfvG19T_spETBNzbDPz-HY_11cqgMd9ytA8DmspWh5ol6O3BAqx56L458IIacT5Tvw1qwbs-4d30wjeQk4df1__TVOrALmlZ-Ovso2YOo5p54KRRfZMxXZPEdzYE86S8PW7jKgozLmGqbs1Qx8BZoZhKFwEbqQe_q719iXBJfmH8IQ4xv6cED_aVVGjEXavj13ikXj_ZC4HAOHsRrA&__tn__=-R
Donate to the Kangaroo Island Mayoral Relief & Recovery Bushfire Fund to help the people and the animals living in the area. Refer to the Facebook post above for details on how you can do an international bank deposit.
World Wildlife Fund (WWF)
WWF is responding to the devastation brought on by the bushfire and are calling for donations to "care for injured wildlife and restore their homes." You can donate any amount on WWF's website.
***
On that note, you should also keep an eye out for social media accounts that are using the Australian bushfires for engagement and sales. (If you follow Estée Laundry's Instagram Stories, you might've seen them calling out some beauty brands who were doing this.)  Also keep a close watch on spam accounts that are posting false promises about donating to a certain cause.
If you aren't able to donate money, you can always spread awareness and let people know where they can help. Don't just send prayers because Australia needs more than that right now.
Art by Tricia Guevara
For the latest in culture, fashion, beauty, and celebrities, subscribe to our weekly newsletter here  
Follow Preen on Facebook, Instagram, Twitter, YouTube, and Viber
Related stories:
Golden Globes winners raise awareness on women's rights and Australia
Earth Day 2019 is all about protecting animals
Why the Amazon Rainforest is everybody's concern
I want kids, but I don't want them to fight climate change for us