Billie Eilish may only be 18 years old, but she is one of the most popular singer-songwriter's out there right not. So much so that she won five Grammys, sweeping the major categories. She is also so admired that YouTubers have tried the Billie Eilish challenge. What does this mean? They try to look and dress like her then walk around a public area to see if they can prank her fans.
A lot of people find this funny and entertaining but Billie thinks otherwise. On Instagram Stories she posted a photo of one YouTuber pretending to be her. She wrote, "Please stop doing this sh*t. It is not safe for you and it is mean to the people who don't know any better. You make me look bad."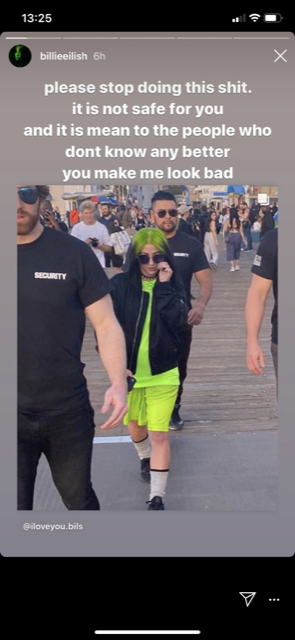 We agree with Billie on this. Do these YouTubers hire the right amount of security? What if they cause a group of people to go wild in a public area? She also brought up that it's mean to the fans who might think it's really her, but really, they're just seeing or meeting a fake version of her. Billie also shared more screenshots of other YouTubers who have made similar videos.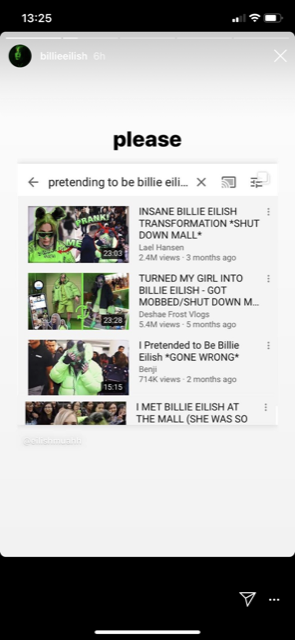 I get it, a lot of us wish we were Billie Eilish but we are not. Leave it to her to rock neon roots, wear baggy clothes, and interact with her own fans.
Photo courtesy of Billie Eilish's Instagram account
Follow Preen on Facebook, Instagram, Twitter, YouTube, and Viber
Related Stories:
Billie Eilish on her Grammys sweep: "This was just unreal"
Billie Eilish is bringing her haunting music to Manila
We want to dye our roots funky colors like Billie Eilish and Halsey
Why do people think it's okay to objectify 17-year-old Billie Eilish?