"PS I Still Love You" had a lot of stressful moments, most of them involved Lara Jean Song Covey (Lana Condor) and her internal monologues. We all lived vicariously through her while she indecisively thought about being with her boyfriend Peter Kavinsky (Noah Centineo) or childhood crush John Ambrose McClaren (Jordan Fisher), as well as her being insecure with her ex-BFF and Peter's ex-girlfriend Gen (Emilija Baranac).
If you found yourself screaming at your screens multiple times, you're not alone: Even Lana Condor wanted to smack Lara Jean behind the head. She said as much during a press video conference alongside Noah Centineo yesterday, Feb. 13.
But there's a redemption arc: When Lara Jean reconciled with Gen despite being frenemies since the first film. The former brings up the Korean word "jung," which is "the connection between two people that can't be severed, even when love turns to hate." Lara Jean says that even though Gen hurt her, they can still be friends. She also acknowledged that Peter and Gen will always have an amicable connection even after breaking up.
We couldn't stop thinking about that scene, so we asked Condor and Centineo about their understanding of jung and how people should apply it in their daily lives. Read their responses below:
Lana Condor: Having connections when you're feeling alone
"It reminds us that we are all connected and that even when you think you might be the most alone you've ever felt, remember that no matter what you can have connections with unexpected people. When you feel alone, understand that you can reach out to other people—I think that's really important. The best way I can describe jung is that Noah and I have been through an interesting life process we have a way bigger exposure than we ever did because of ['To All the Boys I've Loved Before.'] That's something we've done together and that ultimately ties us together."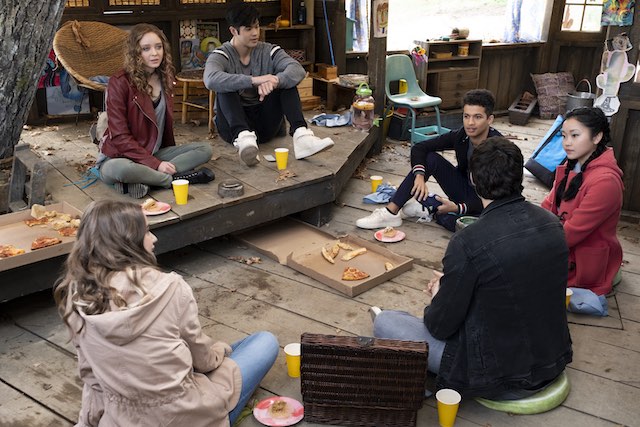 Noah Centineo: Caring about people you don't like
"I think on the flipside of jung is the connection you have with someone you don't like. Because you can have a connection with someone you have problems with, right? I think the opposite of love is indifference, not fear or hate. Jung is even if you hate the person, you are still attached to them emotionally. When we feel something for another person, may it be positive or negative, ultimately it's because we care about them. If you really didn't care about the person, then you wouldn't feel so sh*tty when you think about them. You'd feel indifferent. Maybe you don't care about them but their opinion of you matters. Just get to the bottom of that and figure whatever it is with them gets you so emotional and try to clear that up—odds are you can. If you're truly over something that someone did, you wouldn't feel anything. If you forgive someone for doing something wrong and they come up to you to apologize, you'll be like, 'Look, man, I don't even care anymore.'"
***
If there's one thing we learned from "PS I Still Love You" and from the stars, jung is an important part of our lives. We may not notice it, but it's there.
Photos courtesy of Netflix
Follow Preen on Facebook, Instagram, Twitter, YouTube, and Viber
Related Stories:
Is it emotional cheating?: Thoughts on 'PS I Still Love You'
Lara Jean is still our style icon in 'PS I Still Love You'
Attention, K-pop fans: There's a Blackpink song in 'PS I Still Love You'
Noah Centineo sprinted to Lana Condor when she was feeling down