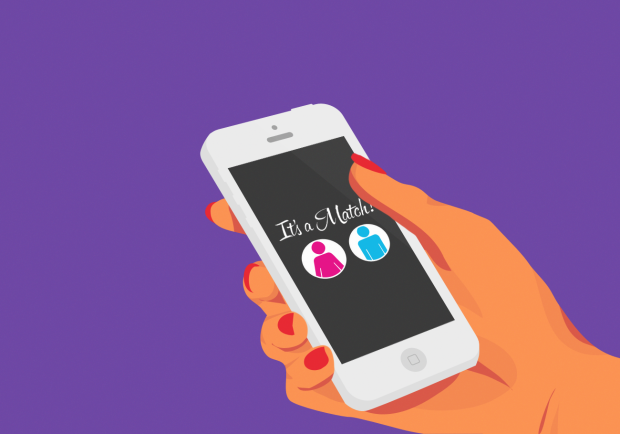 C'mon, admit it. Tinder is entertaining. Extremely entertaining, in fact, when you're hanging out with your girlfriends and gay friends, swiping through photos of men in various stages of feeling pogi, or just feeling. Especially in a place like New York City, where you get all kinds of men, some undeniably, jaw-droppingly hot, and others, well.
To the left, to the left, all the loser dudes in the swipe to the left…
Tinder is supposed to be a dating app.   A stylist friend of mine in New York, in fact, is convinced that it's the best way to book free lunches and dinners, paid for by your Tinder date.
"Who says New York has to be expensive?" he asks.
Actually, Tinder is whatever you want it to be: a hook-up app, a Dial-a-Dick delivery service, a fuck buddy search engine, or simply a way to meet a potential partner. Within a particular radius, of course.
Unfortunately, it doesn't come with an automatic creep filter, as Instagram accounts such as @tindernightmares and @instagranniepants so hilariously—and horrifyingly—document. There's a douchebag epidemic out there, ladies, and not only do these misogynistic, entitled jerks display a shocking lack of online manners; their grammar tends to be atrocious as well.
A friend—let's call her Isabelle—was visiting New York after a break-up, and made no bones about using Tinder to get boned. She noticed, however, that once she got matched with someone, and a text conversation began, the man would, upon finding out that she was only in New York for a brief period of time, immediately either ask for nude photos or send her dick pics, or arrange to meet, with the intention of having sex.
Well, at least the men were direct, but since Isabelle had still not embraced her inner slut, she thought that things should unfold the natural way: meet over drinks or coffee, assess his mental state to make sure he's not a serial killer or a psychopath, make pakipot a little bit if she ended up finding him attractive, maybe make another date, a proper one this time, with dinner, and then sleep with him.
Clearly, she hadn't considered the magnetic pull of overpowering sexual attraction when she arranged to meet with Massimo over afternoon coffee in the Village.
There he was, finally in the flesh, after a whole morning of flirting via text. And he was even hotter in person than he appeared in his profile picture. Tanned, lithe, muscled. A musician, which to her meant artistic, refined, passionate, fuckable, and not likely to judge her for any kind of behavior deemed slutty back home.
Isabelle and Massimo hit it off instantly, and after two glasses of rosé, both almost forgot they had other appointments in the next hour. She had to run back uptown to meet up with friends and he, she suspected, was off to meet another Tinder date.
As he walked her to the Metro, he suggested they had time to hang out at his place for a little bit. Which turned out to be in the building right across from the café. So they went up, made out, until finally she had to drag her mouth away from his dick because she had to go.
He told her he would leave the door to his apartment open that night if she wanted to come by after dinner.
This was her pakipot moment. "Maybe," she said to him, but to herself she was screaming at her loins to calm down. "I'll see how late dinner ends tonight."
Dinner was with the stylist and the chef, both delightful and gay, at a new "in" restaurant in the East Village that is notoriously difficult to get reservations at. The table was for 9 p.m., but by the time they were seated, it was 10:30 p.m., and by the time her main course was served—it was duck—it was 11 p.m.
She decided to text Massimo, hoping he hadn't fallen asleep, or forgotten he had invited her over. This was, of course, after she had shown Massimo's photos to Patrick and Diego .
"Come now," exhorted Massimo's text. "Or I may just be asleep."
She stared at the phone, and then at her plate, with the golden crisped skin of her confit de canard staring tantalizingly back at her. She weighed her options.
Duck or fuck?
The duck, according to Patrick and Diego, was out of this world.
So was the fuck, by the way.
B. Wiser is the author of Making Love in Spanish, a novel published earlier this year by Anvil Publishing and available in National Bookstore and Powerbooks , as well as online on nationalbookstore.com. When not assuming her Sasha Fierce alter-ego, she takes on the role of serious journalist and media consultant.
For comments and questions, email [email protected]
Art by Dorothy Guya