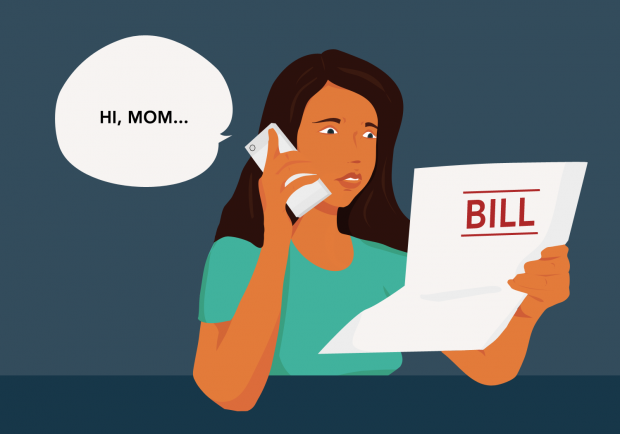 What's there to be jealous of us?
We have our parents to thank for our branded bags. They're the generational force that funds our careless consumerism. A chunk of us leech off our parents' success. And as we do, we still have a hard time climbing our career ladders because, well, our parents just can't seem to stop working for us all. Those yuccies who now own artisanal everything? They're over-educated, over-informed, and—surprise, surprise—still as underpaid as ever. A stagnant job market isn't helping us, either.
I never fully realized how bad this is until my 30-year-old sister came home one night and stole my bed.
It's embarrassing to admit that our parents still pay for our basic needs. But as these 20 millennials tell us, we're not reluctant enough to keep ourselves from doing it anyway. We ask them what they shamelessly depend on their parents for, and this is what we got:
"Omg. Napkins! I've never bought any sanitary napkins at home ever since. Like ever! I used to get from my mom's stash and now, she just buys them for me."—Zara, 26, model
"I live alone and I drive. It's either I starve myself and let my money go to gas expenses or make use of the money to get food. My mom—out of pity and my puppy dog eyes—agreed to shoulder my gas money just so I can eat—and buy Starbucks."—Enzo, 24, writer
 "My emotions! I go to their bed at night to just cry when I'm stressed at work."—Anna, 24, editorial assistant
 "My mom still buys me my Uniqlo leggings and undies from Manila. She sends them to me here in New York or brings them whenever she's here. You gotta make it work, girl."—Cara, 26, writer
 "I depend on my parents to wash the dishes. When it comes to monetary shit, they buy my stuff—shirts, shoes, and all. I really don't buy myself anything and if I do, it's not that often. My parents pity me for it so they do the honors themselves."—Lia, 25, artist
 "Partly rent. My parents and I cover it. Or actually, they pay 40 percent of it, and I pay 60 percent."—Renz, 24, designer
 "My derma sessions. I mean, do my parents really want their kid to be ugly? The only time I feel best sans makeup is when I go up to my mom and show her how bad my skin has gotten. That way, I feel better when she says, 'Oh my God, magpa-derma ka na mamaya, ako magbabayad.' She's been saying that for three years now."—Chelsea, 27, professor
 "Internet at home, like really, really, fast Internet. I moved out on my own and don't always have the money to pay for Internet. So when I really, really need a fast connection to download stuff and video games,  it's the biggest reason why I go home."—Nate, 25, editor
"A roof over my head and everything that comes with it: free food and laundry services."—Justin, 29, managing editor
"I tell myself all the time that I'm a successful, independent person, but really, I live in my parents' house, I don't pay for my phone bills—I've never paid any kind of bills, really—and I still use my mom's credit card. It's only for specific, practical things, though, like for gas (I live in Alabang and work in Makati), groceries, and…my Spotify subscription. Because she has no idea what that is, and can't tell that it's an unnecessary expense." —Crystal, 27, account executive
 "My money for my makeup stash and clothes. My mother usually buys more expensive clothes for me than I do for myself."—Amber, 25, Editorial Assistant
 "My meals. When my mom and I eat out, she still gets the bill, which I think at my age should be something I should be doing for my mom… but that's because she insists. (Laughs)"—Katy, 29, managing editor
 "Housekeeping. I hate it when they meddle with my things, but I can't imagine what our house would be if they weren't there to look after the cleaning and keeping."—Georgina, 25, senior client service executive
"I live on my own on weekdays, but when I do go home for the weekend, I mooch off my mom's WiFi , cable TV subscription and home-cooked meals."—Abba, 28, art director
"I still live at home, I don't drive my own car, I don't pay for my own gas. I've been working as a photographer for, like, nine years. I've thought about how much they've given and I'm like, shit, I can't do this because I've already created a different lifestyle. I can't support my lifestyle because I've already permanently factored in their help." —Joseph, 27, photographer
"Oh, my God. My parents literally pay for everything. I mean, except for my phone bill. And my gas! I am the most dependent adult that I know. Like, my parents don't make me pay for anything. I mean, they've never asked me to pay for anything and I guess I'm kind of an asshole 'cause I never offer. Adulting is so hard." —Marga, 24, writer
"I use my mom's credit card for Uber. Pero minsan lang naman!"—Judd, 25, filmmaker
"Junk food in my tummy! I'm lucky the parental units know how to let me be my own person, but still provide a safe haven for me to come home to after hours."—Megan, 25, associate editor
"Movies have glamorized the independent life —having your own place and doing WHATEVER you want with nobody to answer to. After living abroad for a few years and living the "independent life" (I was living on my own but bankrolled by my parents, haha), I realized that I took a lot of things for granted living under my parents' roof. Turns out the lifestyle I'm used to is really expensive and it'll take me a very long time before I can afford it on my own. I'm almost 30, but I'm still dependent on my parents because I'm not ready to adjust my lifestyle to match my income level." —Rachel, 27, supervisor
"Filing for taxes, getting your car registered, or calling to contest your Meralco bill; I have literally done none of these things and I am a terrible adult. Being a grown-up is the worst. Lol and I'm 26!" —Martin, 26, freelance writer