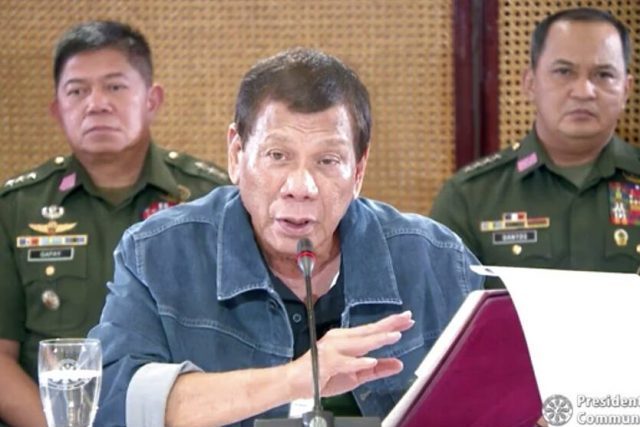 "Puro kayo reklamo. Sumunod na lang kayo."
You might have seen this comment all over social media whenever someone criticized the government amid the COVID-19 situation in the country. It's an annoying rebuttal, especially if you're simply questioning the decisions being made by the government during this challenging time.
On Mar. 16, Pres. Rodrigo Duterte enforced an enhanced community quarantine on Luzon to limit movements and stop the spread of COVID-19. Many LGUs outside of Luzon have also enforced quarantines and social distancing rules.
When the president and other government officials held press conferences to address concerns about the community quarantine, a lot of us were left confused. Duterte was unclear during his speeches, often going off-script, and cabinet members were giving conflicting statements. The most concerning part is the fact Duterte kept mentioning the Philippine National Police (PNP) and the Armed Forces of the Philippines (AFP) and how citizens should follow orders, else we'll be arrested. There was no mention of the health workers who are the real frontliners of this pandemic.
Naturally, many people were angered and demanded answers from the government: What's the status of COVID-19 testing kits and is the health department considering mass testing? If public transportation would be suspended, how will people travel to work? What is the government's contingency plan for workers who won't get paid and need to put food on their tables? Is it really necessary to arrest people who are out during curfew hours?
These are just some of the questions raised by concerned citizens on social media. As soon as their posts went viral, they were told (or subtweeted) by pro-administration trolls to stop being critical and "just obey."
Unsurprisingly the DDS are invoking the most dictatorial passage of the Bible to defend the ineptitude of this administration.

Really curious how they can claim to be good Christians when this admin has treated the poorest of our brethren in the most un Christ-like way possible? pic.twitter.com/tuMIMXMSI8

— Panlasang Pinay (@thysz) March 17, 2020
Here's the thing: Citizens are allowed to question government officials and hold them accountable for their shortcomings, especially if a large sector (the working class) will be greatly affected. Being critical doesn't mean that we won't follow community quarantine protocols—but we're not going to follow blindly.
As of writing, there are a total of 193 confirmed COVID-19 cases in the Philippines and four patients have recovered. The Department of Health's (DOH) current triage requires patients with mild symptoms and exposure to undergo self-quarantine or home isolation without testing. This is to prioritize severe cases since hospitals have limited testing kits and space in their facilities.
Updated COVID-19 DOH algorithm by PGH. Mas magandang may alam para talunin ang COVID! pic.twitter.com/wiyXj7onvR

— Jai Cabajar (@jaicabajar) March 17, 2020
This has brought up questions about whether the DOH has ample budget to address the pandemic in the country. Contrary to news that the proposed health budget of P98.6 billion was slashed by P10.6 billion, the approved 2020 allocation is P172.4 billion for universal healthcare, including health insurance (PhilHealth).
Now, we ask: How is this budget being used during this public health crisis?
Last February, minority lawmakers asked for a detailed plan on how DOH will use their P1 billion supplemental budget to address the COVID-19 situatio. On Mar. 11, Sen. Bong Go suggested that the government could raise funds from sources like the Philippine Amusement and Gaming Corp. (PAGCOR) and Philippine Charity Sweepstakes Office (PCSO) to DOH's P3.1 billion request to pay for personal protective equipment (PPEs) for health workers; establish a Bureau of Quarantine; and allocate funds for the Research Institute for Tropical Medicine (RITM).
Based on reports coming from DOH and some public hospitals, the country is still lacking testing kits (there are more coming), face masks and PPEs. The Philippine General Hospital (PGH), a state-owned hospital, even resorted to holding a donation drive for face masks and medical supplies. Vice Pres. Leni Robredo also set up a fundraiser to provide PPEs to frontliners.
Also, if testing kits are limited to only those with mild to severe symptoms, then how come asymptomatic government officials are getting tested? Sen. Miguel Zubiri confirmed on Mar. 16 that he's asymptomatic and COVID-19 positive. Seven senators were also tested, but there's no news whether they're asymptomatic or not. You can't blame citizens for questioning why people in power can get tested without following DOH's triage.
Aside from health concerns, there are also questions regarding the presence of the military and how the working class is being treated. Officials have said that those who will not follow community quarantine rules and resist authorities may be arrested. One incident involved a street dweller who was arrested by Manila police for violating the city's curfew because she was sleeping on the sidewalk, as well as resisting and cursing at officers.
When the quarantine started on Monday (Mar. 16), we saw long queues at checkpoints and transportation terminals due to traveling workers. There were also workers who were stranded at the Valenzuela-Meycauayan boundary because they were traveling past curfew hours. This was despite the government's memo that workers and frontliners can travel as long as they had an ID or a certificate of employment. (If you look at the photo below, it clearly violates the social distancing rule that the government wants citizens to strictly follow.)
https://www.facebook.com/116724526976/posts/10158512814126977/
Again, can we blame citizens for feeling alarmed and calling this community quarantine a pseudo-Martial Law? We're less than a week in. The last thing we need is people worrying that they won't be able to go home and that they would be arrested if they're caught outside. We understand that the police and military are there to help maintain order, but they also shouldn't instill fear among citizens.
This isn't Martial Law, but what citizens want since the first day of the community quarantine is assurance that they will still get their basic needs, not strong-arming. We are allowed to criticize the government and hold them accountable for their shortcomings in response to the COVID-19 outbreak, especially how the Luzon-wide community quarantine will affect the working class and the poor in the next month.
We deserve better than this. Don't tell us to "just obey."
Photo courtesy of Inquirer.net
Follow Preen on Facebook, Instagram, Twitter, YouTube, and Viber
Related stories:
Here's how not to conduct a COVID-19 briefing
Is the COVID-19 advice you read real or fake? A discussion
Today on tone-deaf COVID-19 takes: Vanessa Hudgens
These books will remind you of the horrors under the martial law regime