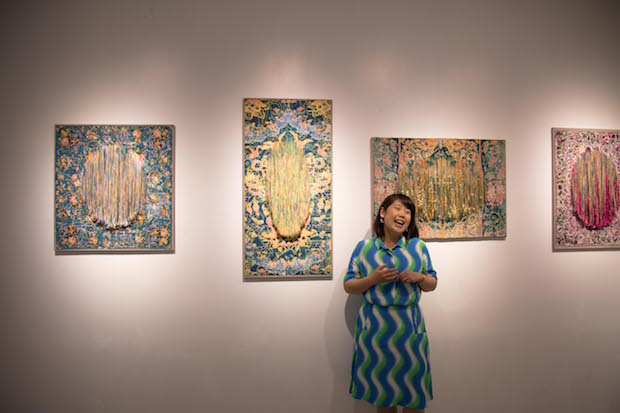 To start, Japanese artist Aiko Tezuka doesn't live in the mountains—and she doesn't need to be. She weaves in contemporary Berlin, where she is now based. But her art consists of the entwined elements of timely narratives, forgotten histories, painstaking attention to detail, and a slow process—all of which a distracted adult may have a hard time piecing together.  
Aiko's pieces aim to tell a tale most modern. In an effort to stay relevant and translate an era's worries, she admits to using the Internet as her primary source of references. "Two hundred or 300 years later, when I'm gone, someone might find it and imagine how the world was," she says.
One of her works, for instance, display and tackle the Fukushima tragedy. Its biohazards, peace signs, and effects on DNA are told through the tapestry. "The disaster took place years ago, but we still encounter the effects until today," explains the artist. "I have friends who gave up on having babies just because of radiation."
Schooled as a painter back in the day, Aiko later abandoned the art upon realizing there was nothing new that could be done with it. Today, she takes afternoon strolls to find out the littlest and most interesting details hidden underneath the loud images, clichéd symbols, and redundant brands that run rampant in a city.
Take a look at her tapestries, and you may just find out a thing or two about the world you live in.
Photos by Mari Peña
Source: Meg Manzano for Red Magazine, "Thread Room," July 2015.