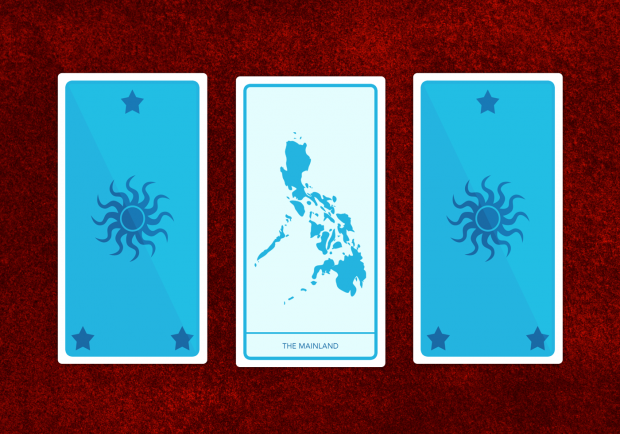 Fortune telling is everywhere in Thailand, it seems. Bangkok in particular froths with mysticism. In each new corner a seer beckons forth things yet to come.
In Siam Paragon, a quiet and glamorous, if not slightly dated mall, there were rows of tables, seemingly holding small business meetings. Though upon closer inspection, these were conferences of a different kind. Spilled over each table were tarot cards, and next to each mystic was an English sign: "Offering Burmese fortune telling." It's a niche within a niche if I've ever seen one. I wanted to snap a picture, but my good friend Pauline pointed out that these people probably wanted their privacy.
In an alley off a backpacker's hub in Khaosan Road, a stately turbaned gentleman alternately offered custom-made suits and palm readings. His eyes spoke of a clarity that deterred me. I want the future, but in a reflected, distorted sense. He seemed to know it in a factual sense.
Every lunch hour, pairs of young professional women flock to the city's parks, and sit on spread-out blankets where they consult seers for low prices to describe the future of their love lives. They also make concerned, disappointed faces the whole time.
In Lumphibi Park, an approximation of the idyllicism of New York's Central Park but with warring crows and a waterways full of monitor lizards with bodies so large that when they emerge from the water they sound like a bowling balls, a woman dressed in patchwork style not unlike a clown offered me a bundle full of harbingers: a necklace, tarot cards, and a pad of paper reminiscent of a Yahtzee scoresheet. I've never been particularly good at Yahtzee, so I politely declined, not wanting to leave my future spouse's income to a game of chance.
Finally, under the recommendation of a local friend, I went to a well-known psychic. We met at a café. She was well-dressed and young, definitively still in her 20s. I've always thought of fortune as something that comes like wisdom, over time. This girl looked like a babysitter, and as she tapped away at her phone to consult charts based on the time I was born, it seemed as though she was consulting with a spirit through the vigorous use of emoji.
Perhaps because I consulted a pricy psychic in a high-rent district of the city, my fortune seemed unusually focused on business prospects, of my spouse's and mine alike. As someone who plans on being a starving artist, I tuned out this entrepreneurial chatter. The highlights remain below.
"You will date older people." 
This is totally accurate. I'm 22 and I'm happily dating a 23-year-old who insists he's 22. Having traveled together and seen his passport, I can confirm this is a lie.
"You will bald."
😐
"There is an olive-skinned woman in your life who is a large influence on your creative passions."
Pauline had sat there talking with me for an hour before my appointment. I'm not sure it takes a psychic to realize she mother hens me.
"Beware of fire."
This is the type of read I wanted! So mysterious. When staying in a yurt camp in Mongolia, I anxiously waited for a tent to catch flame. Alas, the only thing on fire was Pauline's mouth during our market excursion.
"Within a month, you'll receive three job offers."
I failed this mark, receiving only two. A couple of days after my reading, I was in the Chinese embassy applying for a visa for the next leg of my tour when I struck up a conversation with a Bhutanese tour guide that seemed promising. A couple of weeks later, in Saigon, a tech startup dangled a position in front of me. I declined both, for reasons that dispelled the final large piece of fortune telling I received.
"You will move in six to eight weeks."
I still have two weeks on this one, but unless my life goes haywire, I'm absolutely having more fun in the Philippines. You can't beat our mango shakes or beaches, and our mountains will give any range a run for its money when it comes to beauty.
Yes, I've been in the country just under a year, and I know it's not "mine" to have, but I like to think that the Philippines has me. I feel lucky to be surrounded by some of the coolest people I've ever met. It wasn't what I expected in the cards, but I think my fortunes shine bright in the 7,107.
Art by Dorothy Guya