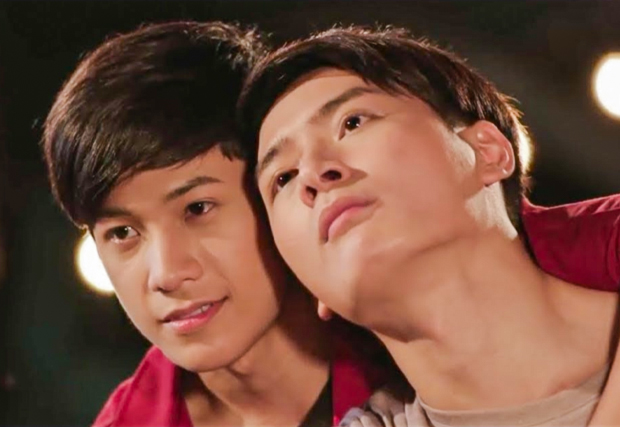 For the last few weeks, many Filipinos have been obsessed with the queer web series "2gether," which is a love story between male high school students Tine and Sarawat. Every time a new episode is uploaded on GMMTV's YouTube channel, hashtags related to the series take up several spots in the Philippines' trending topics.
"2gether" is just one of many shows that prove there should be more space for same-sex love stories in mainstream media, which can also help normalize such relationships IRL. As much as we want to see more BL (boys' love) content, we can't trust everyone who wants to make them—like Filipino director Darryl Yap.
Last night, news of Yap's plan to make a BL limited series titled "Sakristan" went viral on social media. Several people weren't excited about the news considering the director's previous project "Virgin Marie," which trivialized child rape, and allegations that he had a relationship with a minor, among other controversies. Because of the backlash, Yap went private on Twitter. But in a statement posted on his Facebook page, he stood his ground and said he'll push through with "Sakristan" despite the criticisms.
The reality is that Philippine media is already lacking in BL and even GL (girls' love) stories, but it can also be difficult to support a series by the same director and production company who made "Virgin Marie." Yes, we'll have more representation, but is it really worth supporting?
If you're looking for other BL series to binge-watch, here's a list for you:
"HIStory"
This Taiwanese web series focused on various BL stories. The first season (2017) featured separate stories in three episodes which explored "different manifestations of fated love." Season two (2018) tackled issues of right and wrong in love, while season three (2019) showed how polar opposites can come together.
"SOTUS: The Series"
"SOTUS" features a senior engineering student named Arthit who bullies freshmen who want to get into the Faculty of Engineering. For the longest time, he thought he was the law in the school until freshman Kongpob stands up against him. The two start out being rivals, but end up becoming close as they get to know each other.
"Love by Chance"
"Love by Chance" is reminiscent of "Love, Simon" because of how Pete is being blackmailed by an ex-boyfriend who's trying to out him. Ae later helps him with the situation, which develops into a friendship and a deeper relationship between the two college students.
"Special"
We've talked about "Special" before. If you haven't seen it, it's based on Ryan O'Connell's memoir where he talks about living life as a gay man with mild cerebral palsy. The series shows his struggle with dating and sex, as well as how he overcame the insecurity of living with his disability.
"Sex Education"
"Sex Education" isn't necessarily a BL series, but it still features some of the most realistic portrayals of same-sex relationships. The most notable was between Eric and Rahim in season two, which showed the highs and lows of having a boyfriend for the first time.
Juan Miguel Severo's upcoming project
ACCOUNTABILITY POST. DECLARATION TO THE UNIVERSE.

WE'LL HAVE A SERIES AFTER THE PANDEMIC. pic.twitter.com/R0CGhpBZ18

— Juan Miguel Severo (@TheRainBro) April 13, 2020
Here's something to look forward to once the enhanced community quarantine is lifted: Writer Juan Miguel Severo will be pitching an eight-episode BL series. On Twitter, he shared that he's talking to a producer about creating the series after the pandemic. There are no details yet but we're already excited!
Screengrab from YouTube
Follow Preen on Facebook, Instagram, Twitter, YouTube, and Viber
Related stories:
'2gether' might just be the cutest queer show on YouTube
Underrated queer shows to stream during the lockdown
'Love, Simon' and the conversation on coming out
Four films to educate you on the PH's decades-long LGBTQ+ movement