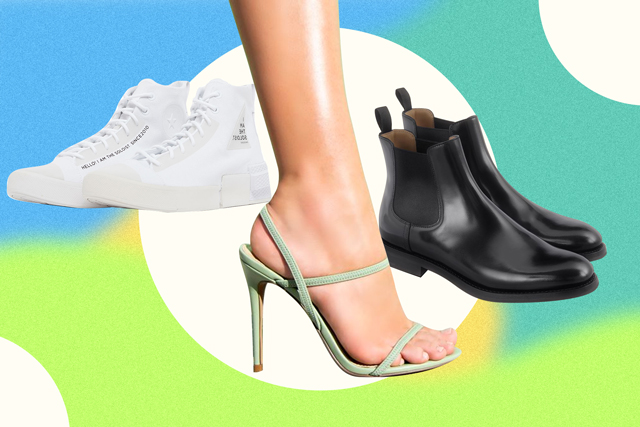 I never thought we would ever come to this, but I'm starting to miss the shoefie. Similar to several other Asian countries, the Philippines has a tradition of removing shoes before entering the house. During the quarantine period, it's safe to assume that most of us haven't slipped our toes into footwear other than house slippers or slides. What do shoes mean for us in an age where being a shoeholic isn't seen as a gendered trait anymore? 
Shoes have a transformative power that isn't always rooted in how a brand can elevate it into a status symbol. If fashion is an art form, then not being able to wear shoes is a loss to expression and the manifestation of dreams. Even shoes bought from an ukay-ukay can give you that spike of confidence and change how you interact with the world. Here are five shoes we're missing the most and the sides of ourselves they helped bring out.
Platform oxfords
Blending schoolgirl chic and punk rock dauntlessness, platform oxfords is for the rebels with a cause. Pairing it with a dress or a smart casual combo of ankle pants and a structured jacket will get you feeling like a boss with the world as your (literal) stomping ground. You can be sweet but not a pushover. You can be sophisticated but not uptight. Platform oxfords remind me of brunches after a grown-up sleepover with the gals and out-and-about office days. 
White canvas sneakers
You love wearing the hell out of your staple white canvas sneakers. Sure the chunky dad sneakers have made a big comeback, but a trusty pair of white Chuck Taylor's go well with everything and you don't have to worry about staining it because it adds a bit of personality (at least to those who like skipping a wash to a curation of memories). You can bounce on them all day and even if they're a play-it-safe fashion pick, you will be feeling extra adventurous. It's my go-to when meeting with friends or going to gigs.
Chelsea boots
Who said that only men can be suave? Chelsea boots are sexy, especially in black. We often pair them with tight dark jeans for that long and sleek look. Wearing Chelsea boots for me is an instant ego boost. It's equivalent to saying, "Hey, you should take me seriously." or "I'm the one you have to watch out for." I love wearing mine on casual drinking dates and when I know I'll be meeting with strangers.
Strappy heels
Okay, I admit that strappy heels are a pain to wear for long but they also make your feet look so gorgeous! They're not ideal when you anticipate to be on your feet for hours. However, for dramatic entrance purposes, these babies do the trick. The skinnier the shoe, the higher the fall. Maybe that's part of the appeal though. A few minutes of parading in a strappy heel can get you feeling your oats for the entire day. They're perfect for parties and adding eleganza to your photoshoots. 
Bold-colored pumps
Unlike strappy heels, not all pumps are a challenge to wear and most of them provide enough support so they're not ankle-breakings waiting to happen. Nude pumps are classy but I prefer the vibrant pick-me-up a bold-colored pair of pumps adds to a power suit or a flirty dress. Pumps aren't always dainty—they can also be killer. They're an eye-grabbing essential for the modern fair lady. I always grab my pair when I'm up for a presentation or when I'm feeling a little extra.
Perhaps we don't have to wait until the end of the quarantine to break out our favorite pairs of shoes. Are they calling to you like they're calling to me? Put them on for a few minutes and maybe you'll feel inspired by the versions of yourself that have been keeping quiet for a while.
Art by Tricia Guevara
Follow Preen on Facebook, Instagram, Twitter, YouTube, and Viber
Related Stories:
The shoes we're copping for Air Max Day
This local shoe brand was featured in British 'Vogue'
This shoe brand's cute collection will bring out your inner '90s child
Marikina continues to thrive as the shoe capital of the Philippines