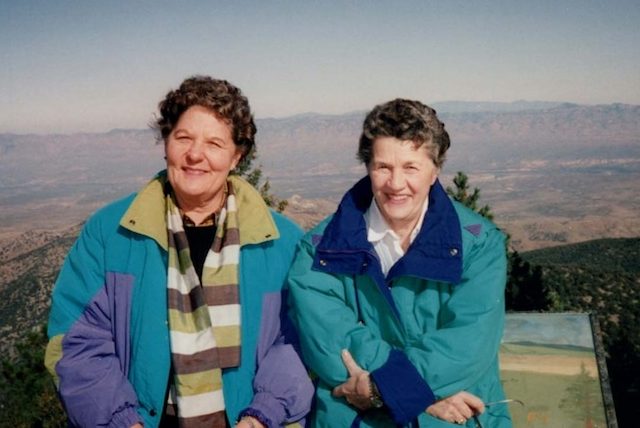 Spoilers ahead!
I'm a sucker for love stories, especially ones featuring couples overcoming challenges and staying together until they're old and grey. This is probably why "The Notebook" still gets me choked up. Best believe I was also reaching for tissues while watching the new Netflix documentary "A Secret Love."
Directed by Christopher Bolan and produced by Ryan Murphy, the documentary features the story of couple Terry Donahue and Pat Henschel, who have been in a secret relationship for 65 years before coming out to their family. They first met in 1947 and they've been inseparable since. But because they lived in a conservative time when LGBT people were arrested and gay and lesbian bars were raided, the couple had to be careful.
Donahue also had to hide her identity since she was playing for the All-American Girls Professional Baseball League, a group that had the unspoken rule to "Play like a man, look like a lady." She talked about this in the documentary and in Britni de la Cretaz's "The Hidden Queer History Behind 'A League of Their Own,'" which chronicled accounts of queer women in baseball.
"A Secret Love" is a heartwarming film and shows how love can endure for decades. Donahue and Henschel's love story is honestly like something from a Nicholas Sparks novel, except it's real. That said, we're listing down the moments that made us go "awww" and shed happy tears.
Moving out of their home
For most of the documentary, we see the couple visit retirement homes so they can get around-the-clock care since Donahue had Parkinson's disease. When asked if they would rather move somewhere in the US or Canada, Donahue said, "It doesn't matter where we'll go. As long as we're together, we're happy."
Donahue's relationship with her parents
Donahue was sure that her mother Rosie would've disowned her if she came out as lesbian. As for her father Jack, she said he was "a very understanding man." "And dad liked Pat very much. He told me, 'I'd rather see you this way than married to someone who would mistreat you.'"
Jack loved Henschel so much he offered to take her in when her father and stepmother passed away.
Their first meeting and dates
Donahue and Henschel first met while playing hockey in Canada in 1947. The first time Henschel confessed her feelings was through a note. Donahue also talked about how they first kissed during a sandstorm, checking in to a hotel with no luggage so they can be together in secret and inviting Henschel to their farm in Melaval, Saskatchewan.
Meant for each other
Henschel talked about dating three men before meeting Donahue, all of whom passed away unexpectedly. It was devastating and also made Henschel wonder why these unfortunate things happened to her former boyfriends. Donahue quipped, "Patty, we're meant for each other."
Looking at old photos and love letters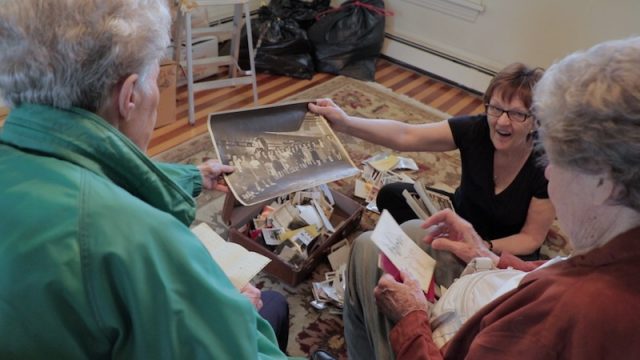 While going through memorabilia, the couple, along with Donahue's niece Diana Bolan, looked at old photos and letters they wrote to each other. Henschel also wrote a lot of poems to Donahue, which Bolan suggested that she should compile in a book.
Getting married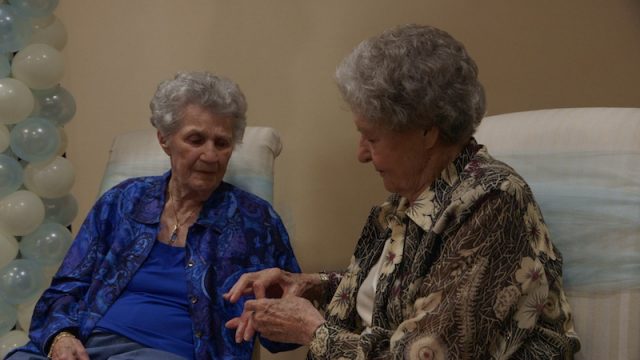 Before coming out, Donahue and Henschel would tell people that they were either "good friends" or "cousins." After nearly 70 years together, they got married in their retirement home, surrounded by their closest friends and family. They could finally call each other "wife."
"Breaking the rules"
Towards the end of the documentary, we hear a conversation between Donahue and an unnamed man about breaking the rules since the '40s. "All of us that played ball in the '40s broke the rules," said Donahue.
"You kind of broke the rules your whole life," said the man, referencing both her baseball career and her relationship with Henschel. To which Donahue replied, "Yes, I have. That's why I'm happy."
"Love is love"
Before the credits roll, we see footage of the couple's travels as well as other home videos. The documentary closes with Donahue saying, "No regrets. I'd do it all over again. I think love is love and that's the most important thing."
Donahue passed away in 2019 because of Parkinson's disease. She is survived by Henschel, her partner of 72 years. It's safe to say that "A Secret Love" preserved her legacy and love story during the last few years of her life.
Photos courtesy of Netflix
Follow Preen on Facebook, Instagram, Twitter, YouTube, and Viber
Related stories:
Watch the 65-year romance and coming out story of two women on 'A Secret Love'
'Circus of Books' Review: An acceptance vs tolerance family drama with gay porn history on the side 
Four films to educate you on the PH's decades-long LGBTQ+ movement
Underrated queer shows to stream during the lockdown