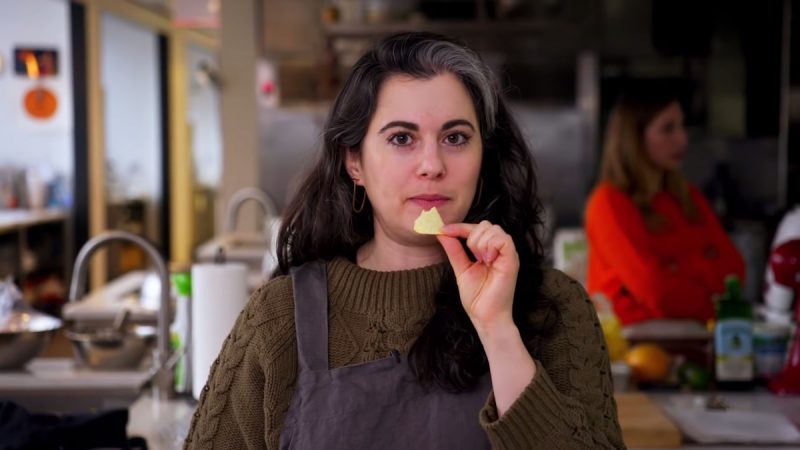 If you're an obsessive FoodTube fan then chances are you've already met Claire Saffitz from the Bon Appetit Test Kitchen (and, FYI, #IWDFCFTBATK). Her "Gourmet Makes" series, where she attempts to make gourmet versions of favorite childhood snacks like Oreos, Pringles, Snickers, Pocky and the like has become an instant hit when the first video went live in July 2017. 
The Bon Appetit (BA) YouTube channel's following has grown to a whopping 5.83M subscribers as of this article and it's not showing any signs of stopping with instant classics like "It's Alive" with Brad Leone or "Reverse Engineering" with Chris Morocco keeping the BA hype-train running.
But I'm not here to stan Bon Appetit (even though I totally stan them), I'm just here to tell you that Claire has a cookbook in the works!!!
The very aptly named "Dessert Person" is coming out on Oct. 20 this year to Amazon Kindle and will presumably be hitting store shelves if ECQ is over by then.
The YouTube star (and professional pastry chef, best not to forget) runs the gamut of sweet, savory, and everything in between with practical dos and don'ts that troubleshoot like an experienced IT wizard except… this is generally yummier than computers but you do you.
"Dessert Person" is available for pre-order now and chances are I'm going to be torn between trying the recipes and drooling over the photos for at least a week after I get my copy.
Featured photo is a screen grab from "Gourmet Makes" on YouTube
Follow Preen on Facebook, Instagram, Twitter, YouTube, and Viber
Related Stories:
Dear men, in case you didn't know: Chrissy Teigen is not just a bikini model
Get whipped over these dalgona coffee alternatives
Preen picks: Food-related accounts and channels we can't get enough of
Let me change your mind about Animal Crossing: New Horizon