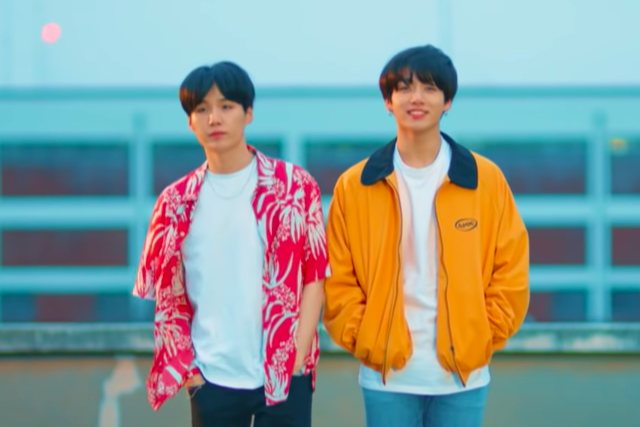 Big Hit Entertainment started a cryptic countdown last Saturday, May 16, that had fans excited for something they didn't even know anything about. Today, BTS fans think they've cracked the code: A BTS member might be releasing new music this weekend.
D-3 pic.twitter.com/9rPeBkFUIG

— BigHit Entertainment (@BigHitEnt) May 20, 2020
Big Hit Entertainment tweeted a photo of a member's blurred silhouette with D-3 on it. Fans are speculating that it could be either BTS members SUGA or Jungkook on the picture. Both members have been working on respective solo albums. Fans have been waiting for the follow-up to SUGA's debut mixtape under the pseudonym Agust D. If it ends up being Jungkook, we could be treated to his first self-composed mixtape.
After the drop of the teaser image, "Yoongi or Jungkook" trended on Twitter with the BTS ARMY split on who's tied up figure is on it. Some fans are even hoping that it's actually for a collab between the two.
jungkook being tied up in on mv…..yoongi being tied up on agust d mv…..also, you can notice a person being tied up on the d-3 photo….this countdown might be for jjk1 or agustd2 but who knows?? it might be for a yoonkook collab👀 pic.twitter.com/gqGC6jxFEz

— nicole⁷⟭⟬JK BEST BOY (@outroteavre) May 20, 2020
ARMYS ON MY TL RIGHT NOWWWW!!!!!

WHO'S YOUR BET? YOONGI OR JUNGKOOK? pic.twitter.com/4PzLHNLnP0

— MARS❼ (@Ay_wa07) May 20, 2020
That pic does look like yoongi but these dates … would they just be a coincidence? I don't know!

— First Sight (@firstsight_jk) May 20, 2020
my exact thoughts omg maybe he clowned us I mean wouldn't be the first time

— 메릴⁷ ♡ 석지니 ∞ 🍀🍇 (@kookieskoo) May 20, 2020
Whichever's your guess, we'll be finding out the answer soon enough.
Photo screengrabbed from BTS' "Euphoria" music video
Follow Preen on Facebook, Instagram, Twitter, YouTube, and Viber
Related Stories:
The voice behind the PAL in-flight safety VO is a BTS stan
IU's comeback single is a collab with BTS' Suga
We made it: BangBangCon and the lessons we can learn from BTS
BTS' #EndViolence campaign: Why it matters so much