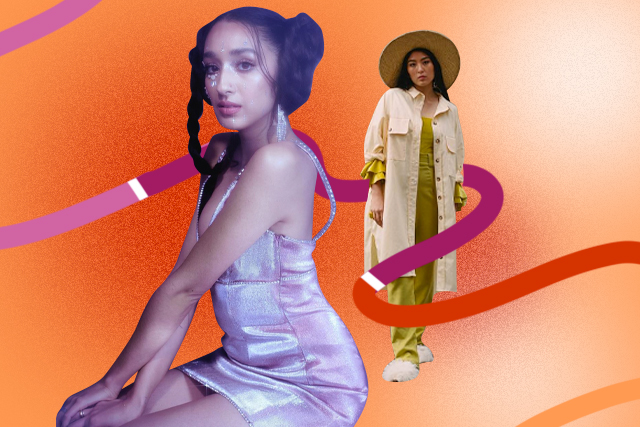 Sapphic music artists have enjoyed a steady rise to fame in recent years with Tegan and Sara, Hayley Kiyoko, Janelle Monae and Gia Woods coming to mind as some of the popular artists that many people know. While I love the bops "Make Me Feel" and "Girls like Girls," there are times that I wish I can buff up my gay girl playlists with different artists.
Most sapphic artists I know have been recommended to me by my friends and word of mouth is still a pretty effective tool in spreading information, so I'm passing this knowledge on to you. Here are some of the underrated sapphic artists worth checking out for when you want more feel-good, women loving women songs to jam to.
Raveena
Raveena Aurora is a bisexual Indian-American artist that grew up in a traditional Sikh family. Her first album "Lucid" was released last year to much acclaim. Much of her songs deal with the trauma that she has experienced as a teenager or her experiences as a woman of color. Her dreamy musical style inspired by indie rock puts self-care at the forefront of her troubles. She released her EP "Moonstone" earlier this year as well as a music video for the single "Headaches" that depicts her falling cautiously in love with her real-life close friend Hitomi Mochikuzi.
L Devine
When she was aged seven and dreamed of becoming rock star, L Devine created a punk band called Safety Pins. Today, she is one of pop's relatable rising stars whose songs cover the difficult but ultimately fun adventure from adolescence to adulthood. "Party On Our Own" is my introvert anthem that is also unironically the theme song for my virtual hangouts. One of her songs that most resonated with me is "Daughter." It's a fairly cheery tune but the lyrics just gut my heart as it's about a girl telling her girlfriend's mother about their love and relationship.
Pixie Labrador
Pixie Labrador is an up and coming singer-songwriter whose songs are mostly based on her real-life experiences. Expect raw emotions and a bunch of feels for many of her songs. "What It's Like," a song about saying goodbye to a lover, often comes up when introducing Labrador to a first-time listener. However, if you want a sweet love song, give "For You" a try. This song is all about the little ways you show love to someone as well as the hopes you have for your future together.
Kaash Paige
If you've been on TikTok, then you're probably already familiar with Paige's song "Love Songs" as it has become a viral track on the social media site. If you liked that vibe, bisexual artist Paige has a lot more to offer. Her angelic vocals are perfect for her chill R&B songs. In her EP "Parked Car Convos," she also blends a bit of trap with R&B. This EP is also just as emotional as the title suggests with songs tackling intimate conversations with friends who want to date each other or the loving act of sharing clothes with your lover. Aside from music, Paige is also a really great fashion icon for streetwear, as her music videos commonly feature her own personal dressing style.
Sofya Wang
My favorite song from Chinese-American lesbian artist Sofya Wang is "Boys Aside." The two-year-old release features her romance with another girl who was initially dating a boy. Her metallic pink swimsuit is a piece that I can only wish to rock. Even though she was a classically trained pianist and cellist, Wang's current music style is indie-pop. Her songs often center around authenticity despite societal pressures but in an interview with AZ magazine, she hopes that even though the subject matter is serious, hopefully, people can have fun with her music. She says, "Sometimes everyone is too serious. Just chill!"
B.P. Valenzuela
BP Valenzuela performed at my high school prom back in 2015, but back then I didn't know how big of a star she was going to be. Now, I can't imagine a world without "Bbgirl" and "Steady." These two songs encapsulate Valenzuala's electro-pop style in different ways. "Bbgirl" is an R&B leaning fun and flirty take on a crush, while "Steady" is a deep house anthem for those who are navigating new relationships. However, I do find that "Minimize" is Valenzuela's demonstration of her mastery of electro-pop and heartfelt lyricism. It shows Valenzuela's technical skill in electronic music production while still giving us a bop that can make anyone kilig to the bones.
Rina Sawayama
Japanese-British singer Rina Sawayama released her debut studio album "Sawayama" just over a month ago. The album touches on many different genres while creating Sawayama's personal story of love and family. The album's lead single, "STFU," showcases the racism she has experienced into an uncomfortable conversation where she is likened to both Lucy Liu, who is Chinese and Sandra Oh, who is Korean. The song that introduced me to her was "Comme Des Garçons," a colorful music video where the former model showcased her chic anime-inspired fashion and makeup looks. The song is also a great jab at the misplaced confidence that toxic masculinity enables.
Art by Tricia Guevarra 
Follow Preen on Facebook, Instagram, Twitter, YouTube, and Viber
Related stories: 
The Preen Team discuss pop queens' recent releases aka our quarantine playlists
Asian women are taking over the indie-pop scene, tyvm
Quarantine anthems: How coronavirus songs comforted and capitalized
Here are the essential feel-good WLW films worthy of a marathon