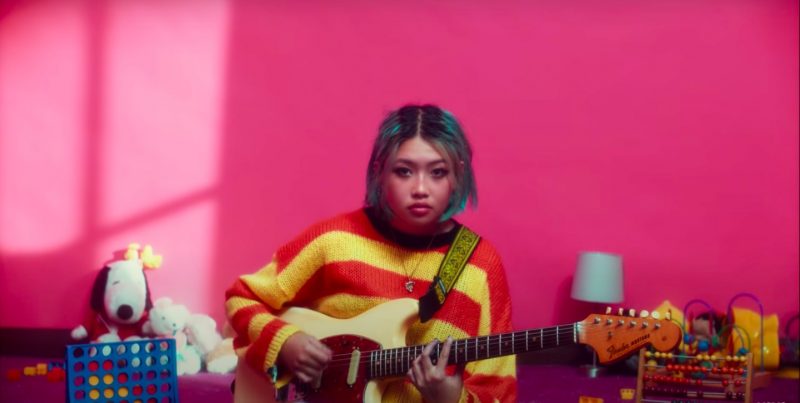 I was never really particular about the artists I listened to, mostly because it's the songs that usually catch my attention and not necessarily the artist. When quarantine started though, I noticed that I've been listening mostly to songs by Asian women artists. As someone who, as a kid, dreamt of becoming a musician, seeing these women create music inspires me a great deal. I just might pick up my guitar and try writing again. 
Historically speaking, Asians have been underrepresented in popular music internationally despite being home to around 60 percent of the world's population. Jennifer Lee, a Korean-American producer known as TOKiMONSTA and Grammy nominee for the Best Dance/Electronic Album category for her 2017 album, "Lune Rouge," told NBC news:
"Artistic talent exists amongst all peoples, but success is where minorities can struggle," says Lee, "This is not because of our lack of drive, but rather the society we are in. As we change the views of Asians in western society, we will have more opportunities to thrive."
This 2019 study revealed that men were found to have released more songs, signed to record labels more frequently and have a bigger collaboration network than women. Other studies have shown "what the experiences of women reveal is that the biggest barrier they face is the way the music industry thinks about women.(…)The perception of women is highly stereotypical, sexualized, and without skill." This lack of a broader range of talent in the industry has been withholding opportunities from deserving artists for something as arbitrary as sex and ethnicity. 
Fortunately, many Asian women musicians such as BLACKPINK are now topping charts and selling out arenas worldwide, becoming the role models that aspiring musicians have been searching for. Aside from K-pop, there have been many Asian women artists in the indie-pop scene gaining international recognition. Here are some songs by Asian women artists that you could add to your playlist:
"Switchblade" by NIKI
What better way to start this list than with 88rising's queen, NIKI? Born and raised in Indonesia, this artist easily became one of my favorite singers since I discovered her when she opened for Halsey's Manila concert in 2018. She teased the concept of her next album "Moonchild" by dropping "Switchblade" on Apr. 2, bringing electro-pop vibes and neon visuals in her music video. Known for her confessional lyrics, NIKI told Scout that this album is about her journey of embracing her identity and childhood influences. 
As the only female headliner in 88rising's "Head in the Clouds II" festival last year, NIKI has been very vocal about her role as an Asian female artist in the US coming from bringing Asian and Asian-American artists to the global spotlight. She told Refinery29 that she feels she has a responsibility to show other Asian kids facing identity crises with conflicting influences that it's possible to embrace cultural differences and gain international success like she has. Her song "Switchblade" is about her journey as an Indonesian artist moving to the US and encourages fans to take risks and accept the "winds of change" that can transform them. 
"Bad Friend" by Rina Sawayama
After watching Rina Sawayama's cover of The 1975's "Love It If We Made It," I immediately looked up her music. On May 20, Sawayama released the music video for "Bad Friend" from her album "SAWAYAMA," which is largely about  about her struggles as a Japanese-British pansexual woman. 
Sawayama has been using her music as a platform to face her past and speak up against the racial microaggressions she has experienced like when she wrote about her frustration of people mispronouncing her name in her 2018 single "Flicker". She tells NME magazine that her album is about taking a stand against the normalization of disrespecting Japanese culture both in Japan and in other countries. Sawayama expressed that creating this album was her way of healing from her personal struggle with the conflicts of her British and Asian influences. She wrote about her trip to Tokyo with a long time friend who she eventually lost touch with in her emotional electro-pop track "Bad Friend." 
"Stay Where You Are" by Yuna
This Malaysian R&B and indie-pop singer caught the attention of Pharrell Williams who later on became her mentor in 2011. Williams helped Yuna create her self-titled debut album and produced its first single "Live Your Life." As an advocate for her Muslim faith, Yuna opened up about how she struggled in the music industry because her decision to wear a traditional hijab goes against the typical view on women singers in Malaysia, much like in the US. She tells Billboard that she feels free and confident despite constantly being told not to cover up; she expresses that women shouldn't feel the need to dress (or undress) for wanting to play music .
Her new song "Stay Where You Are" is a mesmerizing track featuring her calming vocals backed by minimal instrumentation. With its release date on May 15, its lyrics perfectly encapsulate feelings of taking time for yourself and the struggle of being away from your loved ones (especially during quarantine). 
"This song hits harder right now because we are all isolated in our homes, some even away from their loved ones," Yuna wrote on her website. "Though we're apart, it's nice to remind each other to just 'stay where you are' and when this is all over, we'll be with each other again."
"Ambrosia" by Kiana V
Homegrown R&B singer, Kiana V, has definitely made her mark by embracing her own sound. In an interview with Scout, Kiana expressed that she struggled with living in the shadows of her father, Gary Valenciano. When she discovered that she wanted to make music, she started making a name for herself and realized that she didn't have to become an icon like her father. She also explained that the vulnerability of her lyrics is a reflection of her self-image which she has slowly grown to accept. She's been recognized by the McMillan Woods Global Awards for her work as a female recording artist from the Philippines.
On May 8, she released "Ambrosia," a song about embracing femininity and finding power in vulnerability. 
"As women sometimes, you feel pressured to just kind of go with the flow, especially in relationships but in this song it's more empowering because it's kind of 'alright, I know what I want and I'm gonna ask for it or I'm gonna take it' and I think that people forget that girls deserve what they want to, and girls deserve to ask for what they want." Kiana explained in an interview with RX 93.1.
"Nobody" by Mitski
As someone in quarantine who just found out about Mitski, the lyrics "My god, I'm so lonely" really hit me. Mitski gained a following in 2014 with her album "Bury Me at Makeout Creek." In 2016, she was invited to tour with Lorde aside from also winning the hearts of big names in music like Michelle Zauner of Japanese Breakfast and Iggy Pop. 
Mitski has expressed how growing up as a Japanese American woman unconsciously put her in a place to represent Asian Americans. Her album "Be the Cowboy" takes on a violent perspective towards femininity that depicts "desiring, but not being able to define your desire, wanting power but being powerless and blaming it on yourself, or just hurting yourself as a way to let out the aggression in you."
Mitski told the Guardian that she aimed to connect with the young women who have felt out of place just as she has grown up as a Japanese-American feeling disparities between the two cultures. After closing her Asia and Australia tour in 2018, she wrote "Nobody," touching on themes of alienation and estrangement. Its disco-paced sound makes it the perfect social distancing track to let loose and dance away the loneliness in your room. 
"Space Cadet" by beabadoobee
London-based Filipina musician, Bea Kristi Laus a.k.a. beabadoobee, made a name for herself after her song "Coffee" blew up on YouTube in 2017. The song later gained more recognition on TikTok when Powfu sampled it for the song "death bed (coffee for your head)" in 2019. At just 18 years old, Laus was discovered on Spotify by Dirty Hit and has since joined the independent record label in 2018 who also houses famous artists like The 1975, Wolf Alice and fellow Filipino musician, No Rome. 
Earlier this year, she opened for labelmates The 1975 in their Music For Cars Tour together with Phoebe Bridgers. Laus has been outspoken about her upbringing as a Filipina in the UK, with her music drawing from her parents' love for  OPM. She told Complex that her parents see her living their pop star dreams which she amusingly found "sick" despite her lack of confidence in herself growing up.
On May 10, Laus performed in 88rising's online concert "Asia Rising Forever," sharing that she never had an Asian artist to look up to when she was growing up. She told her viewers that it's okay to embrace cultural differences and was pleased to see more Asians getting more opportunities in the music industry.
In an interview with Dazed, Laus revealed that "Space Cadet" was inspired by Area 51 memes and about her overcoming her embarrassment of being different when she was growing up. She sends an inspiring message to other artists who also dream of making it big in the industry through this track where she celebrates her Asian roots through her quirky songwriting and indie-pop sound.
Photo screengrabbed from beabadoobee's "I Wish I Was Stephen Malkmus" music video
Follow Preen on Facebook, Instagram, Twitter, YouTube, and Viber
Related Stories:
This is how women tackle toxic masculinity in music videos
Female musicians of 2019: How to cop their MV looks
World Music Day 2019: It's all about women empowerment anthems
We can't wait for new music releases from these artists